With schools closed across Indiana because of the COVID-19 pandemic, teachers have had to adapt to online learning and connect to their students from afar. Both teachers and students have risen to the occasion, showing their dedication to learning no matter the circumstances.
Here are the stories of how four IU School of Education alumni are coping as they teach their students from afar. These interviews have been edited for length and clarity.
---
Kim Beathea
First Grade, Childs Elementary School, Bloomington, Indiana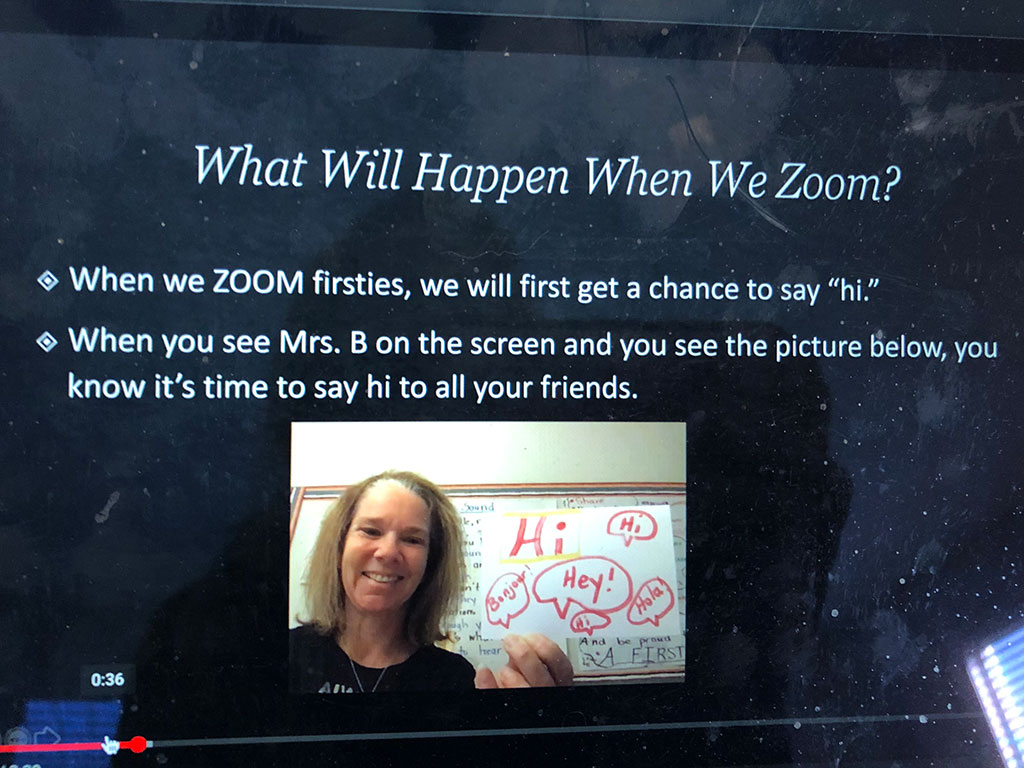 ​My team has created a weekly workboard with links and attachments for their work each day. The kids work with their families on each activity. Students can face-time with me one-on-one to do their work, Zoom one-on-one daily for a guided reading lesson and we Zoom as a class twice a week. My day typically starts at 8:30, and I get organized for my face-timing and Zoom sessions. I work with students from 9 a.m.-2 p.m. each day in a variety of settings with a break for 30 minutes for lunch. I know some of my families have very clear agendas for each day and try to get their work done early in the day so the kids can then play, while other families have more flexible schedules based on what their student needs. 
Each school day, I send families a video of me teaching a skill for that day that goes along with their workboard. We have a class-shared Google Drive where all materials for learning are kept, as well as teaching videos, supplementary materials and read alouds from other staff members. I created a sign-up genius for families so their child can chat/work with me one-on-one. I email families at least once a day, and we also have a private Instagram page where I post pictures of kids' work during this time, as well as share updates, resources, etc. I've also written letters to students and dropped off paper packets to families who don't have access to a computer and/or a printer. 
​It's been a big adjustment and feels strange working in this type of environment. Teachers are typically super flexible and problem solvers because it's a big part of our job. We've adapted quickly and created a new normal. I've learned a lot about alternative ways to communicate, and we've tried to make it fun. Personally, I'm enjoying more time at home with my family but I have to be honest, I shared a lot of tears after our first class Zoom session and saw everyone together in that format for the first time. It's emotional at times. I've been so impressed with the resiliency of our kids and families. They have adapted, stayed positive and are still learning and growing. I'm so proud of all of them.
​The social/emotional learning/teaching I have been doing has been just as important as the academic teaching I've been doing. Early on, I talked to a lot of kids and do several lessons on having courage, being brave and working through big feelings. I think that helped the kids get more settled into this new situation. ​I also think it's going to be very important to find a way to have closure with this class when we are able to all be together! A lot of the kids are saying and asking, "Will we ever see each other again?" I think it's going to be important to get together, if we can, for a class picnic or some type of get-together. I also think it's going to be important for us to prepare our kids for what the fall may look like when we have a better idea of what that will look like. Kids are going to have BIG feelings about returning to school and what it will look like, so the social/emotional piece is going to be huge as we return.
---
Molly Cason
First Grade, Prairie Trace Elementary School, Carmel, Indiana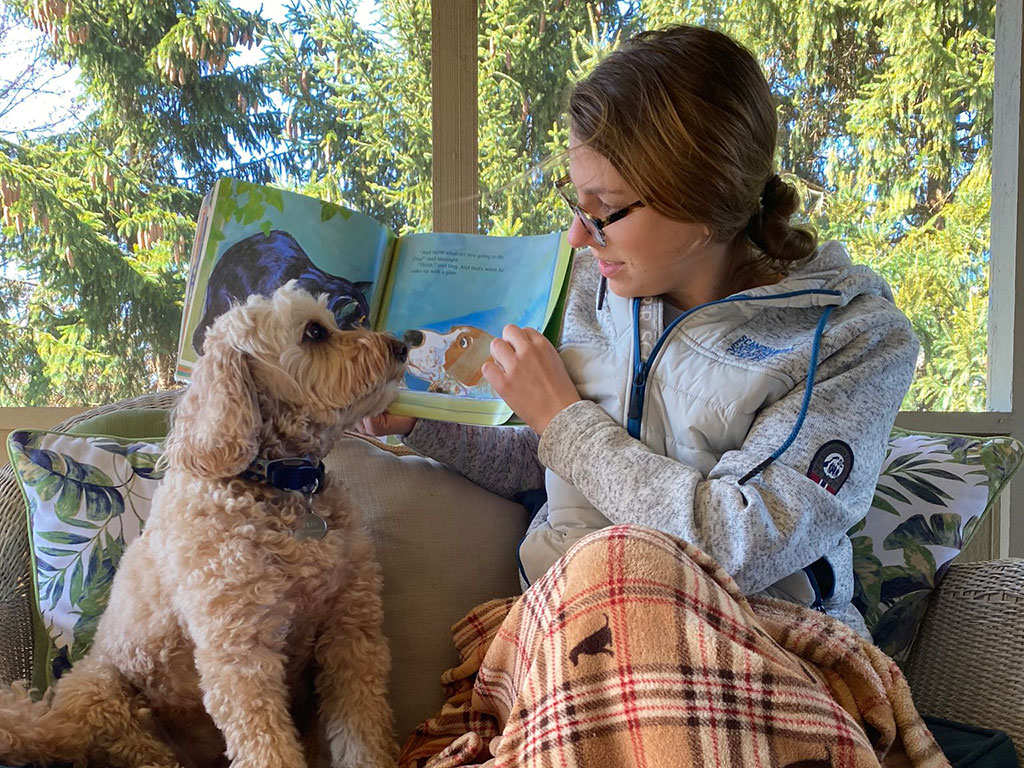 On a typical day, I usually try to get up an hour or two before I am going to meet with students and answer some emails and get everything set up for the day. I try to meet with my students as a class almost every day. We have our morning meeting together at 10 where we share what is new at home. Sometimes we do show-and-tell – anything to make them feel like they are still connected to their classmates. At the end of the morning meeting, I will teach them their reading lesson for the day or we do a read aloud. The rest of the day involves them working through their eLearning at a time and pace that works best for them. I have set up weekly calls with all my students so I use that time to read with them and go over some individual skills that we have been working on. I have usually 10 minutes in between those conferences where I answer more emails or grade some of the work coming in. I use the SeeSaw app which has been huge for keeping track of data. 
Staying connected to my students was something I wanted to emphasize the most. I think it is so important for kids to still be able to see and talk to me, as well as their peers. I also think it provides some normalcy for them during a time that could be scary and uneasy. After spring break, we are also starting a "lunch bunch" where they can just hop on a conference call and chat with each other. I am using individual reading conferences to check in students, both academically and personally. It's a great way to chat with all my kids, especially those who may not speak up in a whole-class setting. Finally, I record myself doing read alouds. I brought home some of my favorite books and go live on Instagram at the same time every week and read a book for them - so many authors and publishers have been wonderful about allowing this while schools are shut down. I think it provides a sense of comfort for kids that they can come on and hear/see their teacher doing something that they are familiar with. 
It has been really difficult to be away from my kids. I think if you enter into this profession, you obviously enjoy spending time with kids and watching them grow. I absolutely adore what I do and can't imagine doing anything else. I love watching them learn and grow, laughing with them and making their day exciting. The absolute best part of the job for me is spending my day with my kids, and that has been taken away (and for completely good reasons - I fully support closing down schools to keep everyone safe). But as I have gotten used to our new normal, I am finding ways to bring those pockets of sunshine back. I love seeing how excited they are to see each other on our conference calls. All of that makes it a little easier to cope with missing them. 
We are all learning and growing during this new normal together. I think about my students daily and hope that they are all staying happy and healthy at home, and I miss them terribly!
---
Keirston Snyder
Sixth Grade Writing Humanities, Garrett Middle School, Garrett, Indiana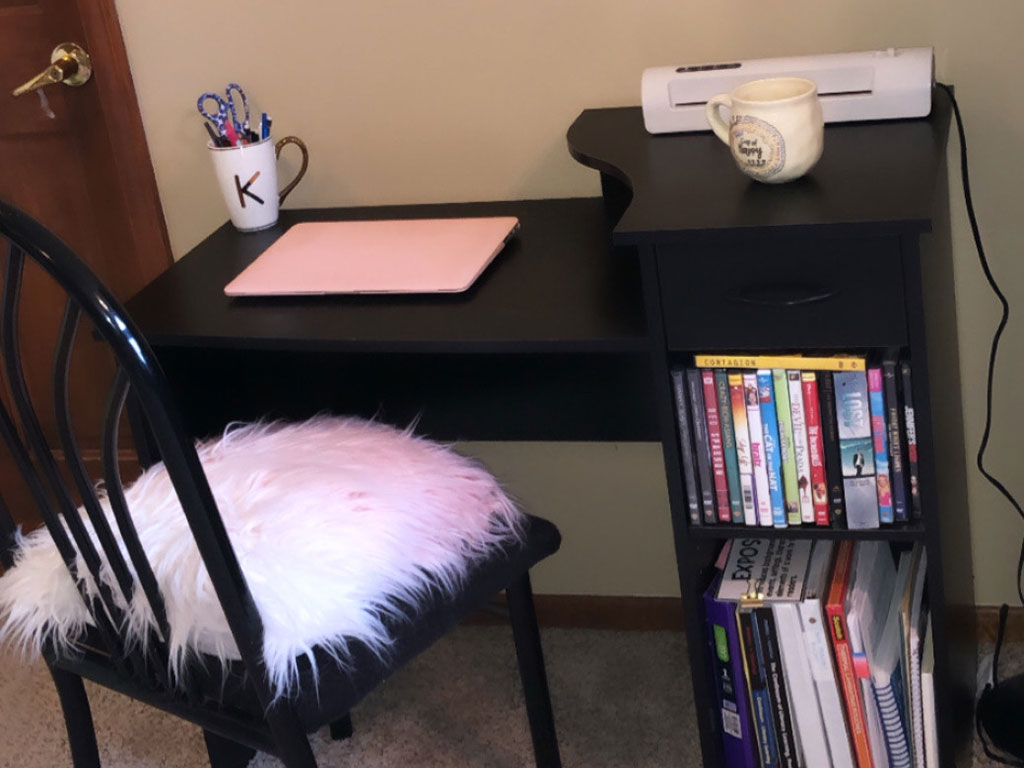 My school district adapted Canvas as our online platform. We do e-learning Tuesday, Wednesday and Thursday, and teachers are expected to spend Monday and Friday planning and grading. I set up a module for each day. When my students begin, they do a daily check-in on a Google Form to see how they are feeling that day, tell me something happy that happened yesterday and ask if they have any questions. Next, they read a Wonder from Wonderopolis.com as their "entrance work" and take a short vocabulary quiz (three questions) on their website, then submit a screenshot of their results. Their main assignment is a choice board, where they choose their writing assignment for the day. The past two weeks, I have been searching for virtual tours and field trips they can take; each day they chose a different one and wrote a paragraph about it. For example, they could go visit Mars. If they chose that assignment, they would act as though they were an astronaut and write a diary entry for the day. 
On Tuesdays and Thursdays, I set up three Zoom times for my students to get on and meet with me. I don't teach via Zoom; I just answer questions, check in with them and let them connect with each other. We basically spend this time laughing and showing each other our pets. Each student has an iPad, so we have been emailing and messaging on Canvas as well, although it doesn't replace the face to face connection we are all used to. I am working on creating postcards to send to my students' homes right now, and plan to continue reaching out through Canvas and Zoom for the remainder of the school year.
It's my first year teaching, so this is a pretty unforgettable first year for me. I constantly worry about my students and if they are doing okay at home adjusting to our new normal. I know taking online classes in undergrad was difficult for me as an adult, so I can't imagine how overwhelming it's been for my 11- and 12-year-old students. I have been trying to stay positive and focus on creating activities that will help keep them engaged in their learning. I'm thankful I took a technology in education course (W200) and saved the resources we learned about in class. Teaching from home isn't ideal, but we are making the best of it and staying connected the best we can, and that's all that matters right now.
Honestly, IU prepared me well for online learning. I teach at a Title I school, and a lot of my students are dealing with at-home struggles that I worry about. I'm very concerned about their well-being and their safety, which is why I do a daily check-in to see how things are going for them. Also, a lot of our students don't have internet access. In this case, we make a packet of activities and work for them and turn it back in to the school once it is complete. I have been giving them writing prompts, a choice board with activities they can complete without using the internet and have encouraged them to keep a journal. They are living through history right now, and keeping a journal will help them (and others in the future) remember this time of their life. This is hard for everyone, and I'm really proud of how hard my students have been working!
---
Emily Cherry
First Grade, Highland Park Elementary, Bloomington, Indiana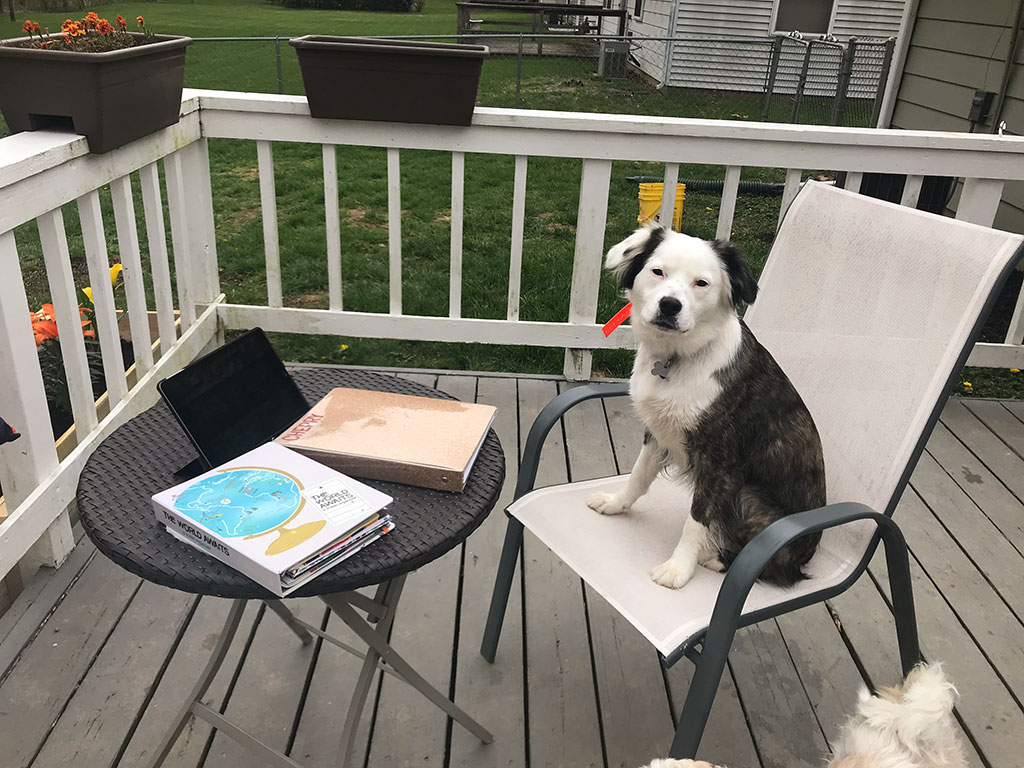 A typical day for me is taking a walk with my dogs in the morning, then sitting down on my iPad, answering any questions that families may have. As well as looking up games and activities that I can share with families to help provide some structure to their day. My students are staying busy, whether that's doing STEM projects, working on review work, or sending videos to me telling me how much they miss me. My students and I are trying to keep as much normalcy to our school day from home as we can. 
I'm staying connected with my students by emailing their families to see how they're doing, tweeting new information that I get from the district. I post announcements and content on Canvas. With the help of their families, students can access the information and send me messages through there if they need help. There is also a YouTube channel that my school uses to post read aloud videos, so students can see all of the teachers from my school.
I feel really disappointed that I won't be able to see my students to finish out the school year. Kindergarten is such a special time, now missing out on all of the fun end of the year activities like field day or our end of the year celebration makes me feel for my kiddos. I understand how they must be feeling, because I'm feeling the exact same way.