It was 7 at night in Costa Rica. The public sector strike against the government's new reforms was underway. All doors to schools were locked tight. However, twelve students, all women between the ages of 18 and 39, sat outside their school gates with pencils, notepads and phones ready to learn. They met together outside the school gates and worked on photo voice projects to visually document community needs and to describe them using English as a Foreign Language (EFL).
Since then, they have used many other "inspired" and interesting locations as their gathering place including benches in a nearby park and the floor space of a coffee shop. Locked school doors could not keep them from continuing to learn.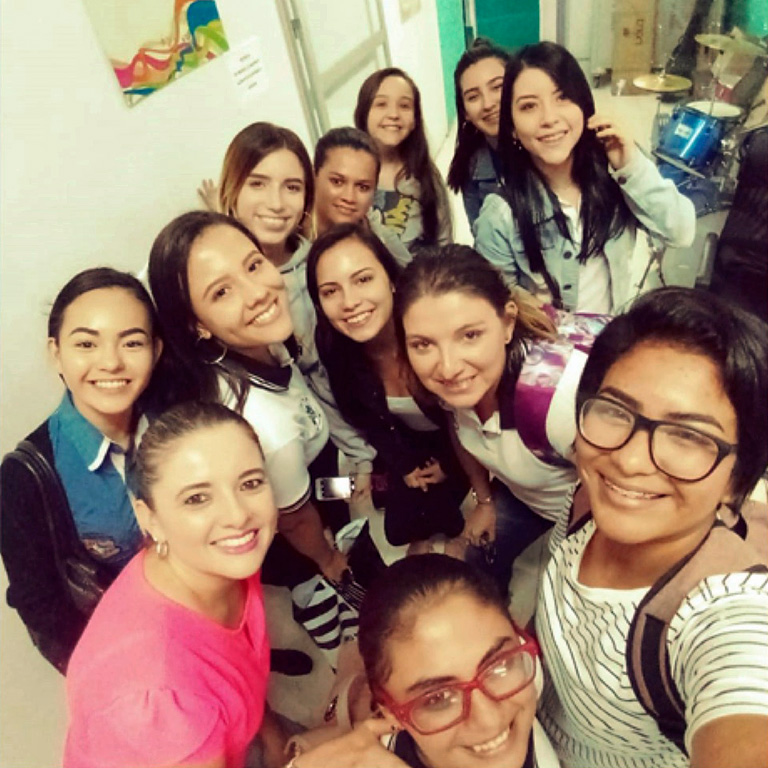 These are the students in night schools around San Ramon, Costa Rica. They are participants in a project funded by the U.S. Embassy in the country and assisted by School of Education faculty and students. Faridah Pawan, Professor in the Department of Literacy, Culture & Language Education, and Natalia Ramirez Casalvolone, a third-year doctoral student at the School of Education and Professor at Universidad de Costa Rica - Sede de Occidente, are co-principal investigators of the project that supports these students and provides professional development for their EFL teachers. Pawan, Ramirez Casalvolone and Mary Scholl, their partner from the non-governmental organization, Centro Espiral Mana, engage with these students using multimodal and blended platforms. Informal learning is the focus of these engagements to help the students self-direct their learning and use their daily life experiences, resources such as peer groups, family, the media and others within the students' immediate surroundings.
The students served are diverse in their ages and current situations. They come to night school from jobs that range from house cleaning to vegetable vending. One student was a 39-year-old mother who returned school after 20 years away. She aims to be a role model for her daughters, ages 15 and 13, whom she brought with her to night school. All aspire to further their education to the college level and consider EFL as a critical skill to acquire as part of the journey toward their goal.