The Center for First-Generation Student Success launched the inaugural First-Generation College Celebration this week, and the IU School of Education is joining in.
The Higher Education and Student Affairs program is posting about first-generation students and faculty each day this week on social media. On Wednesday they'll have a table in the Atrium from 10 a.m.-12 p.m. where other first-generation students can meet and share their experiences, and Thursday, they're hosting a lunch and learn discussing how first-generation students can be better supported. 
Johnnie Allen Jr. is a second-year master's student in the HESA program and a Graduate Supervisor of Residential Programs and Services at the Avenue, Graduate Assistant Diversity Education and Cross-Cultural Engagement and President of the IU Student Personnel Association. He is also a first-generation student. Allen is working with fellow HESA students Imani Belton and Daniella Feijoo on the celebration, meant to honor and reflect on first-generation college students' experiences and develop ways for colleges and universities to celebrate, support and increase the representation of first-generation students, faculty and staff.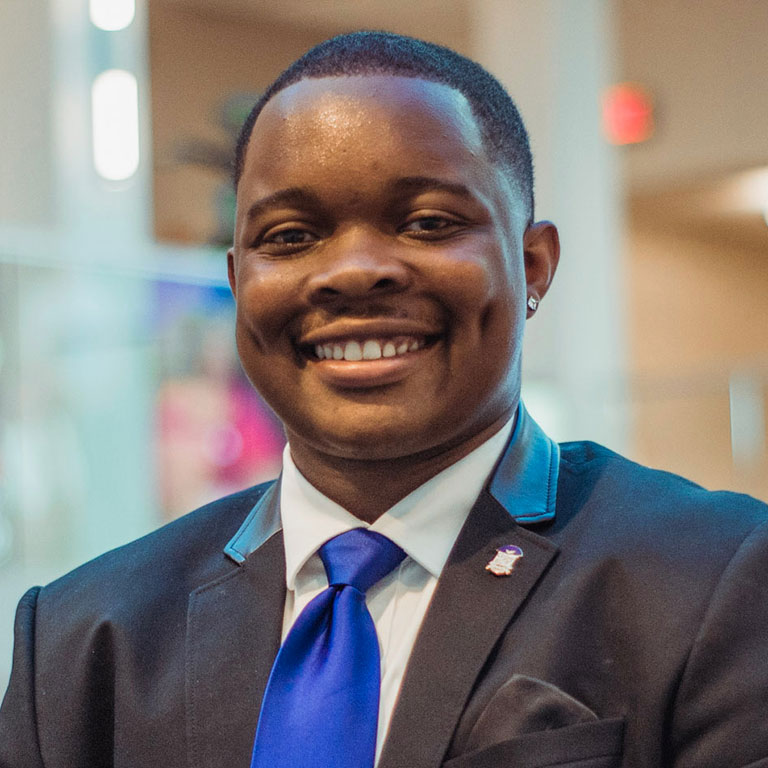 "I engage in this work specifically because of my identity as a first-generation college student, and I understand the uniqueness and challenges that come with holding this specific identity. There is always this feeling of everything being so 'new' and often not knowing who to go to for support because you are figuring things out as you go," he said.
Vasti Torres is Executive Associate Dean at the IU School of Education - and a first-generation college student who echoed what Allen said.

"The interesting thing about being a first-generation student is that you cannot imagine what opportunities there are for you. At times it feels like you stumble into things - when in reality you work hard to understand those opportunities can be available to you," Torres said.
Allen, Belton and Feijoo, also first-generation students, came together with a common goal to celebrate first-generation college students and put their plan into action. The group began meeting and developing ways to engage in the celebration in addition to their course work, meetings and other obligations. Allen said he is truly grateful for their contributions, passion, and friendship: "Having them as supporters, friends and colleagues remind me that the work of creating inclusive experiences for all students is something that we can achieve with collaboration and innovation."
As a first-generation college student himself, Allen said his experience has been amazing thanks to his involvement in several programs at IU, including the Groups Scholars Program and the Summer Experience Program, organizations he wishes all first-generation and underrepresented students had access to. Now through his involvement across campus, Allen hopes he can make a difference to other first-generation college students.
"I've had some challenges along the way whether that be financial, imposter syndrome or overall lack of knowledge about how certain entities in higher education worked. Therefore, it is important for me to give back and educate, advocate and support."
To better support first-generation students, Allen advised schools support programs like Groups. 
"Invest in these students more, learn about and embrace their experiences as they are all valuable to the higher education environment. Additionally, I think engaging in celebratory programs like the one happening this week will show that higher education institutions value its first-generation college students," he said. 
"Begin thinking of innovative ways to make navigating the collegiate environment not a space that only continuing-generation students know but providing useful tools and resources to all students, specifically first-generation college students," Allen added. "Leave the mindset of 'all students should be entering the space with this (insert) knowledge prior to entering the academy.' However, acknowledging that not all students are going to enter with the same level of knowledge even about things that we may believe are 'simple' such as the whole notion behind office hours. First-generation college students may not understand the value or fully understand how to go about seeking help because they're so used to figuring out information on their own."
The programs this week are personal ones for Allen - and for so many who are the first in their families to attend college.
"I am just grateful to share that this Black man, first-generation college student from Elkhart, Indiana, is on his way to make valuable contributions to the field of higher education and hopefully impact and influence change. I know that this work is my calling because I often am excited to talk about it and engage in the work!" Allen said.