On Friday, February 9, 1962, Gerardo González and his father, mother and sister arrived in Miami after a flight from Cuba. They carried one suitcase and two bottles of Cuban rum his father had purchased at the airport in Havana. González was eleven years old. His family was fleeing Cuba under Fidel Castro, where it was rumored the government would take control of Cuban children. The family had been granted a visa waiver by the US authorities that enabled them to enter the country as exiles, processed by the Cuban Refugee Center.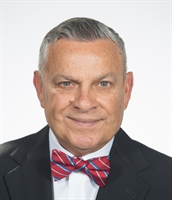 "A bright-red sign came on in the DC3 plane that read 'No Smoking,' and I remember feeling so proud that I could read a word of English," he recalled. "I was entering a new world with a new language, and I was really excited about getting there. I still feared what had happened at the airport and the confusion and danger. But I felt safe being with my family."
Their journey as refugees – and González's own road from a scared eleven-year-old to Dean of the School of Education – is at the center of his new book, A Cuban Refugee's Journey to the American Dream: the Power of Education, available August 1. Before coming to the United States, González said he was a bright and happy child: "But when my family relocated to a strange and forbidding society, I couldn't speak or understand those around me. I was forced to conform to the standards of a society I simply couldn't comprehend."
Despite the difficulties of living in a completely different society, González's parents impress upon their children the importance of an education. His father would hold up his hands to his son, showing him the damage forty years of working as an auto mechanic had done.
"My parents kept a steadfast focus on education as the way to a better life for my sister and me. Though not educated themselves, my parents used every possible means to impress upon my sister and me the importance of education to get ahead in our new homeland," he said.
González eventually became the first member of his family to attend college – and in 2000 he was named Dean of the School of Education.
"Education is more, much more, than learning to read, write, and do sums," González said. "Education is an investment in the greatest asset a nation possesses: its people. Education is the way to open minds and help people realize their potential. It provides the tools children need to establish themselves in society, to function and grow, to develop the skills that ultimately enable them to become full, valuable, and productive members of society…Education is still the great equalizer."
Now Dean Emeritus, González still teaches at IU and has been back to Cuba many times in the past few years. He recognizes his family's good fortune, especially at a time when immigrants and refugees are not always made to feel welcome in the United States.
"I was given the gift of a great education; I achieved something, and I can now give back to my adopted homeland and the world," González remarked. "Today powerful forces want us to forget that our country was founded by immigrants, our citizenry unimaginably enriched over the centuries by those who sought opportunity and a better life in this great nation."
"America should not close its doors to immigrants and refugees. Now, more than ever, is the time to take stock of what our great-grandparents understood so well—that refugees and immigrants aren't drains on the capital of American society; rather, if given opportunity, they can be the future of society. Our future as a nation in an increasingly complex and diverse world still depends on being the land of opportunity. I'm so distraught over and vehemently opposed to the family separation policies that have led to so much misery and pain among current immigrant families at our Southern border."
González hopes his story will resonate in the mind of every person who has been forcibly relocated because of war or disputes, religion, or territory or by governments who put ideology before the needs of their people.
"This is my story, but it's also the story of all immigrants who have had to leave their homes out of fear and desperation," he said. "We share a constant fear of authority in everything we do. We feel isolated when we see people our own age, born in our host nation, walking freely along the pavement. This isn't a book about politics or the rights and wrongs of global disputes. This is a book about one person—a refugee, a boy whose childhood was ripped from him, yet who, thanks to a few caring people in the society where he grew up, became an adult who succeeded beyond anybody's wildest expectations."