Faculty share NSF grant to study failure as crucial part of learning
The project will delve into how failure plays an important role for youth and educators, particularly those involved in science, technology, engineering and math, or STEM, activities.
Failure can be a critical step in learning well. That's what associate professor Adam Maltese and visiting assistant professor Amber Simpson with the IU School of Education and Alice Anderson with the Science Museum of Minnesota will study with help from a grant from the National Science Foundation.
The project, "MAKER: Studying the Role of Failure in Design and Making," will delve into how failure plays an important role for youth and educators, particularly those involved in science, technology, engineering and math, or STEM, activities. "Making" is a movement in education (and other fields) that promotes the use of new technologies, along with traditional tools and materials, to create things through do-it-yourself, hands-on activities.
"By investigating how youth and educators attend to moments of failure, how they interpret what this means, and how they respond, we will be better able to understand the dynamics of each part of the experience and can disentangle moments of failure from how individuals respond," Maltese said.
Simpson said an important part of the team's research is to consider the learning potential of failure from the viewpoint of the youth, because adults may perceive and respond to failure differently.
"We are hoping to learn about failure and how it can possibly be framed to be more about 'learning from mistakes' or 'response to obstacles' rather than an end state," Maltese said. "We realize the major learning potential rests in analyzing why a certain approach didn't work and moving forward to try something else."
The team expects research on failure will have a broad impact on students and educators across a range of backgrounds. Sites included in the study represent a range of educational contexts: a large science center, after-school programs and a public school district.
The team plans to work with students from urban, suburban and rural settings, including students who qualify for free or reduced-price school lunches, students from racial and ethnic minority groups and students who are learning English as a new language. Students from these groups are traditionally underrepresented in STEM and making, and research indicates they are more likely to experience negative outcomes when they experience failure.
Maltese and Simpson recently published research on the role of failure in the development of STEM professionals in the Journal of Science Education and Technology. The paper, "Failure Is a Major Component of Learning Anything: The Role of Failure in the Development of STEM Professionals," is based on interviews conducted with nearly 100 professionals across STEM fields as part of a project supported by Google.
"Many of our participants acknowledged failure as an opportunity to learn and grow, an experience to positively embrace," Simpson said. "This contradicts many of the negative connotations typically associated with the term failure."
At the Science Museum of Minnesota, Anderson is collaborating with the staff and volunteers in the Play.Tinker.Make program, which brings creating and making activities to the museum floor.
"The museum can be a great place to experiment and fail without much pressure," Anderson said. "We hope to learn more about what activities and facilitation strategies promote learning when things don't work out the way you expect them to, and compare that across settings."
Maltese hopes the IU School of Education's Make Innovate Learn Lab, a makerspace where students, faculty and staff can learn through creative tools and technologies, will be used to collect data or pilot some of the intervention strategies the team devises to increase persistence and learning.
The $300,000 National Science Foundation grant extends through September 2018. Indiana University's share of the grant is $184,000.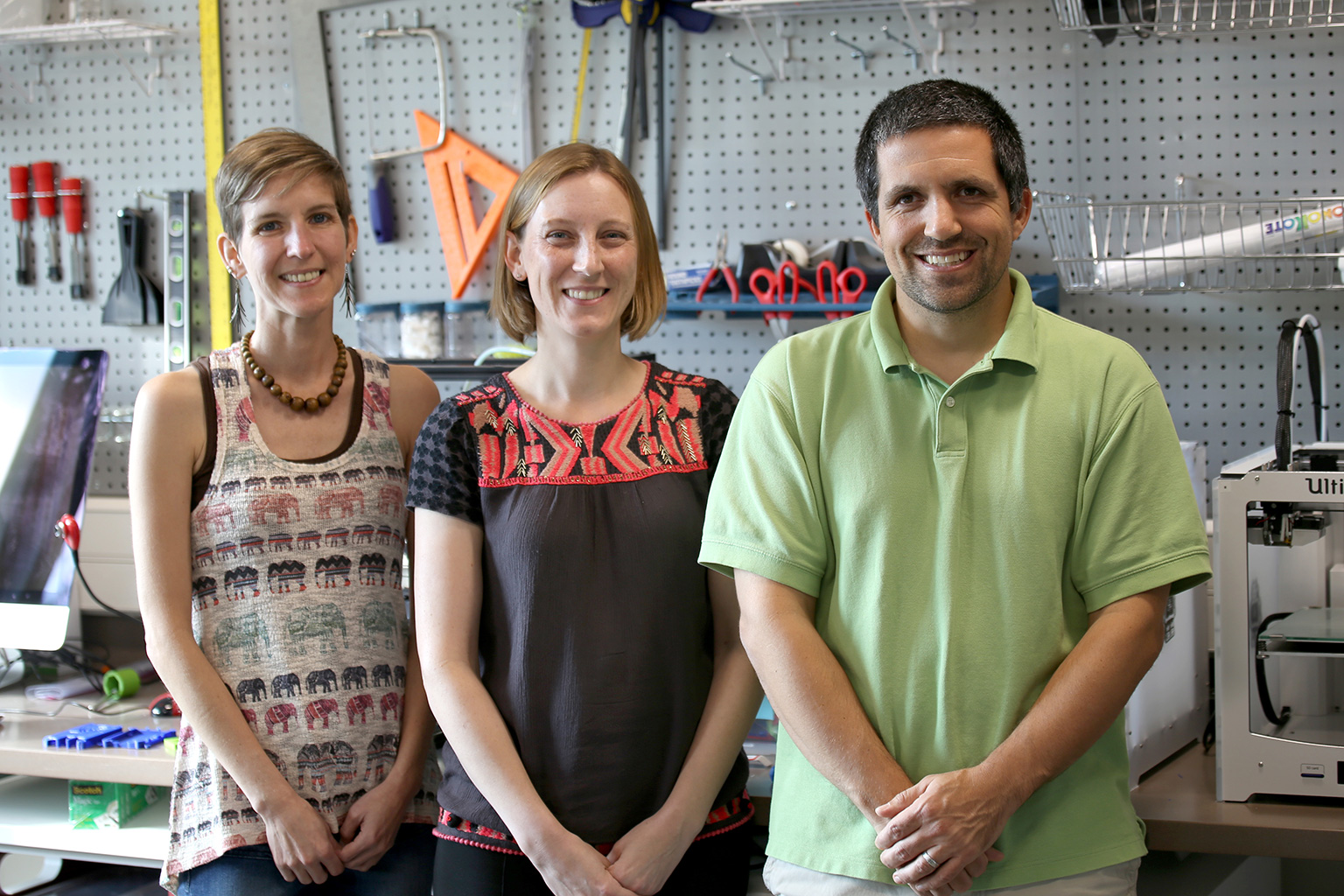 Visiting professor Amber Simpson, Alice Anderson with the Science Museum of Minnesota and associate professor Adam Maltese in the Make Innovate Learn Lab (MILL)