P-16 Center partners with Crane
An innovative STEM project will take place at Bloomfield Junior/Senior High School this academic year
An innovative and inspiring project called Crane Workplace Simulated Lab will take place at Bloomfield Junior/Senior High School this academic year. This project was developed by our P-16 Center for Research and Collaboration in partnership with the Naval Surface Warfare Center Crane (NSWC- Crane), DirectEmployers Foundation, and Bloomfield Junior/Senior High School.
The project kicked off this month at Bloomfield Junior/Senior High School. When asked about the students' response to the project, Principal Dean commented, "There is great excitement. The students are most interested in finding out what kind of projects exactly they're going to be working on." According to Principal Dean, the school has already set aside a classroom, a lab, and a conference room which will be utilized by the pilot program and the students.
P-16 Center Director Dionne Cross stated that "Students at Bloomfield Junior/Senior High School will be working with volunteers from NSWC Crane, along with their teachers and other project personnel to get a unique experience that supports interest in Science, Technology, Engineering, and Mathematics (STEM) careers. Through this project, students will be able to understand the real world application of the work that people are doing."
The project will incorporate students from multiple classes, including English, as there will be an emphasis on writing ability along with science and technology problem solving skills, providing a well-rounded experience.
NSWC's Commanding Officer Captain Jeffery Elder addressed students and staff at the kick-off event. Captain Elder expressed equal excitement for the project, offering additional insight into what the students would be learning in the upcoming months. "We are simulating an environment that exists at Crane for the students to experience here in their school," he said. "This will allow them to see how we use the same science, math, and writing skills they learn in school to solve problems at War Fare Center Crane. The labs will include technology such as 3-D printers." The students will be developing problem solving pieces toward a larger project that will be revealed to the students by Crane personnel. The culminating experience will include students presenting their individual work to a team of Crane experts, volunteers and educators.
The Crane Workplace Simulated Lab is a pilot project, but Captain Elder hopes to replicate it in other schools across the area.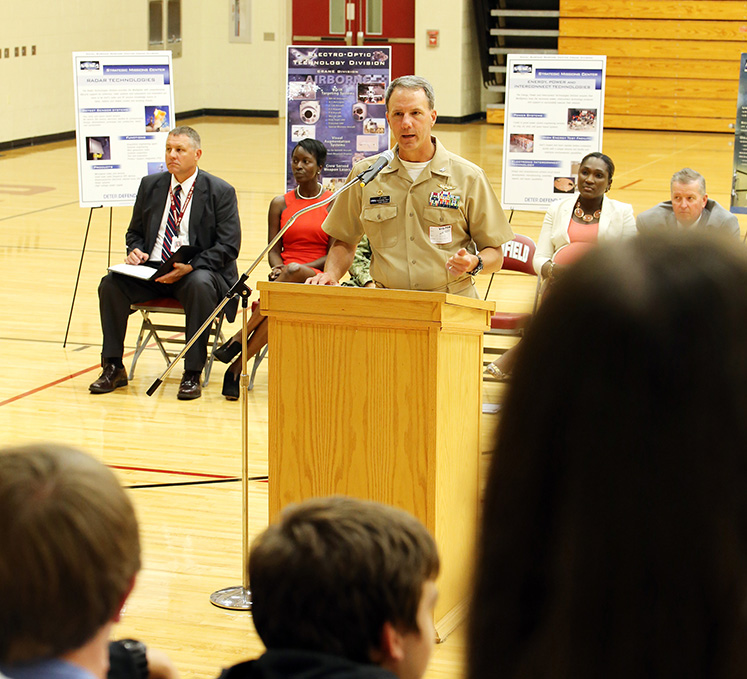 NSCW's Commanding Officer Captain Jeffery Elder addresses students and staff at the kick-off event