Google sponsorship funds IU research on what triggers early interest in STEM
Google Inc. has awarded $150,000 to two Indiana University researchers to support a study of how early experiences can trigger and maintain an interest in the STEM fields of science, technology, engineering and mathematics.
Adam Maltese, associate professor of science education, and Kylie Peppler, associate professor of learning sciences, both in the School of Education at IU Bloomington, will examine how "making" -- building, tinkering, taking things apart -- can promote a scientific mindset in young people.
"While we know that making has played a role in triggering STEM interest, we know far less about the specifics of these making experiences that generate and maintain interest over time," Maltese said. "We also know very little about the relationship between these experiences and the pursuit of STEM degrees and careers."
Previous research has shown that many scientists, mathematicians and engineers report having developed an interest in science and engineering at an early age through making-related activities -- for example, taking a simple machine or electronic device apart and putting it back together to see how it works.
But much remains to be learned about those experiences and why they triggered an interest in STEM. For example, were the experiences self-initiated or were they guided by parents, teachers or other mentors? What caused an early interest in STEM to stick for some and not for others? And will those experiences still be available as household products become more complex and computerized?
Building on previous research by themselves and others, Maltese and Peppler will explore those questions through detailed surveys administered to three groups of respondents:
Adults working in a range of STEM professions, allowing study of whether experiences are different among, for example, chemists and mathematicians.
A nationally representative sample of U.S. adults, allowing estimation of how commonly these experiences are reported across those in and out of STEM fields.
Google Science Fair participants, allowing for study of motivations and triggers of interest in a select group of "STEM precocious" youth.
The project will also relate to the potential of the Maker Movement, which promotes the use of new technologies to enable more people to design and build their own inventions and products, for expanding opportunities for young people to get interested in STEM fields.
Maltese said gaining a better understanding of the experiences that trigger and maintain an interest in STEM can help develop programs and policies that expose more young people to those experiences. Providing such experiences is a particular concern for women and students of color, groups that are underrepresented in STEM fields and may have fewer opportunities for building and making.
"There's a general belief that building and tinkering are keys to developing an investigative mindset," Maltese said. "We think providing those opportunities can get or keep more kids interested in STEM. We're trying to do groundwork to see how that is likely to play itself out."
The researchers expect the research to lead to journal articles, presentations and reports.
According to the U.S. Department of Education, America's position as a global leader is threatened because few students pursue degrees in STEM fields. Only 16 percent of high school seniors are proficient at mathematics and interested in a STEM career, according to the department. The White House has set goals for increasing the number of scientists, engineers, mathematicians and computer experts through improved education and recruitment of students and teachers.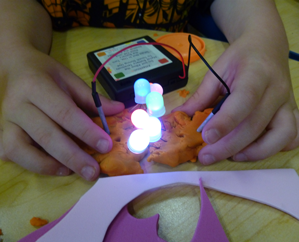 Student conducting scientific experiment.