IU Connection Leads Global Gateway to New Zealand
Auckland, New Zealand, might be over 8000 miles away from Bloomington, but one teacher helped bridge that gap
Auckland, New Zealand, might be over 8000 miles away from Bloomington, but one teacher helped bridge that gap. David Taylor, a teacher at Northcote College in Auckland, originally came to IU in 2015 as part of the Fulbright Distinguished Teacher program. While here, he met Laura Stachowski, Director of Global Gateway for Teachers. He was interested in inviting School of Education students to come teach at Northcote, and this past spring, Sierra DiMonte and Caulin McGraw both spent the semester teaching at the secondary school. When the idea came up that IU pre-service teachers might come to Northcote College, Taylor really wanted to make that a reality.
"I firmly believe that with an open mind the opportunity to experience different educational settings is invaluable for teachers," he said. "It seems like a great way to help acknowledge the kindnesses that were extended to me and to keep the international exchange idea of the Fulbright program alive beyond my time in the States."
Both DiMonte and McGraw are now graduates of the School of Education. Their time teaching at Northcote was invaluable and gave them the opportunity to visit a country they may not have otherwise gone to.
"I'm not sure I could string together any selection of words that could accurately depict my time spent in New Zealand," McGraw said. "From the day I stepped foot on Northcote's campus, the entire staff welcomed me with open arms. I feel like I have a connection to New Zealand and the people I met there that won't ever fade."
DiMonte said she saw at Northcote the kind of community-based teaching environment she wanted for herself.
"Global Gateway is such an important program for future teachers because it gives us an opportunity to learn from professional teachers all over the world, while also learning about our own teaching style in a unique atmosphere," she said.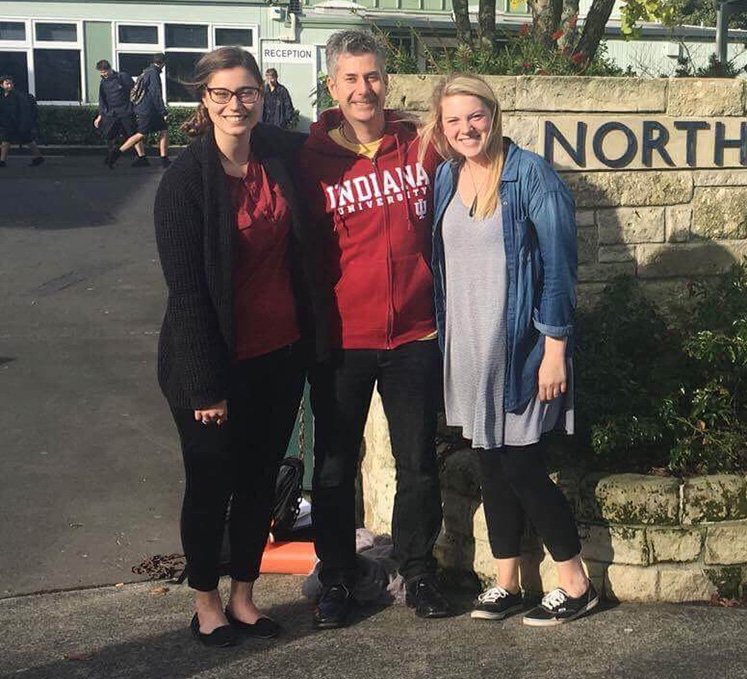 Sierra DiMonte, David Taylor and Caulin McGraw