Celebration of Teaching Recognizes Excellence Across School, State
Faculty members, graduate students and teachers from around the state were celebrated with several awards given annually for excellence in teaching
Faculty members, graduate students and teachers from around the state were celebrated with several awards given annually for excellence in teaching.

Joshua Danish, an associate professor in Counseling and Educational Psychology, was this year's recipient of the Burton W. Gorman Teaching Award, the most prestigious award conferred upon faculty by the School of Education. Danish joined IU in 2009 and has carried a full instructional load since then, teaching both undergraduate and graduate classes.

"Given his outstanding performance in teaching, mentoring and advising and his dedication to high quality teaching, Dr. Danish, while still an assistant professor, was entrusted with the teaching of the graduate seminar for Associate Instructors in his department —a seminar that he and his colleagues re-conceptualized, and for which he has always received very positive feedback," Dean Terry Mason said during the awards ceremony.

The Gorman Teaching Award was established by a benefactor alumnus of the School of Education for the purpose of recognizing creative teaching in the school.
Award Winners
Gorman Teaching Award:
Josh Danish
Trustees Teaching Award:
Phil Carspecken
Barbara Dennis
Wendy Marencik
Sylvia Martinez
Mary Waldron
Andrea Walton
AI Outstanding Teaching Award:
Jared Allen
Rebecca Borowski
Alandra Harris-Hasson
Amanda M. Deliman
Rachel Gross
Suraj Uttamchandani
Caitlin Howlett
Mike Karlin
Student Choice Award:
Suzanne Eckes
Award for Excellence in Mentoring:
Beth Samuelson
Armstrong Teacher Educator Award:
Julie Kissinger, Mount Vernon Jr. High School
Christina Lange, Francis Vigo Elementary, Vincennes
Jennifer Martin, Benjamin Bosse High, Evansville
Jose Mota, Evansville Day School
Jitka Nelson, Logansport Community High
Seth Ponder, Riley High, South Bend
Jamie Rainwater, Indiana Creek Intermediate, Trafalgar
Elizabeth Streit, Spring Mill Elementary, Indianapolis
Stacey Tolle, New Castle Middle
Dean Westman, Avon High
Jackie Williams, Liberty Elementary, Mishawaka
Pictures of all award winners can be seen on the School of Education's Facebook page.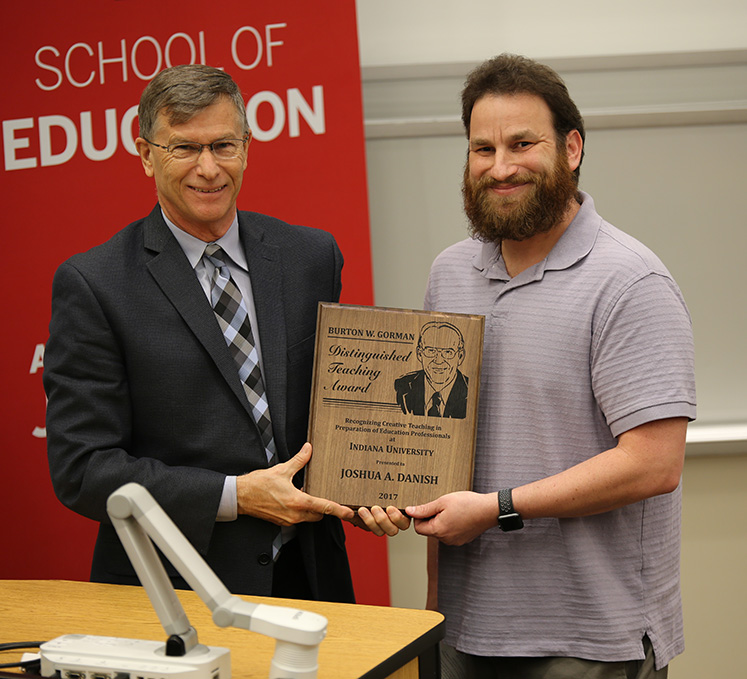 Dean Terry Mason and Associate Professor Joshua Danish, this year's recipient of the Burton W. Gorman Teaching Award