New makerspace open at the School of Ed
"The MILL" provides open access to a variety of materials, hand tools, and high-tech equipment
The maker movement has a new home at the IU School of Education. The Make, Innovate and Learn Lab (The MILL) is a place where students and faculty can learn and develop "hands on" approaches for teaching subjects ranging from art to the STEM subjects of science, technology, engineering and math. It is a place to explore creative solutions to pedagogical problems.
"The maker movement is an international movement about using tools and materials to make and build things," said Kylie Peppler, associate professor or learning sciences in the School of Education and director of the MILL lab. "By opening this space, we are now part of this global movement. We are part of rethinking what it means for teaching and learning in the School of Education today."
Dr. Peppler worked with an interdisciplinary committee of faculty and students from the School of Education during the 2014-15 school year to create the lab that provides open access to the tools and materials in the space. You will find a variety of materials at the MILL, from hand tools to high-tech equipment including a laser cutter and 3-D printers.
"The opening of the MILL represents a major step forward for the School of Education as a national and international leader in the use of technology to advance learning and teaching," said Terry Mason, Dean of the School of Education. "We are indebted to Professor Peppler, the faculty committee and a number of graduate students for their outstanding work to make this possible."
Projects are already underway at the MILL with seven faculty members receiving mini grants for innovative, and collaborative projects with a focus on new ways to engage students in learning activities involving "making."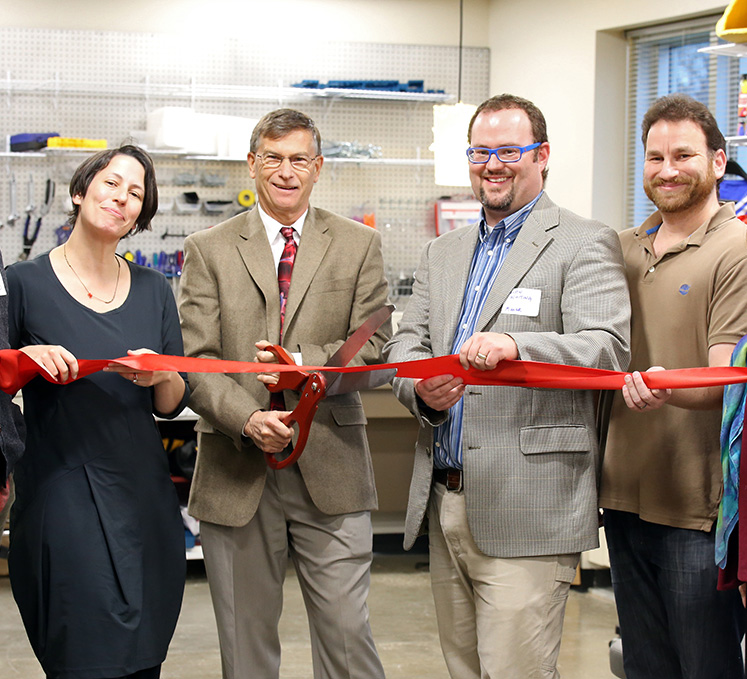 Interim Dean Terry Mason cuts the ribbon at the MILL