Terry Mason named interim dean for IU School of Education
Terry Mason, associate dean for research and development in the Indiana University School of Education, has been named the school's interim dean, IU Bloomington Provost and Executive Vice President Lauren Robel has announced. He will begin this one-year appointment July 1.
Gerardo Gonzalez, dean of the school for the past 15 years, retires from his administrative role as dean June 30. He will return as a faculty member in the fall of 2016 and will serve as President Michael A. McRobbie's special advisor on U.S.-Cuba relations.
Gonzalez was celebrated at a reception at the IU Auditorium on June 10, where Robel presented him with the President's Medal. In April, McRobbie presented him with the IU Latino Faculty and Staff Council's first-ever Outstanding Achievement Award.
"Terry is an accomplished teacher, researcher and administrator committed to education as a foundational value of a democratic society," Robel said. "He brings his comprehensive knowledge of the school and the university to the position, as well as an ongoing commitment to the excellent and global programs for which the school is justly celebrated."
"Professor Mason is eminently qualified to assume the role of interim dean," Gonzalez said. "He has an outstanding record of scholarship and leadership in the school and the university, including serving as associate vice provost for research on the Bloomington campus. He is universally well-regarded by faculty, staff, students and the community at large. I look forward to working closely with him to ensure a smooth transition in the deanship."
Mason has been at the IU School of Education for 21 years, starting as an assistant professor of curriculum and instruction. From 2004 to 2012, he was director of what was then IU's Center for Social Studies and International Education. In recent years, he has directed Indiana University's participation in several U.S. Agency for International Development-funded projects, including the Afghanistan Higher Education Project (2006 to 2011), the Macedonia Primary Education Project (2006 to 2010) and the South Sudan Higher Education Initiative for Equity and Leadership Development (2013 to 2015).
Mason received his Ph.D. from the UCLA Graduate School of Education in 1986 and has served on the faculty of the University of Georgia and Central Connecticut State University. He teaches courses in social studies methods, teacher education, and curriculum theory and practice; his research interests focus on social studies, teacher preparation and international education.
Over the next year, the School of Education will continue to do what it does well while reconfiguring and expanding some programs to better adapt to the 21st-century educational environment, Mason said.
"The role of technology in teaching needs to be well understood; we have enormous capacity to change the way teachers teach and students learn," Mason said. "But schools are not necessarily tapping into this potential as well as they could. The School of Education can take a leading role in translating the capacity that exists into teaching practices that improve student learning."
Factors like the increase in high-stakes student assessment have made teaching more challenging, he said.
"We need to look carefully at the current K-12 school environment and make sure we are preparing teachers to be successful in those schools. At the same time we need to prepare leaders who can critically examine educational institutions as they exist and change them when necessary. Education, like any field, is becoming more globalized and we need to look at how we situate ourselves within a global context."
This summer, Mason will initiate the process for the School of Education's dean search. He will also expand the school's on-campus collaborations as he works with the School of Education faculty on ways that the school's research connects to the grand challenges that will be identified as campus priorities starting this fall.
Grand challenges, as outlined in the Bicentennial Strategic Plan for IU Bloomington, are described as research initiatives that attack "big questions whose answers lie beyond current bounds of knowledge." In many cases, solving such challenges requires cross-disciplinary collaboration.
"I've been involved with the strategic plan process," Mason said "I want the School of Education to take a leading and active role in working with professional schools, the College of Arts and Sciences and other units on campus on one or more grand challenges."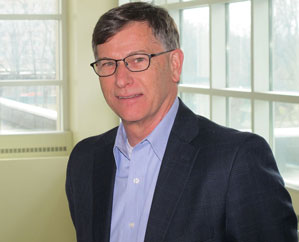 Terry Mason