Four honored with IU School of Education Distinguished Alumni Awards
The Indiana University School of Education honored four of its alumni who have touched education across the world, the nation and the state of Indiana during the Distinguished Alumni Award banquet on Saturday, Oct. 25. The 38th annual IU School of Education Distinguished Alumni Awards honored individuals who hold a degree from the school and have made a lasting impact through their work.

The honorees in this year's class have touched countless lives through their work in areas of research, fundraising, health information and higher education administration. They are: Dick Bishop, executive associate in the IU Foundation's Office of the President Emeritus; Shaun Harper, associate professor and executive director of the Center for the Study of Race and Equity in Education at the University of Pennsylvania; Jann Keenan, president of The Keenan Group social marketing and instructional design firm; and Stanley Warren, retired dean of academic affairs and professor of education at DePauw University."
This particular group of honorees demonstrates an incredible breadth of experience and alumni reach," said Gerardo Gonzalez, dean of the IU School of Education. "Education touches all of us, and these alumni have shown just how they have used their deep knowledge and expertise in various fields to better the world. They have influenced health care, changes in higher education and pathways for minority student success, among other areas. I am proud and honored to recognize them as Distinguished Alumni of the School of the School of Education."
More about the 2014 Distinguished Alumni Award honorees:
Dick Bishop earned a B.S. in 1961, and M.S. in 1971 and an Ed.D. in 1977. He began his career in 1964 as the first university relations director at Indiana University-Purdue University Fort Wayne. He later worked in the IU Bloomington alumni office, supporting the university's sesquicentennial campaign, and served in the dean's office of the School of Education. While earning his doctorate, he served in the IU president's office under Joseph L. Sutton and John Ryan. Bishop held positions in the University Division, School of Public and Environmental Affairs and Radio-Television Services. From 1988 to 2005, Bishop was a key member of the IU Foundation's leadership team. During that period fundraising grew from $35 million annually to more than $100 million annually, and the endowment grew from $214 million to $1.2 billion. In retirement, Bishop continues to support the university in many ways, including service to the IU Foundation and the School of Education's Center for Human Growth, and by establishing the Nancy Harvey Bishop Student Support Fund in memory of his late wife. Bishop's contributions have been recognized with the State of Indiana's Distinguished Hoosier Award, the IU Foundation's Herman B Wells Legacy Award and the creation of the IU Richard E. Bishop Scholarship. He has been a longtime jazz host and programmer on WFIU radio in Bloomington.
Shaun Harper, who earned an M.S. in 2000 and a Ph.D. in 2003, is on the faculty in the Graduate School of Education, Africana Studies, and Gender Studies at the University of Pennsylvania. Numerous organizations have recognized Harper's research on race and gender in education, equity trends and racial climates on college campuses, Black and Latino male student success in high school and higher education, and college student engagement. The American Educational Research Association presented him its 2010 Early Career Award and 2014 Relating Research to Practice Award. He also received the 2008 Association for the Study of Higher Education Early Career Award. The New York Times, Los Angeles Times, Washington Post, USA Today, Wall Street Journal, Sports Illustrated, Chronicle of Higher Education, Inside Higher Ed and over 400 other media outlets have quoted Harper and highlighted his research. He has appeared on CNN, ESPN, CSPAN and NPR. He is the author of over 90 peer-reviewed journal articles and other academic publications. Review of Research in Education, Journal of Higher Education, Journal of College Student Development, The Review of Higher Education and Teachers College Record are some journals in which Harper's research is published. His 11 books include "Student Engagement in Higher Education," "College Men and Masculinities" and "Advancing Black Male Student Success from Preschool through Ph.D." 
Jann Keenan, who earned an M.S. in 1979 and an Ed.S. in 1980, is a trailblazer and national leader in the field of health literacy who works tirelessly to close the health equity gap. She opened The Keenan Group Inc., a social marketing and instructional design firm, in 1995, and is a strategic partner for the Institute for Healthcare Advancement. She is a founding partner of Health Literacy Innovations, creator of the nation's first interactive health literacy software tool.  Keenan frequently presents lively workshops, webinars and keynote presentations throughout the U.S.  She is noted as integral in developing the easy-to-read labeling currently used on all U.S. over-the-counter drug products. She has written and designed award-winning health curricula, websites, videos and booklets for government agencies, universities, pharmaceuticals, hospitals, corporations and non-profit organizations. Through her work, she manages education, research and evaluation projects and translates scientific research into actionable information for educators, health professionals, and policymakers. Keenan has created comprehensive health initiatives for The Centers for Disease Control and Prevention, National Institutes of Health, Agency for Healthcare Research & Quality, Yale, Johns Hopkins Hospital, Sanofi-Aventis and Pfizer, among others.  She is the author of various peer-reviewed articles and conference papers focusing on health behaviors and is the co-author of "You Can Quit Smoking!" She received nine NIH "Gold" level awards for outstanding plain language writing and design.
Stanley Warren, who earned an Ed.S. in 1971 and an Ed.D. in 1973, is the retired dean of academic affairs and professor of education at DePauw University and the former associate dean and director of black studies. Warren is the author of several books, including "Black America Represented on United States Postage Stamps"; "Crispus Attucks High School: Hail to the Green, Hail to the Gold"; "The Senate Avenue YMCA for African American Men and Boys"; and "High Five: African American Institutions That Have Strengthened the Indianapolis Community." Warren has written more than 100 journal, magazine and newspaper articles. He continues to write, consult, and speak on contemporary education issues and African American history. Warren is a Carnegie Fellow, John Fellow, Lilly Fellow and National Endowment for the Humanities Fellow. He was a Gov. Evan Bayh appointee to the State Student Assistance Commission, has earned a Distinguished Alumnus award from the University of Indianapolis and is an inductee into the Indianapolis Public Schools Hall of Fame.  Warren has been a board member of the Indiana Historical Society, board member of the Historic Landmarks Foundation and chair of its African American Landmarks Committee, board member of the Crispus Attucks Museum, life member of Indiana University Alumni Association, board member of the University of Indianapolis Alumni Association and member of 100 Black Men of Indianapolis.
The complete Distinguished Alumni Awards ceremony is available on the IU School of Education Vimeo Channel and IU School of Education YouTube Channel.
The IU School of Education is one of the world's premier programs for preparing tomorrow's teachers, counselors, school psychologists, educational leaders, curriculum designers and educational scholars. Its mission is to improve teaching, learning and human development in a global, diverse, rapidly changing and increasingly technological society. It has more than 68,000 alumni, including more than 20 Indiana Teachers of the Year. U.S. News and World Report ranks the School 25th overall and 15th among education schools in public universities. Seven programs within the school are in the top 25 for specialty programs.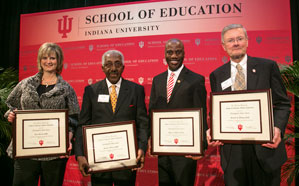 The IU School of Education 2014 Distinguished Alumni Award recipients, (L-R), Jann Keenan, Stanley Warren, Shaun Harper, and Dick Bishop.