McCarthy Education Law and Policy Institute, workshop to focus on hot education topics
Registration still open for Thursday and Friday events
Bullying, evaluation and special education law are among the topics that will be a part of the annual Martha McCarthy Education Law and Policy Institute on Thursday at Indiana University Bloomington.
The institute and Friday's Regional Educational Laboratory Midwest program, also in Bloomington, make up the 47th summer education seminar of the IU School of Education and the IU School Administrators Association. This year's seminar includes the most expansive slate of panels to date.
"The institute will provide updates on recent education law litigation in Indiana and around the country," said Suzanne Eckes, associate professor in the Education Leadership and Policy Studies Department at the IU School of Education, who helped organize the conference. "Current teachers, administrators and school law attorneys will find the topics especially relevant."  Eckes said attorneys can earn six credits toward Continuing Legal Education.
The Thursday portion of the conference is being held under the name of Chancellor's Professor Emeritus Martha McCarthy for the first time. During last year's event, organizers announced the renaming in honor of McCarthy, a faculty member at the IU School of Education from 1975 to 2011 who is nationally recognized as an expert in education law. Her research has covered a variety of education leadership and policy matters, including student engagement, equity in schools and teacher preparation.
The Friday program is sponsored by REL Midwest, the U.S. Department of Education's Regional Educational Laboratory for the Midwest region, which works to provide data and research for state departments of education and school districts.
Registration for the sessions is free. You can register online.
The Thursday program takes place at the Willkie Quad central building, located on Rose Avenue across from the IU School of Education. Robert Kim, deputy assistant secretary for civil rights at the U.S. Department of Education, will deliver the keynote address, titled "School Discipline and the Law."
Panel discussions begin at 9 a.m. on Thursday. The day's topics and panelists include:
Special education law: Lisa Tanselle, attorney for the Indiana School Boards Association; Sandi Cole, director of the Center on Education and Lifelong Learning at IU; and Janet Decker, assistant professor in the Educational Leadership and Policy Studies Department at the IU School of Education.
Bullying and harassment, legal and policy issues: Martha McCarthy, Chancellor's Professor Emeritus, IU School of Education; Concetta Raimondi, clinical professor, Educational Leadership and Policy Studies Department; and John Borkowski, partner at the Washington, D.C. and South Bend-based firm of Hogan Lovells, who has worked on education law and civil rights issues over nearly 20 years.
Pending teacher evaluation litigation: Dave Emmert, attorney for the Indiana School Boards Association; Suzanne Eckes, associate professor, Educational Leadership and Policy Studies Department; and 

Hardy Murphy, research scholar at Indiana University.

Updates on Indiana education law: Michelle Gough McKeown, general counsel for the Indiana State Board of Education; Emily Richardson, interim executive director of legal affairs and policy at the Indiana Charter School Board; and Amy Matthews, a school and education law attorney at the Indianapolis firm of Church, Church, Hittle & Antrim.
Friday's REL Midwest portion of the conference will be held at the Bloomington Monroe County Convention Center, 302 S. College Ave. in downtown Bloomington, starting at 8:30 a.m. This portion is focused exclusively on principal and teacher evaluations, starting with an address on the subject from Anthony Milanowski, senior study director at Westat, a research company based in Rockville, Md., that serves federal, state and local governments as well as business and foundations. Milanowski researches performance evaluation of educators. Other portions of the program include a tabletop discussion to delve into evaluation issues in depth as well as a panel discussion moderated by Milanowski that features Angela Minnici, principal researcher at the Center on Great Teachers and Leaders at the American Institutes for Research.
A full listing of panels and times is available online.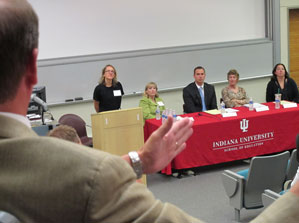 Panelists, including Suzanne Eckes, at podium, and Martha McCarthy, second from right, listen to a question at last year's summer education seminar.