IU expert: U.S. students' PISA results cause for concern, but take care in drawing conclusions
The mediocre scores posted by U.S. students on the latest Programme for International Student Assessment shouldn't be surprising, says David Rutkowski, assistant professor of educational policy at the IU School of Education and an expert on student assessment.
But it is disconcerting, he says, that so few U.S. students score at the top levels of the exam, known as PISA -- a measure on which the nation is below average and lags behind most of its peers.
Rutkowski adds that policymakers and the public should be cautious about interpreting the results and shouldn't blame schools or teachers for the scores, because the skills measured by the assessment don't match the standards and curriculum that are taught in U.S. schools.
"PISA is an assessment by an economic organization that tests 15-year-olds from a variety of grade levels that may or may not have had an opportunity to learn the material," he said. "We as a country must decide if this is what we want our students to know, and if so, the conversation should be on how to make sure that curriculum is focused in our schools."
PISA results were released today by the Organisation for Economic Cooperation and Development, an international group that administers the assessment. Out of 65 countries that take part in PISA, the U.S. ranked 26th in math, 21st in science and 17th in reading.
Because of the way the assessment is designed, Rutkowski said, it is difficult to talk about change in science and reading for this round of the assessment.
"But we are able to look at trends in mathematics," he said, "which do not bode well for the educational reformers in the U.S. that have promised change over the past seven years. In fact, from 2006 to 2012, the U.S. scores were not measurably different from one another.
"That said, this also is typical when compared to the rest of the world. Only six countries that participated in both the 2006 and 2012 assessment saw achievement gains greater than the U.S."
Rutkowski said it is troubling that few U.S. students perform at the top levels in PISA. The exam breaks performance down into seven levels, with the top two designated Levels 5 and 6. In mathematics, the U.S. is below the overall average, with 6.6 percent of its students performing at Level 5 and only 2.2 percent at Level 6. In Singapore, by contrast, 21 percent perform at Level 5 and 19 percent at Level 6.
"Some scholars and policymakers argue that we have plenty of high performers to keep our economy booming and that there aren't enough positions for all of our current college grads," Rutkowski said. "This is probably the case, but raising everyone's achievement should be a goal for an educational system that has one of the highest expenditures per student in the world."
Rutkowski said PISA has its place, but other exams do a better job of showing how well teachers and schools are performing in comparison to those in other countries.
"In fact, PISA does not focus on the intended curriculum or things that our schools are supposed to be teaching," he said. "We have other international assessments for those conversations. The most recent NAEP TIMSS Linking Study shed a great deal of light on how U.S. schools perform on topics that they actually are mandated to teach."
To speak with Rutkowski, contact Chuck Carney, director of communications and media relations in the IU School of Education, at 812-856-8027 or ccarney@indiana.edu.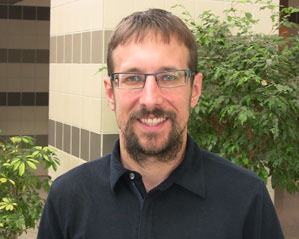 David Rutkowski