P-16 helps STEM students embrace holiday spirit
Two hundred students build holiday display to demonstrate integration of STEM classes
Students from three local school corporations are getting into the holiday spirit a little early this year, thanks to a project organized by the School of Education's Center for P-16 Research and Collaboration and several organizations. Around 200 students from Springs Valley Community School Corporation, Shoals Community School Corporation and Paoli Community School Corporation are participating in a workplace simulation project to design and build a huge gingerbread house as an attraction for tourists and shoppers.
Professionals from French Lick Resorts will work closely with culinary arts students in the creation of the gingerbread houses and the business students, in the organization and implementation of the event.The project also demonstrates how STEM classes are integrated; students from algebra, chemistry, physics, engineering and computer science, among other subjects, must work together as they determine the scale and layout of the house, wiring and lighting within the house, programming a trolley to run along the display and interactive lighting and music around the display.
The final presentation of the project will be from 11:45 a.m. to 1:45 p.m. Wednesday, December 6, at the French Lick Resorts Clifton Ballroom.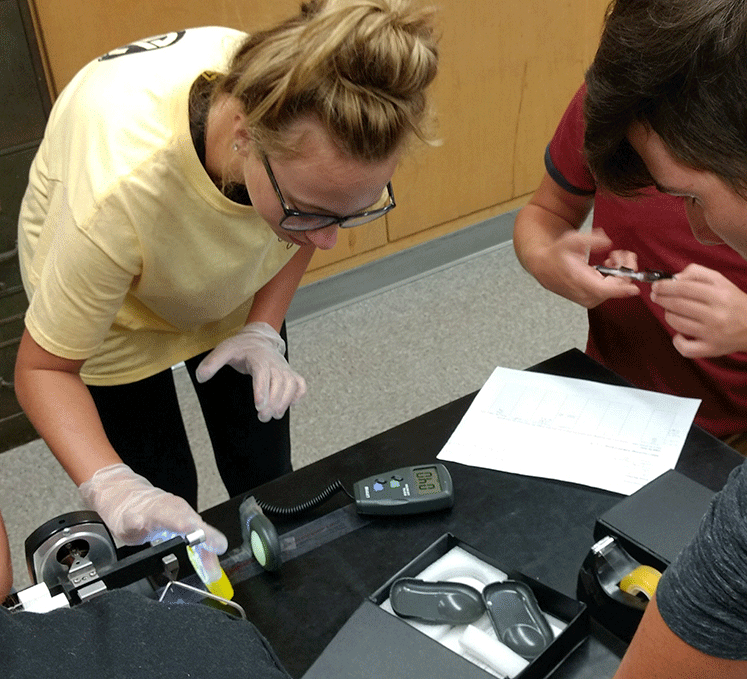 The Integrated Chemistry and Physics students measure around the transparency of their candy for the windows of the house.