Indiana Teacher of the Year talks about connecting with students
Jitka Nelson spoke on her experience working with ESL students
Jitka Nelson started off her discussion with INSPIRE Living-Learning Center students comparing teaching to planting a garden.
"In my life and in my classroom, I am a gardener. When I plant a seed, I cannot expect a flower right away. I believe that every flower can bloom, and every child can learn," Nelson said.
Nelson, the 2017 Indiana Teacher of the Year, is a developmental reading and English for English Learners teacher in Logansport, Indiana. She has a special bond with sutdents who don't speak English as a first language – Nelson was born in the Czech Republic, formerly known as Czechoslovakia. She has been an educator for 25 years. One activity Nelson does to connect with her students includes a heart map. She asks her students to divide a heart into three sections: one for their native country, one for the United States and one for things they love. The heart map is a chance for her to learn about her students' experiences and cultures.
"Students have to be able to take responsibility. That's where I need their stories, so I know the entire story," Nelson said. "Then we need to do a lot of listening. Sometimes it's not the words they're screaming out, sometimes it's their behaviors. Behind every behavior, there's always a reason."
Nelson uses data from test scores to work with her students and figure out where they can improve. Sometimes a drop in data can be explained by a student not paying attention – but other times it might be serious trauma in the student's life.
"The more you know about your students, not only their English proficiency, but also their test scores, the better," she reiterated. "Students need a lot of support, and they need a lot of balance. You have to give it to them in small bites."
Despite the struggles many of the students go through as they adapt to a new language and culture, Nelson said they are always grateful for the same things: "They are thankful to God, and they always say, 'I'm thankful for my teachers.'"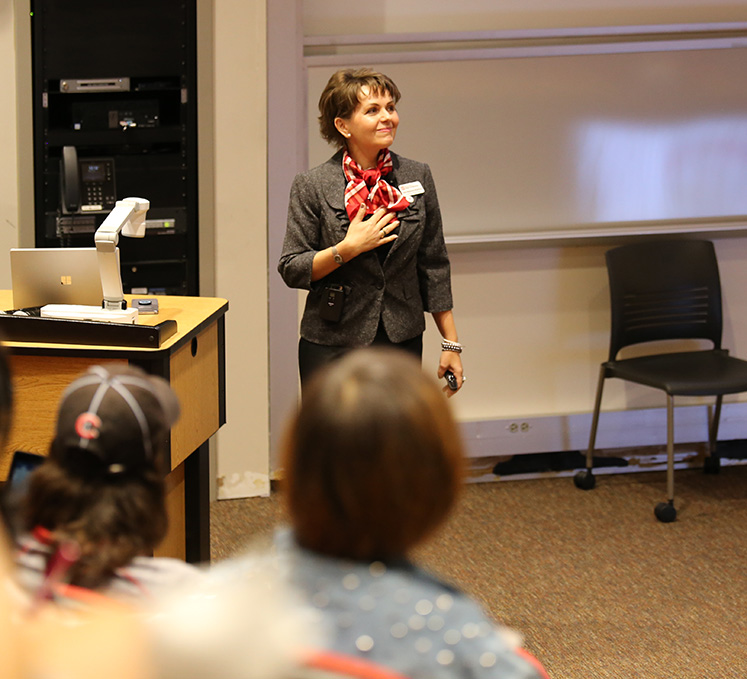 2017 Indiana Teacher of the Year Jitka Nelson