Madel Presto looks to inspire future math students
Senior secondary education major wants her future classroom to be interactive
Madel Presto's path to become a teacher didn't even start at the School of Education.
Instead, it started at the University of Evansville, where Presto intended to study music therapy. But she found herself unhappy there after a semester and transferred to IU, where she knew she had a lot of degree choices. Eventually, Presto realized she had always wanted to be a teacher – and classes on how to teach math at the School of Education were her favorite.
"My favorite teachers had always been math teachers, particularly from my high school," Presto said. "Some of my worst teachers were also high school math teachers. The bad math teachers that I've had, you could tell they didn't care about math, they didn't care about the students' progress in math. I think I naturally have that enthusiasm. I care about math, maybe my students will care too."
Math can be a challenging subject to teach. Students who have struggled with it come into high school with a mindset that they're "not a math person," as Presto put it.
"I'll try everything I can to make the math more relevant to the students' lives," she noted. "Bring in current events, bring in what they are interested in. Let them know where they can find math outside the classroom. I know when teachers ask about your interests, that shows oh wow, they really care. Bringing up little things can really make a student's interests spark. That's what you need."
One of Presto's goals is to make her future classroom an interactive space, where students are helping each other and not just looking to her to solve the math problem.
"I want them to learn at least one new thing every day and have those light bulb moments," she said. "We all have the same goal, and I want them to know that. I want them to know we're all on the same level, and we're just helping each other."
Presto knows she'll have other challenges to face as a teacher. But armed with the knowledge that she enjoys math and working with kids, she knows this is the career for her – and encourages other School of Education students to face the challenge of teaching head on.
"Why would you not do something you want to do? You want to be happy with what you're doing. If the School of Ed is your way of getting there, go for it. Don't listen to what everyone else has to say," she said.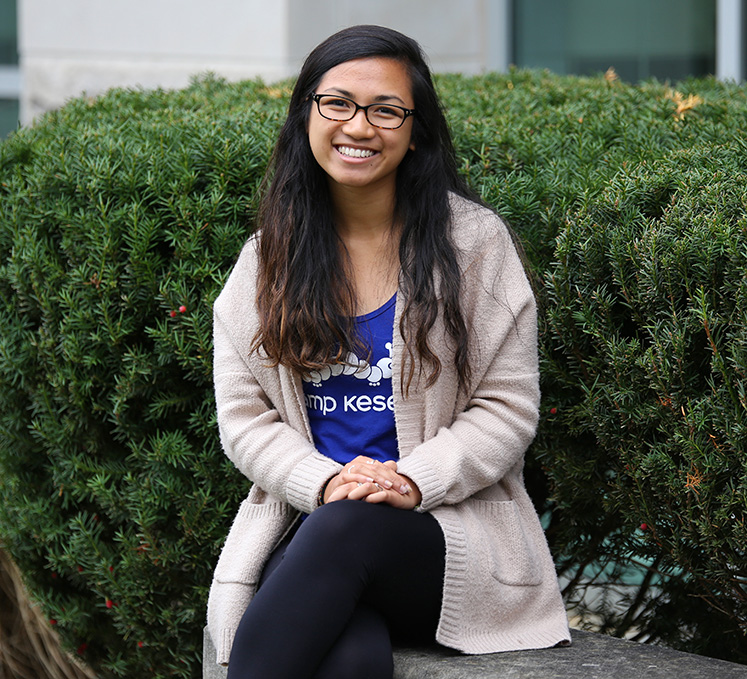 Senior secondary education major Madel Presto wants her future classroom to be interactive