IU Alum Shares Migrant Experience Through Art Work
Jakkai Siributr brings stories of Myanmar immigrants to Bloomington
When he visited Thailand last year, Dean Terry Mason attended a gallery exhibit of works by textile artist and IU School of Art alumnus Jakkai Siributr. That meeting set the stage for an exhibit sponsored by the School of Education of Siributr's work at the Mathers Museum of World Cultures.
The exhibit, called Dark Water, includes large scale embroideries and photographs exploring the lives of migrant workers from Myanmar who have fled to escape religious and ethnic persecution. Migrants hope to find a better life in Thailand but often are victims of human trafficking and discrimination. Due to the lack of knowledge about regional history and strong nationalist sentiments in Thailand, the migrant workers have to deal with prejudice on a regular basis as they try to adapt to their new surroundings and culture.

Siributr also has another connection to IU—his father, Siri Siributr, is a School of Education alum who worked for Thailand's Ministry of Education.

The exhibit will be on display at the Mathers Museum until the end of October.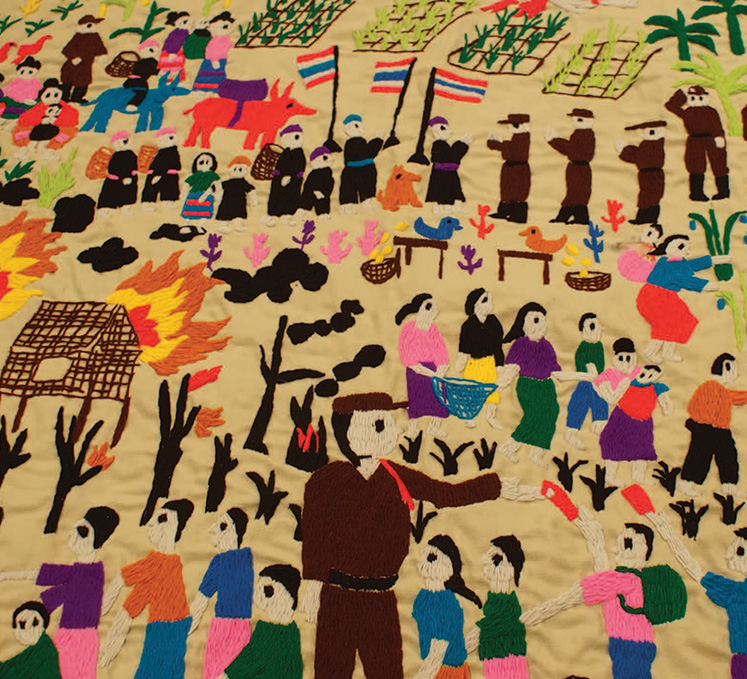 The
Dark Water
exhibit includes large scale embroideries and photographs exploring the lives of migrant workers from Myanmar who have fled to escape religious and ethnic persecution