Crane STEMulation Offers Real World Experiences
The Workplace Simulation Project, in its second year, serves to provide hands-on STEM educational programming for high school students
The gymnasium at Bloomfield Junior/Senior High School was filled with people, machines and computers this month in preparation for the final presentation of the Workplace Simulation Project between Bloomfield students and Naval Surface Warfare Center Crane Division (NSWC Crane) volunteers.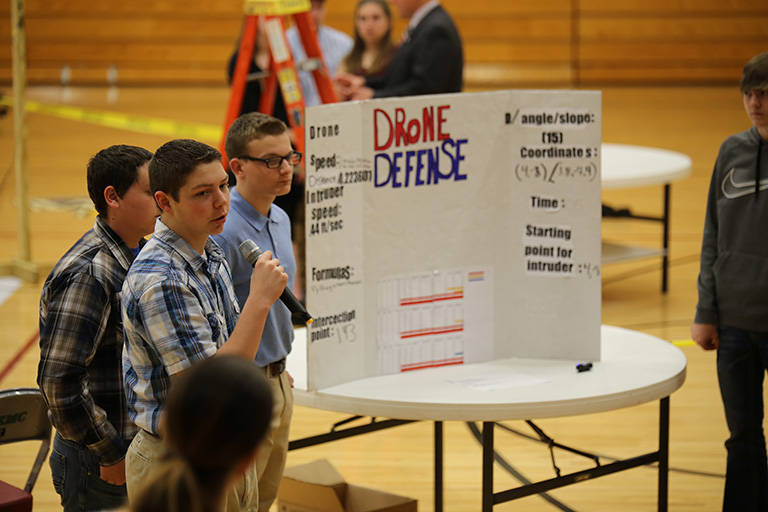 The project in its second year serves to provide hands-on STEM educational programming in simulated workplace environments for high school students in Indiana. Since 2004, growth in STEM (Science, Technology, Engineering and Mathematics) jobs in the United States has been three times faster than in non-STEM jobs, with workers earning 26% more than non-STEM counterparts, according to the National Science Foundation. With retirees leaving jobs that are not being filled and K-12 education trending away from teaching trade and vocational-tech skills, experiences like the Workplace Simulation Project aim to close the gap and give students a chance to combine what they're learning in algebra, physics, Project Lead the Way, computer programming and computer science classes into a real world problem that involved a home invasion system.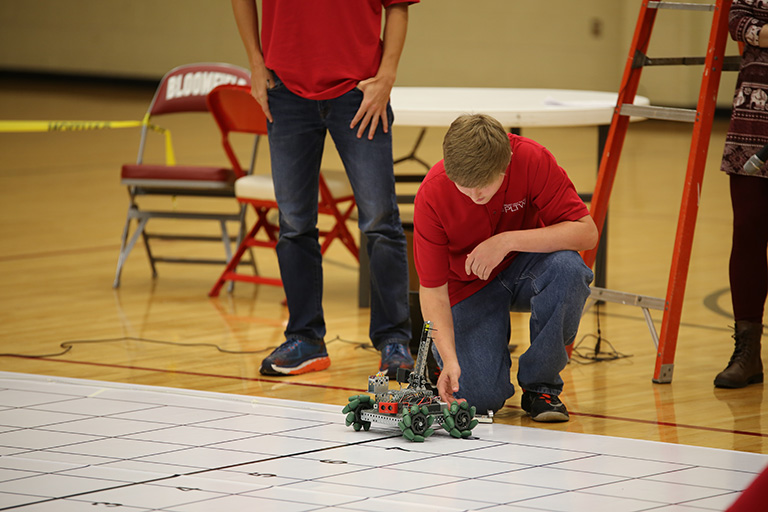 Each class presented their individual parts of the project to the crowd, followed by demonstrations. When mistakes were made, students recalculated on the spot and tried again. After there were a few failures during the demonstration, one engineer from Crane remarked, "For every success there's a thousand failures. Just build on those failures, and you'll have success."
The project is also a collaborative effort between DirectEmployers Foundation and the Indiana University Center for P-16 Research and Collaboration at the School of Education.