Art Education Project Combines Theater With Learning
The project represents a partnership between Art Education Assistant Professor Gus Weltsek and the Academy of Science and Entrepreneurship
The lesson was for English and social studies, but no teacher stood in front of the class. Instead, students were spread around the classroom – which didn't resemble a typical classroom. It was crowded with posters, lights and sheets that divided up the space and brought attention to items on show. This room had been temporarily transformed into a living museum, with students from the Academy of Science and Entrepreneurship, a Bloomington high school, posing, dancing and demonstrating their work. One offered homemade Turkish delights to visitors; another stayed silent and invited guests to paint on her. Each exhibit demonstrated knowledge and research the student had done over the course of a semester on a specific ancient empire.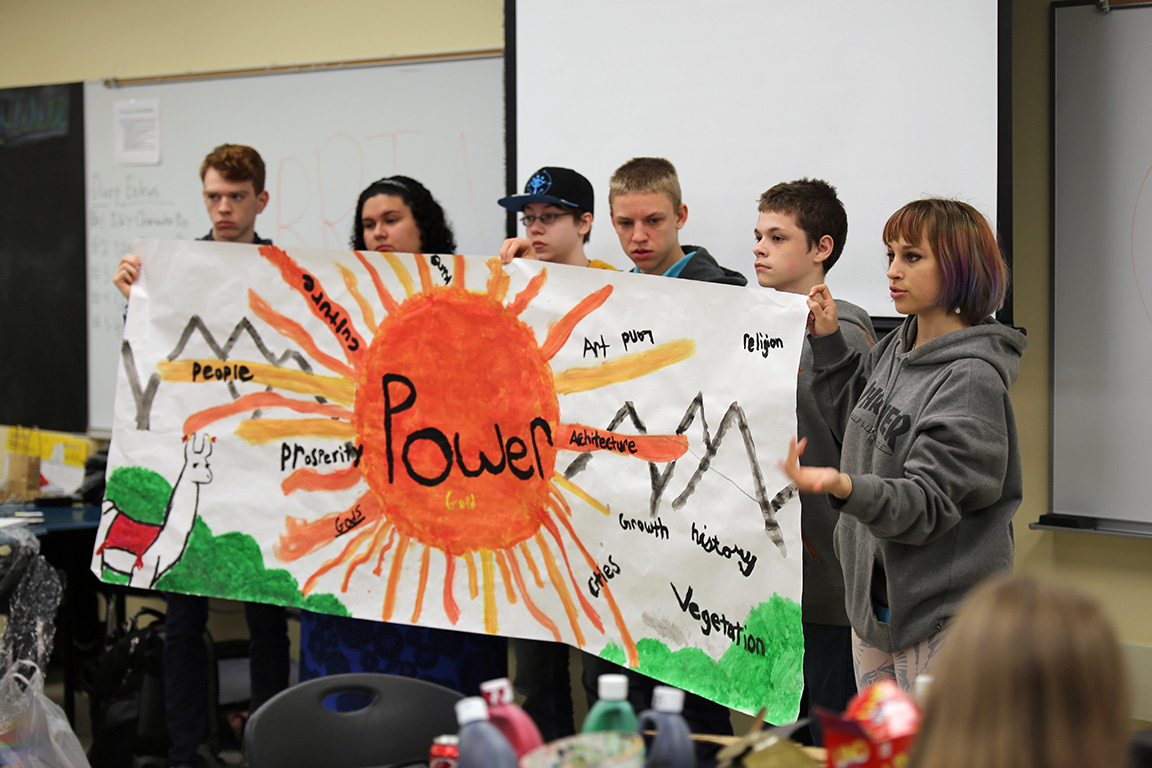 The project represents a partnership between School of Education Art Education faculty Gus Weltsek and the academy. They had to research an ancient civilization and choose a character for each of them to embody that was alive at the time of that empire – such as a royal, a farmer, a business owner or a slave. Students had to keep diaries in the voice of their chosen characters, map out a timeline of the rise and fall of their empires, create a graffiti wall that included facts, figures, artistic work, quotes and narratives, and finally share their knowledge and experience with each empire through a living exhibit.
"This project is aimed at exploring the ways in which the Arts inform learning in social cultural ways as well as quantitative ways as represented through state and teacher generated assessments," Gus Weltsek, an assistant professor of art education at the School of Education, noted. "The hope is to situate the Academy within an Arts rich STEM model or STEAM."
Adding an arts component to STEM initiatives – effectively changing the acronym to STEAM – is one of the main takeaways from the project. Weltsek adds that a focus solely upon skills and memorization of formula and dates inadvertently shuts down the human need to explore, imagine and create. That's where the work from the students come in. Noel Koontz, an English teacher at the academy, along with Nathan Turner, a social studies teacher at the academy, worked with Weltsek and School of Education Ph.D. student Leslie Rowland to infuse researched-based imaginative learning strategies into a combined English and social studies tenth and eleventh grade class.
"It's a way to help students see themselves as active participants in a democratic society, as well as enrich their achievement on standardized state and teacher generated assessments," Weltsek said.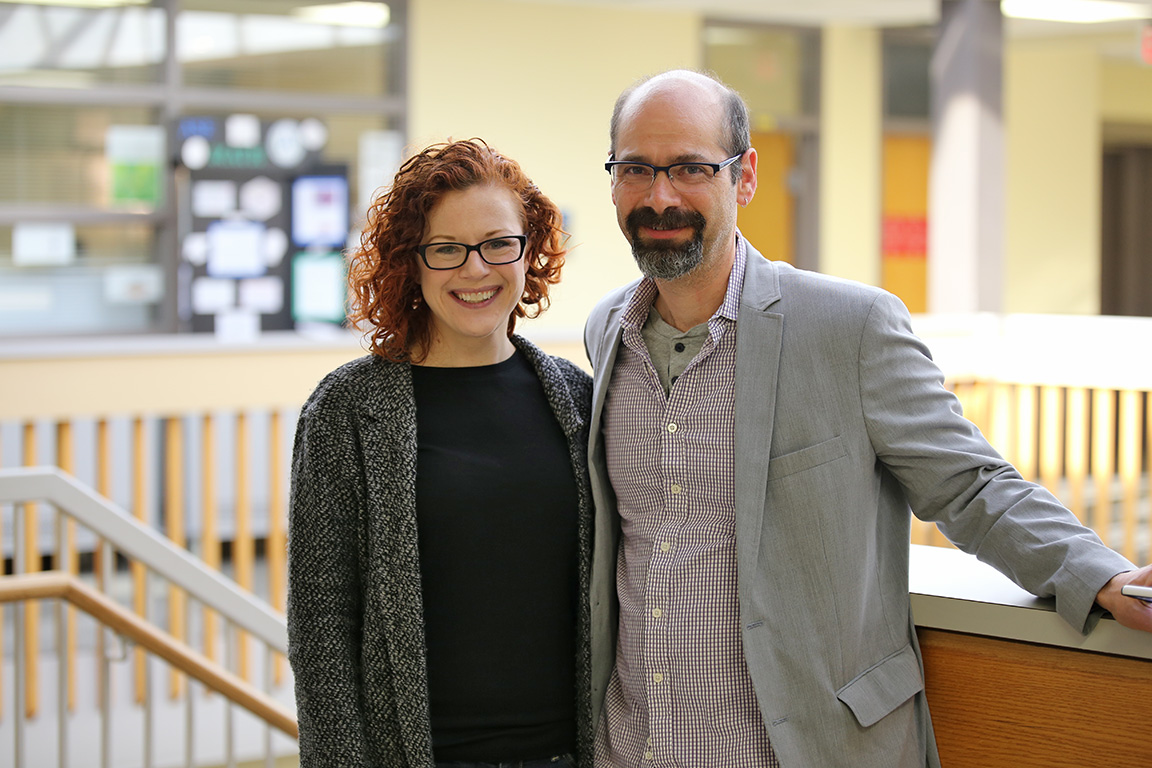 Weltsek and Rowland's work with the academy grew out of an extension of a collaborative project begun through Ivy Tech Community College Bloomington, where Weltsek was helping write a play with Koontz and his students in early 2014. When Weltsek became a faculty member at IU, he turned the project into a full scale research mixed methods research project. Since the academy is a project-based learning school, it fit in well with the methods of teaching already being done. The school also enthusiastically embraced suggestions for arts-based strategies and assessments.
"Science, technology, engineering, and math are important subjects and skills to learn. With arts strategies, though, students can explore the same topics, themes, and subjects in many ways," Rowland explained. "A number of research articles document how adding the A in STEM encourages creativity and critical thinking in ways traditional learning strategies may not."