Three Beloved School of Education Colleagues to Retire
Judy Crow, Gary Crow and Jack Cummings will retire this summer after many years of service to the school
Three beloved School of Education colleagues – Judy Crow, Gary Crow and Jack Cummings – will retire this summer after many years of service to the school. All three were celebrated in a reception at the school, where coworkers and students alike shared stories about the many contributions Judy, Gary and Jack made to their lives and many others. We're thankful for all their work and will miss seeing them around the school.

Judy Crow
Judy has a Master's from the University of Utah in Education, Culture and Society, and has a long history of service to the field of Education – in particular, to institutions of higher education. Her experience includes time as an elementary teacher in New Albany, Indiana, a program coordinator for Continuing Education, an administrative assistant for the University of Utah School of Medicine and the Associate Director for the Florida State University Teacher Learning Community. Throughout her career Judy has also held pivotal roles in coordinating educational services for religious and healthcare organizations.
 
When she came to IU, Judy became a key player in getting the INSPIRE Living Learning Community program off the ground and has been instrumental in INSPIRE becoming one of the school's signature programs. As the assistant director for the Living-Learning Center, Judy has helped to develop, create and manage a unique and engaging experience for the 160 students who have participated since INSPIRE began in the fall of 2014.  
 
Gary Crow
Gary earned his Ph.D. from the University of Chicago in Education Administration, and began as a faculty member at Bank Street College of Education.  After leaving New York, he was on the faculty at Louisiana State University, University of Utah, and Florida State University prior to his arrival at Indiana University.
It was not long after he arrived at IU that faculty in the department of Educational Leadership and Policy Studies selected him to be department chair.
 
Gary is also a distinguished author and editor, as well as a highly respected scholar and an internationally renowned leader in his field.  Gary's research focus includes school leadership, school reform, leadership development and professional identities of school leaders in reform contexts and successful school principals. Along with his accomplishments here, Gary has been a visiting faculty member at the University of Reading (England) and the University of Otago (New Zealand) and a faculty fellow at Western University (Canada). Without a doubt, Gary's skillful leadership has advanced the School of Education immeasurably. 
 
Jack Cummings
Jack received his Ph.D. from the University of Georgia in 1980 and arrived in Bloomington the same year. He was eager to join the faculty as an Assistant Professor of School Psychology. His early research focused on assessment of cognitive and adaptive abilities of children and adolescents and the practice of school psychology in rural settings. In recent years, his research interests have focused on population-based school mental health services and the use of technology in providing psychological services to school-aged children and youth. 
 
During his time with the school, Jack directed the School Psychology Program from 1984 to 1993, overseeing the Ph.D. and Ed.S. Programs. He also served as Department Chair of Counseling and Educational Psychology.
 
He was also the Executive Associate Dean for the School for 2000, a role he served in again from 2010 to 2011. Jack is highly regarded by colleagues and students alike and he will be remembered as a valued teacher, scholar, and leader at IU and beyond.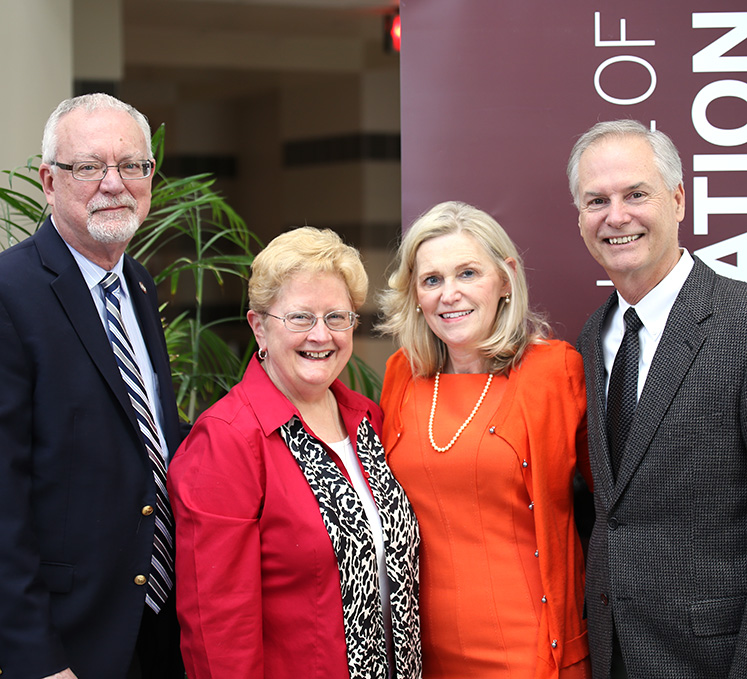 View larger image »
From left to right: Gary Crow, Judy Crow, Marcia Campbell, and Jack Cummings