Center for Human Growth Wins Community Service Award
The Center for Human Growth at the School of Education has been honored with the 2017 O'Bannon Institute for Community Service Community Partner Award
The Center for Human Growth at the School of Education has been honored with the 2017 O'Bannon Institute for Community Service Community Partner Award. Lynn Gilman, Director at the Center for Human Growth, was given the award at the 14th Annual O'Bannon Institute Civic Engagement Awards at Ivy Tech Community College in Bloomington, where they have a long-standing partnership.

The Center for Human Growth partnered with Ivy Tech in the summer of 2007 to provide counseling services to the Ivy Tech student body. Services are provided by advanced graduate students under the supervision of licensed faculty members in the IU Counseling Psychology program.

"The partnership provides an opportunity for our students to provide professional counseling services to an underserved population and gain valuable supervised training experience in the delivery of mental health services," Gilman remarked. "The duration of the partnership speaks to the success of this partnership. The Ivy Tech students we serve might not otherwise have access to mental health care that is affordable and accessible. Furthermore, this access to counseling services provides support to students that may increase the likelihood of their academic success."

Staff and faculty at the Center for Human Growth were described as "the embodiment of civil servants, and we admire your commitment to our local communities through your volunteer work," one of many reasons why they were honored with this award.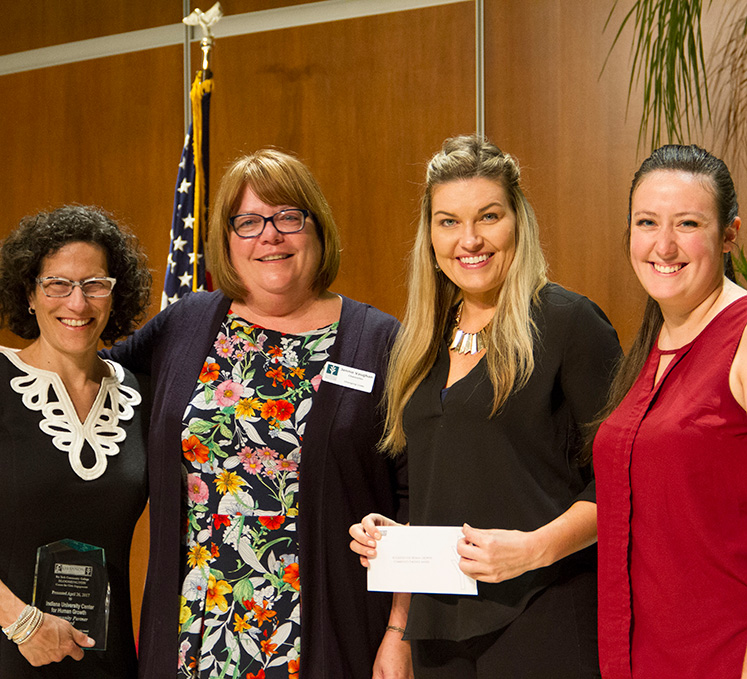 View larger image »
Left to right, Lynn Gilman (CHG Director), Jennie Vaughan (Ivy Tech Chancellor), Amanda Farris (CHG Clinic Coordinator), Elyssa Klann (Doctoral Student CHG-Ivy Tech Counseling and Outreach Program Coordinator)