Alumna Saisuree Chutikul Dedicated to Promoting Women's and Children's Issues
Dr. Saisuree is one of the School of Education's most accomplished and honored alumnae
During his trip to Thailand in December, School of Education Dean Terry Mason had the privilege of meeting with Dr. Saisuree Chutikul (MS Educational Administration, 1957; Ed.D, Educational Psychology, Counseling & Guidance, 1962). She expressed interested in learning more about the School of Education's work in the area of STEM education and international projects that address violence and childhood trauma in post-conflict situations.

Dr. Saisuree is one of the School of Education's most accomplished and honored alumnae. Over the course of her distinguished career Dr. Saisuree was a member of the UN and served on the Committee on the Elimination of Discrimination against Women, was Vice-Chair of the Committee on the Rights of the Child and represented Thailand for twelve years on the UN Commission on the Status of Women. She was also a Cabinet Minister responsible for Women's Affairs, Children and Youth and Social Development and a Senator who chaired the Senate Standing Committee on Women, Children and Youth from 1996-2000. She currently serves on various national committees that focus on combating human trafficking, women's affairs, children's and youth affairs, early childhood development, and children's rights.
Dr. Saisuree was kind enough to answer some questions about her journey in the field of education and her efforts to improve children's and women's rights. Below are her answers.
What first ignited your passion in education? How did this translate into your focus on children and women's rights?
I was born in a house on a school compound to a mother who was a teacher, principal and owner of a private school which had classes from kindergarten to the last year of high school. I was surrounded by children and had opportunities to play with them and learned with them.
When I was in the high school, my mother asked me to help her in teaching, singing to the young children, played piano for them for various musical activities such as dancing and drama.
During my years of the under-graduate work in the US, as a part of the project in child development, I observed the behaviors of young babies as well as did the practice teaching as a third grade teacher.

In my earlier years as a lecturer at Chulalongkorn University, I established counseling services for university students where many students with varieties of problems would come in for help.

Later on I helped establish Faculty of Education and founded the demonstration school at Khon Kaen University. We did the non-graded classes, individualized instruction, team teaching, peer tutelage and learning resource center with the aims to help the children to love learning and to be happy.

During the International Year of the Child, I was given the task by the Government to be the chair and coordinate the project on 20-year Policy and Strategies for development of children in Thailand. That was when I studied the Declaration of the Rights of Children which later on this was to become the Convention on the Rights of the Child. I was making every efforts to persuade the Thai Government to ratify this Convention in 1991.

While I was working with children, it was observed that the girl children have many disadvantages. My father's family is a very conservative Chinese family. Girls and women were treated with discrimination. According to my mother who graduated from the first girls school in Thailand established by Protestant missionaries, she has to fight with her in-laws. She became the first president of Presbyterian Women in Thailand in 1950 where she tried to improve the status of women in the churches. She has influenced my values and attitudes on this topic. Later on I helped the Thai Government establish the Division of Women Affairs in the Office of the Prime Minister.
The Thai Government has used me in various capacities to help advance the development and empowerment of children and women including promoting and protecting of their rights. I also try to serve children and women in ASEAN and in the UN.

My commitment to help the children and the women was gradually evolved. It has gone beyond the duties and the responsibilities as prescribed in a job description as an employee. My mother as a role model and her teaching along with the Christian teaching have influenced me to love children and young girls in particular.

Throughout your career what have your goals/motivation been behind your work? How have you achieved them?
Since my childhood I have been taught by my mother and a few teachers who have influenced my life. My mother always taught us to believe and have faith in God and to live a life that serves the people. One of my American piano teachers always put her hands on my hands before each piano lesson and said a prayer asking God that my two hands would serve the people. The teachings would center around the messages: do the best in whatever you do for the glory of God, don't be discouraged and give up too easily, find your ways to solve the problems, appreciate those who work with you, be creative and productive, you can accomplish anything if you don't seek the recognition and credit for yourself.

I have to confess that I did not practice what I was taught in a lot of times.

What do you feel there is left to do?
This is a difficult question. There are so many things that I still would like to do. They are along the same line of work that I have been doing all my life: child development, parenting, elimination of violence against children and women, trafficking of children and women, writing children's books, and music compositions. I also still would like to become a better wife, mother and grandmother.

What challenges have you met during your career and how have you worked to overcome them?
The most difficult obstacle is around the work related to our proposal to change or revise the laws and regulations on human rights of children and human rights of women. The opposed parties can be your colleagues, persons of authorities or parliamentarians. It took a lot of patience and perseverance to learn to wait, to explain, to persuade and to convince people for changes. Sometimes we have to wait almost 10 years and a few times we still have not gotten what we want.

The second challenge is about working with and within the bureaucratic system whereby some inefficiencies exist. In some cases we have to seek new partners and sometimes we have to wait until those officials are transferred elsewhere.

The third challenge is the limited resources. Often time we have to think outside the box in order to obtain resources elsewhere.

Do you think your perspective as a woman impacts your work in anyway?
Perhaps being a woman in Thailand has both advantages and disadvantages in some ways. Although I am not so sure of this about being a woman or not a woman. However, gender stereotyping still exists in most societies.

Personally, my practices in dealing with male colleagues would be: present your view objectively, do not display your strong emotions and do not argue with them excessively.

Do you have any aspects of your personal life/personality that you feel bring a different perspective to your work?
I do not know whether this is characteristic of my personality or not because I think others have them as well. For example, the Thai sayings are that one should bite it and never let it go, don't ride on the elephant to catch a grasshopper. I do practice those Thai sayings.

Efforts to stop sexual trafficking have been in the media in the US recently. Are we winning the fight against sexual trafficking, and what can we do to stop this horrible crime?
We have been working on sexual trafficking in Thailand since 1983 when there was a fire in a brothel in Phuket. There were five girls who were chained to the window sills and were burned to death in that fire. Since then we had rescued 150 Myanmar girls from three brothels in Ranong and I also went with the police raiding several brothels around Bangkok. After that, we revised the law on prostitution and anti-trafficking law. The present anti-trafficking law, patterned after Palermo Protocol was promulgated in 2008. Two National Committees, one on policy and the other on operation, shared by 2 Deputy Prime Ministers have been established since then. Multi-sectorial and multi-disciplinary approaches have been used. Annual reports are available.

The situations have been improved each year. The number of Thai girls in prostitution have been decreased. However, the girls from our neighboring countries have been coming to Thailand, unfortunately many of them entered into prostitution with their consent. We are now working closely with the governments from Myanmar, Lao PDR and Cambodia. Our shelters have provided comprehensive assistance program including legal aid to these girl victims who have been rescued.

Our national plan of action includes prevention, protection, prosecution and partnership with all the stakeholders.

How do you feel education relates to issues of women's and children's rights?
Education, formal, non-formal and informal forms, can do a lot to promote and protect children's rights and women's rights. It can be carried out through teachers' education, curriculum and instruction in schools, research, community services and advocacy on human rights to all levels of government and society.

Human rights of women and children can be mainstreamed in all agencies and mechanisms including in the cyberspace.

In looking back at all your achievement, is there one that sticks out that you're most proud of?
I am proud that some of my works are beneficial to children and women, especially those in venerable groups. I am happy to be called upon by various government agencies, NGO's and INGOs, international communities, private organizations and individuals to help in whatever they want me to do. At my age with my health condition, if I can still help anyone, I would be proud of that.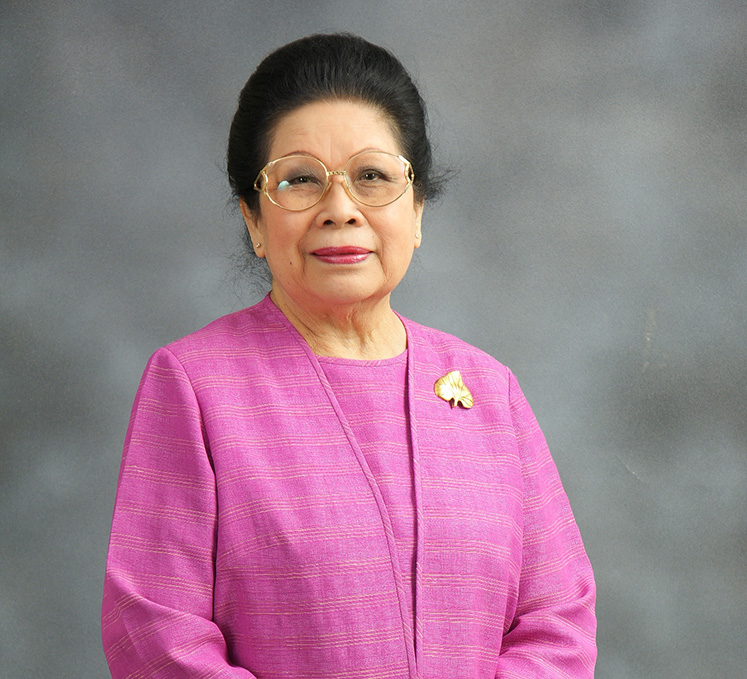 Dr. Saisuree Chutikul