Children and Future Teachers Use Art to Learn Spanish
The Saturday Art School is coordinated by the IU Art Education Program at the School of Education
Whether it's through collages, paintings or sculpture, children participating in an innovative iteration of IU's Saturday Art School have been doing more than being creative: they've also been learning Spanish while making art.
Twenty children in second and third grade have spent the past few weeks exploring a range of art techniques while also being taught Spanish vocabulary and oral and written expression. Classes took place over the course of eight Saturdays, culminating in an open house and exhibition of the children's work in the School of Education's Matrix Art Gallery. This was kicked off with a 'movie premier' complete with red carpet presentation of "The Artists' Monster Movie," where the children introducing one of their creations, a 'monster' in Spanish and asking about other kids' monsters using descriptive Spanish. This performance as well as regular class interactions were ways to assess children's language proficiency in Spanish. For example, while gathering supplies for their art projects, the children were expected to make requests in Spanish of the teaching assistants, allowing individual performance assessment in a naturalistic way.
"Such real world opportunities in art class allowed them insight on the communicative nature of their new language, where the language becomes the currency, and thus the reward for obtaining what they need," said Martha Nyikos, Associate Professor of Literacy, Culture, and Language Education (LCLE).
"They not only get creative with art, but also with creating language as depicted in the descriptive adjective and names they chose to describe their art work," noted Maria-Thereza Bastos, the project manager and associate instructor with LCLE.
The program was taught by two graduate students in the School of Education, Trinidad Valdes and Hannah Wright, with undergraduate pre-service teacher volunteers assisting while earning valuable teaching experience as part of their work to become world language teachers.
The Saturday Art School is coordinated by the IU Art Education Program at the School of Education. This special, interdisciplinary program, Saturday Exploration of Language through Art (SELA), was the first of its kind to combine two disciplinary areas of art and world language education into a class for area children. Supported by a New Frontiers in Creativity and Scholarship grant awarded by the Office of the Vice President for Research, a key research focus was on the evolving perceptions of parents, pre-service teachers, K-12 teachers from three Indiana counties and university faculty on how their evolving conceptualizations of interdisciplinary teaching evolved during the project. What makes the achievement of the SELA program so unique is that the interdisciplinary combination of art and language had an even bigger effect on achievement, as noted in the early results of the research outcomes.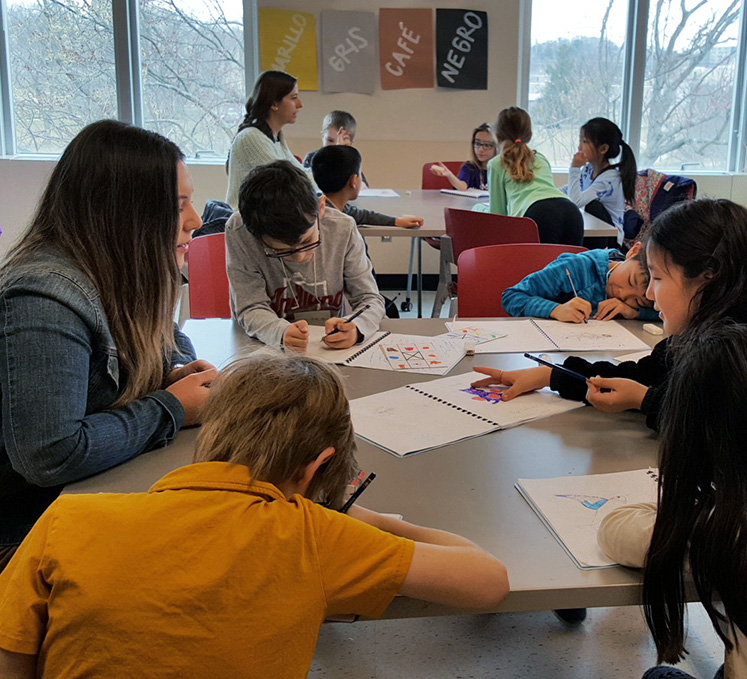 Pre-service teacher Christie Hanna, left, and Trinidad Valdes, near window, assist students in the Spanish Through Art program