Harmony-Meier Institute Focuses on Issues Around Public Education
Indiana State Superintendent of Schools Jennifer McCormick was a guest at Friday's discussion with leading progressive educator Deborah Meier, who joined via Skype
Students at the School of Education and interested community members came together to discuss public education this much as part of the Harmony-Meier Institute's annual symposium. Since this year's theme centered around public education, Indiana State Superintendent of Schools Jennifer McCormick was a guest at Friday's discussion with leading progressive educator Deborah Meier, who joined via Skype. School of Education Dean Terry Mason moderated the discussion.
McCormick thanked the students in the audience for going into education, telling them the state needed them in classrooms right now. She spoke on how policies were hurting Indiana's teachers and said that was one area she was working to alleviate.
"When I was a teacher I felt like I had autonomy in the classroom," McCormick remarked. "But it's hard to find sometimes. Bringing back that purpose so that you know what your role is, is going to be key."
Meier's focus was on creating citizen teachers by letting teachers be involved in decisions about how they teach and therefore allowing students to be in the company of adults solving problems.
"The more the students know, the more we gradually bring them into the process. You have to learn how to exercise judgment, that's my definition on educating a person," Meier said.
Standardized testing is one of the biggest issues in education, with McCormick stating she believed assessment should be tied to opportunity.
"Tying to a teacher's evaluation for the purpose that was never intended makes no sense. We're working on that as well. There are a lot of questions we should be asking. Right now our lawmakers are right in the middle."
But it was suggestions from Meier to engage in what she called creative non-compliance that drew smiles from the future teachers in the audience.
"We should push that autonomy and freedom as far as we can. I think you have to be actively showing what it's like. People who should make decision are those who implement them and are closest to them," Meier said."
The Harmony-Meier Institute includes Harmony School and Education Center in Bloomington, the Deborah Meier Archive at the Lilly Library and INSPIRE Living-Learning Center. This is the third year the institute hosted a symposium, with this year's theme being Public Conversations on Public Education.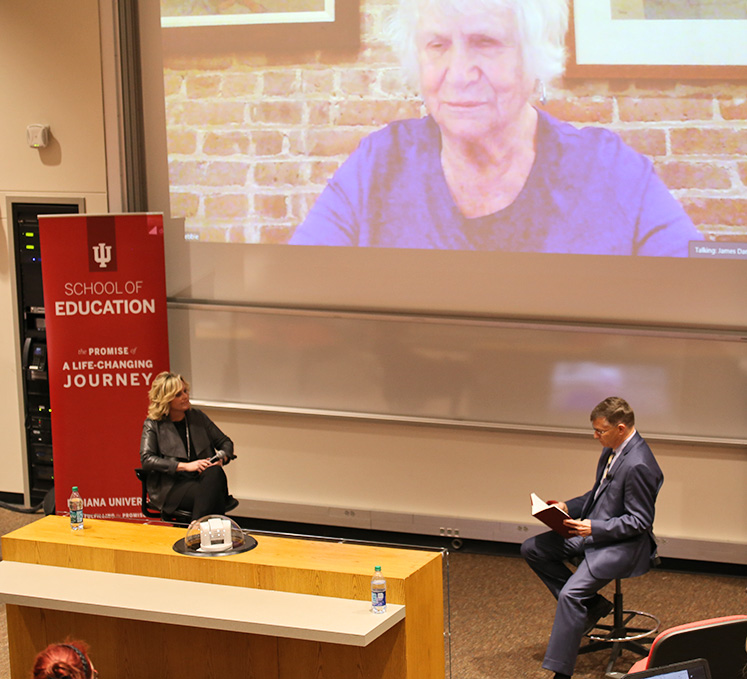 Indiana Superintendent of Public Instruction Jennifer McCormick, progressive educator Deborah Meier, and Dean Terry Mason discuss issues around public education