Milner Speaks on Race and Education
Professor Richard Milner spoke about the history of segregation and underrepresentation in schools
Students are always learning, even when they aren't directly being taught. That was one of the messages given by Professor Richard Milner, Helen Faison Professor of Urban Education at the University of Pittsburgh and keynote speaker at the School of Education's Exemplary Teaching Conference.
Milner spoke about the history of segregation and underrepresentation in schools before turning to the audience and asking why it's so difficult for people to talk about race – and facilitated a discussion as students gave their answers.
He showed several clips from social experiments involving children and their perceptions of race and said the sometimes difficult conversation isn't one we can shy away from – especially in the classroom.
If we think that not engaging students with issues of race, what we might be doing is perpetuating the notion of hate and self-hate," Milner added. "Just by living in a racist society, students start to develop a white bias. They start to internalize what it means to be smart, what it means to be attractive.
Milner said academic achievement is related to a sense of social identity and reminded the audience largely made up of IU students again that – for better or worse – learning happens in the hallway, on the bus and in the classroom.
If you missed Milner's talk, you can still watch it on the School of Education's Facebook page.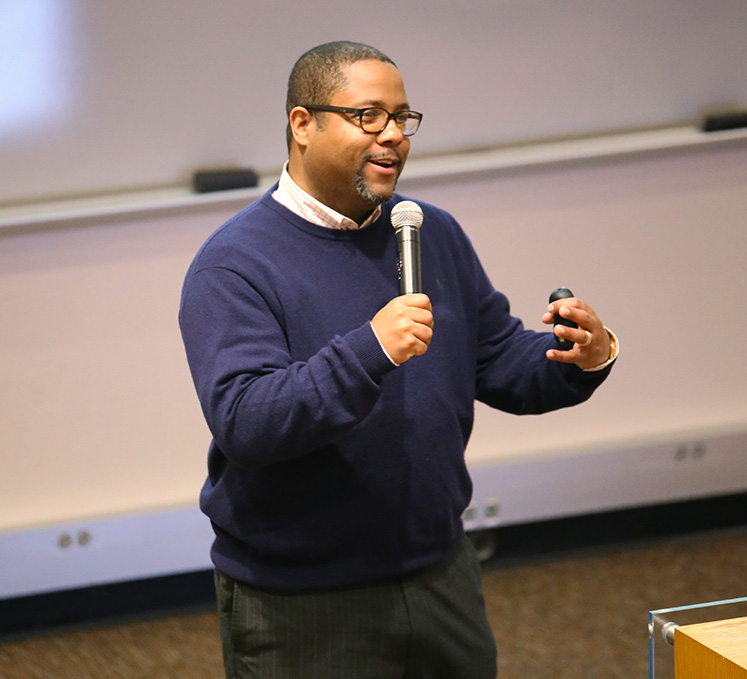 Richard Milner