Grant Advances Training for Serving LGBTQ Youth
The grant from the American Educational Research Association (AERA) will develop authentic educational materials for Prism Youth Community
Associate professor Barbara Dennis with Counseling and Educational Psychology and graduate assistant Suraj Uttamchandani with the Center for Research on Learning and Technology have received a grant that will help advance training for anyone serving LGBTQ youth. The grant from the American Educational Research Association (AERA) will develop authentic educational materials for Prism Youth Community, a non-profit LGBTQ youth-led organization, grounded in the perspectives and experiences of youth who are under-represented, such as those who are homeless or live in the foster system, are of color, and are in the criminal justice system. Community members will be actively engaged in the research process.

"We will be conducting interviews and focus groups with marginalized LGBTQAI+ [lesbian, gay, bi-sexual, transgender, queer, asexual, and intersex plus]. We will collectively analyze the data and draw on findings to create educational materials," Dennis said.

Prism has been providing training for anyone who works with children to better understand and respond to LGBTQ issues, with trainers drawing on their specific experiences, along with a review of current research. But recently the group has been asked to provide trainings that include the voices of more queer youth experiencing greater disadvantage and marginalization than Prism members have in their own backgrounds.

Dennis noted though there have been declines in anti-LGBT bullying, according to the 2011 National School Climate Survey, the rates are still high and the link to LGBTQIA+ teen suicides remains strong.

"There is a need to provide training and support for educators working with youth so that we can create safer, more affirming educational contexts for our gender and sexual non-conforming kids," she said. "We felt pleased that we can continue this strong work with support for adding more research into the already-successful educational and training process."

The grant will provide $5,000 that will go toward a small gift to interviewees, potential travel related to the interviews, workshops, development of materials, and a community-wide event where the materials will be shared.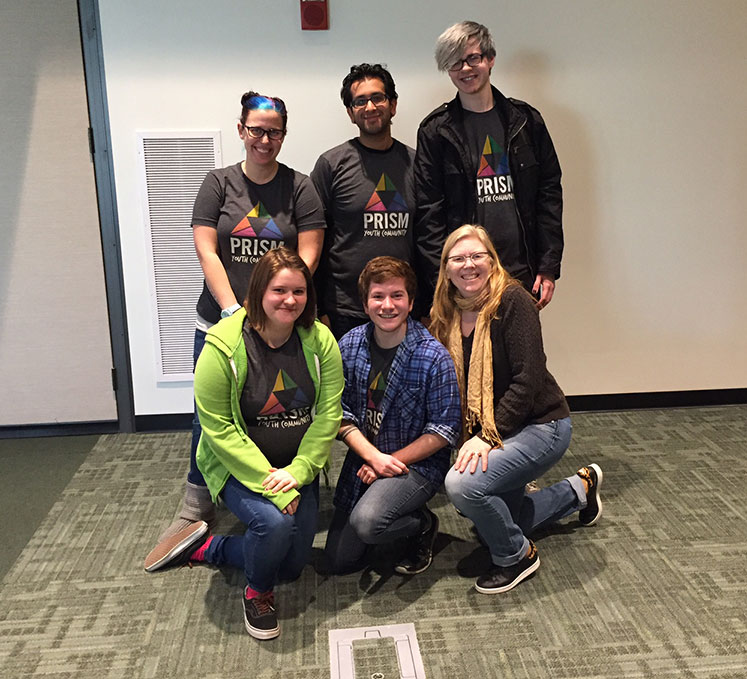 Kneeling left to right: Brie Blauvelt, Piper Lacy and Barbara Dennis
Standing left to right: Laura Ingram, Suraj Uttamchandani and Spencer Biery