African-American Read-In Encourages Students to Express Themselves
Students gathered at the Neal-Marshall Black Culture Center to hear original poems and famous works
Students from area high schools packed into the Grand Hall at the Neal-Marshall Black Culture Center on IU's campus to hear original poems and famous works at the 15th annual African-American Read-In. Part of IU's celebration of Black History month, the read-in was a chance for them to share their struggles and concerns for the country—and to just listen to both friends and strangers.
School of Education Dean Terry Mason opened the read-in by reminding the audience freedom of expression wasn't something that was guaranteed around the world, emphasizing the importance of events like the read-in. Three students sang the Negro National Anthem, and then poems were read, both original works by the students themselves and chosen pieces by influential writers like Langston Hughes and Maya Angelou. Reactions to the 2016 Election were prevalent in several poems. Others focused on relationships and social issues like police brutality.
The audience showed its appreciation for each performer with snaps—and sometimes standing and clapping.
The event is sponsored by the IU School of Education and organized by Professor Stephanie Power-Carter, a faculty member in the Literacy, Culture and Language Education department. Towards the end of the read-in, she sang "America the Beautiful" before encouraging students to come up and share something during the open mic portion.
Perhaps remembering the importance of her freedom of expression, the first student to walk up to the mic said she had been coming to the event for four years—but this was the first time she'd ever stood up to say something.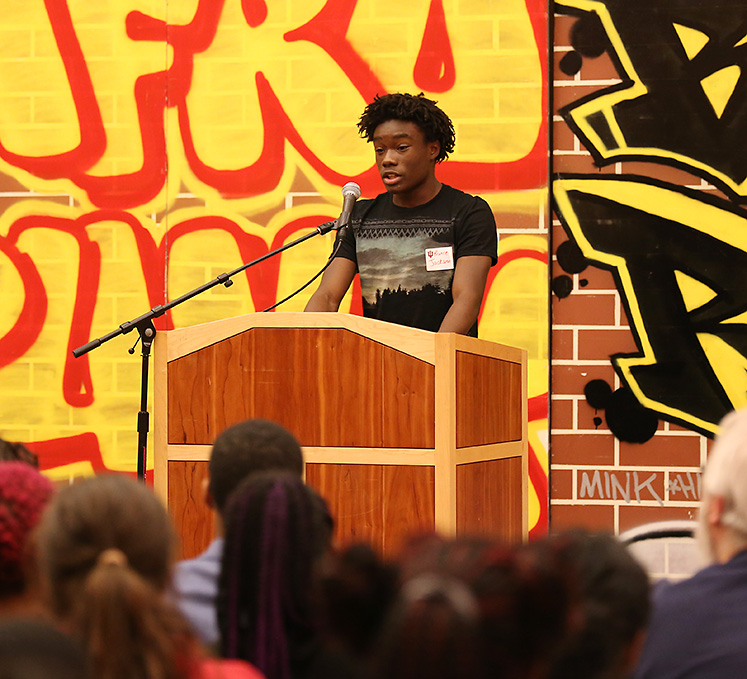 Student Prince Jackson shares his writing at the African-American Read-In