Series Addresses Hot Topics Around Public Education
The 'What is Public Education, and Why Does it Matter?' series was designed to inspire reflection and action on the nature and significance of public education
Speakers for the first session in a series discussing public education weren't expecting the Atrium in the School of Education to be standing room only – but given changes in the administration and national debate on the future of education, interest was high as students, faculty and community members came together to hear from speakers from the School of Education and the Indiana Coalition for Public Education.
The series, titled What is Public Education, and Why Does it Matter?, was designed to inspire reflection and action on the nature and significance of public education. The Program in Social Foundations of Education is hosting each of the events in the series.
Feb. 10 at noon: a teach-in and discussion of "Hate Speech vs. Free Speech," location to be announced.
Feb. 28 at 4:30 p.m., School of Education room 1210: a workshop on deliberative and participatory democracy.
March 8 at noon in the School of Education Atrium: an exercise in deliberative democracy on "How Can We Use $500 to Improve the School of Education?"
April 4 at 6 p.m. in the Monroe County Public Library: a community book discussion of "Democracy Remixed: Black Youth and the Future of American Politics" by author-activist and University of Chicago political science professor Cathy Cohen.
April 7: a daylong symposium on public education at the School of Education.
More information and updates are available at the "What is Public Education, and Why Does it Matter?" Facebook page.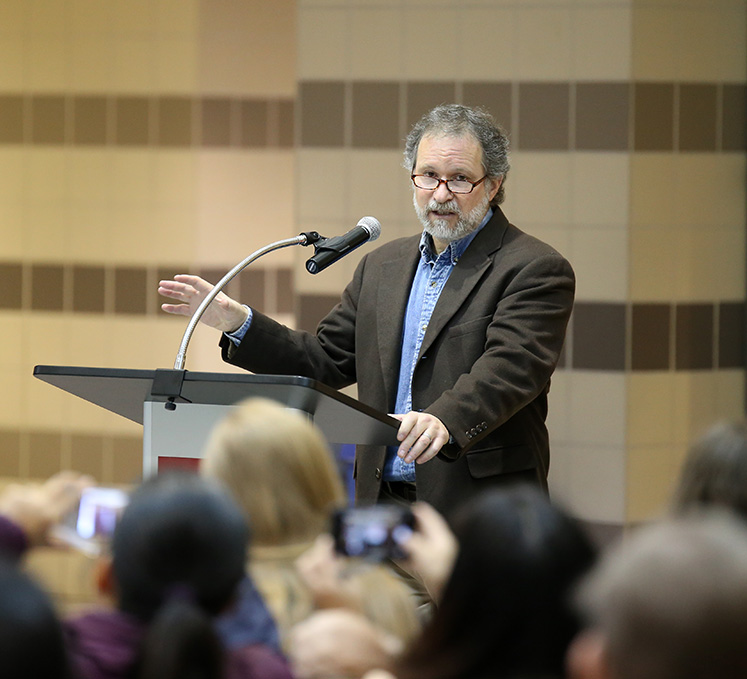 Professor Bradley Levinson introduces the speakers