School of Education Signs New International Partnership Agreement
In December, IU President Michael McRobbie and Beijing Normal University (BNU) Vice President Zhou Zuoyu signed an overall agreement on the creation of the China-U.S. Joint Research Academy for International Education. A more specific agreement to house the Academy's collaborative research and educational activities within BNU Faculty of Education and the IU School of Education was signed jointly by BNU Faculty of Education Professor Liu Baocun, Director for the Institute for International Comparative Education (IICE) and Arlene Benitez, Interim Director for the School of Education's Center for International Education, Development and Research (CIEDR). Professor Liu and late School of Education Professor Heidi Ross laid the foundation for the agreement through their extended collaboration in research and teaching in the field of international comparative education.
The Academy will support activities from all fourteen units at the BNU Faculty of Education and the School of Education's five departments, respectively. Professor Liu emphasized the institute's high interest in collaborative projects that address the following priorities, namely:
One-Belt-One-Road (OBOR) initiative of global connectivity and economic cooperation
Global governance
International educational aid
Internationalization of university campuses
Student mobility
One of the initial activities under discussion and planning currently is an exchange and mentorship program between language teachers and teacher educators involving School of Education Professor Faridah Pawan with BNU Faculty of Education Professors Li Qiong and Sang Guoyuan. The program intends to expand to include participants across the disciplines once the program gets fully underway.
The partnership agreement and signing ceremony was preceded by a celebration of IU Alumni of the Beijing Chapter at the Conrad Hotel (Beijing). Over 100 alumni from Beijing and nearby cities were in attendance for the festivities which included, amongst others, motivational speeches and musical performances from IU alumni as well as an inspirational video clip from the first Chinese Little 500 team, the Young Pioneers.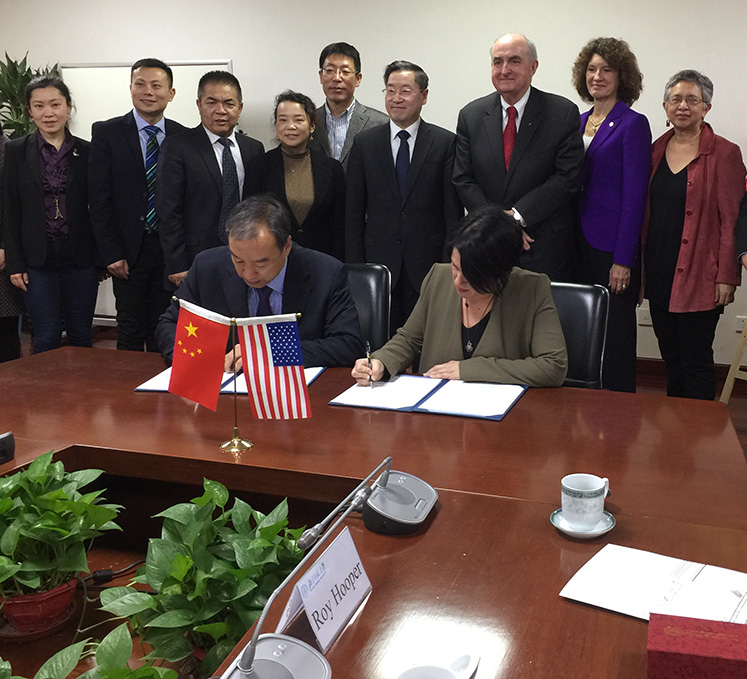 The agreement is signed by BNU Faculty of Education Professor Liu Baocun, Director for the Institute for International Comparative Education (IICE) and Dr. Arlene Benitez, Interim Director for the School of Education's Center for International Education, Development and Research (CIEDR)