Three Esteemed Colleagues Retire from the School of Education
Tom Huberty, Barb Frye, and Michael Tracy collectively served more than 100 years at IU
This month the School of Education bids farewell to three staff members: Barb Frye, Tom Huberty, and Mike Tracy. Collectively, these individuals have served over 100 years at IU and have each had a substantial impact during their time here. As they enter into retirement, their presence will be missed among their colleagues and coworkers, and their contributions and dedicated service to the School will always be remembered.
Barb Frye
Barb Frye started her career with IU in November 1972 with the Aerospace Research Application Center, a clearinghouse for NASA, under SPEA. In 1975 she came to the School of Education where she has held a variety of positions. From the Secretary in the Social Studies Development Center, to the secretary in early field experiences in the Office of Teacher Ed, as well time as a Student Teacher.
Frye worked for the Smith Research Center until 2000 when she returned to the office of Teacher Ed. She worked at the front desk before moving to the records department where she has been ever since.
As an Assistant Recorder, Barb is responsible for doing anything from grade changes to finalizing graduation lists and conferring undergraduate degrees. She manages the supervision of undergraduate record files and updates program plan stacks for our undergraduates.
When asked about Barb, her colleagues have stated that Barb is someone who always puts our students first. Past supervisors have shared that Frye is not only extremely reliable and competent in every aspect of her job, but also that she approaches her work with dedication, with patience and with a desire to always serve the school and our students.
Barb leaves IU with over 40 years of service to the university, 37 of which were with the School of Education.
---
Tom Huberty
Tom Huberty joined Indiana University in August of 1982 as an assistant professor in the School Psychology Program. From 1986 to 1990, he served as the Indiana Delegate to the National Association of School Psychologist's Delegate Assembly. Tom was instrumental in founding the Indiana Association of School Psychologists which has been a strong voice advocating educational reforms that respond to needs of children, families, and schools. Tom has served as the Association's President and President Elect.
In 1993, Tom assumed the directorship of the specialist and doctoral programs in School Psychology at IU. For 22 years he was responsible for overseeing the recruitment, selection, and matriculation of School Psychology graduate students. Tom was the glue that held the program together when program faculty were bought out on grants or were serving in administrative roles. Every five to seven years, he managed the onerous task of preparing multivolume accreditation reports to maintain the program's accreditation status with the American Psychological Association, the National Association of School Psychologists, and the Indiana Board of Education.
As a representative of the American Psychological Association's Commission on Accreditation, Tom served as a member and subsequently chair of more than 30 site visit teams that visited many of the best school psychology programs in the United States.
Tom's service to the University has also been exemplary. He became a member of the IUB Institutional Board of Review (IRB) in 1990 and plans to continue to serve as an emeritus faculty member.
Tom's commitment to serving children is also reflected in his service as an Independent Hearing Officer/Administration Law Judge for the State of Indiana.
When asked which aspect of his career generates the most pride, he quickly stated, "helping doctoral students actualize their goals." During his 34 years at IU, he chaired and directed over 40 doctoral dissertations. These graduates have made significant contributions in their roles in university, public school, mental health, and hospital settings.
Tom and his wife Marsha are very proud of their son, Christopher, who is a Production Manager for a media firm in Wilsonville, Oregon and they look forward to the extra time they will be able to spend with him out on the West Coast.
---
Mike Tracy
Psychotherapy, clinical hypnosis, special education, mediation, database management, clinical instruction and supervision, marriage and family therapy, personality assessment, psychodiagnostics, and treatment planning are just a few of the areas of expertise that Michael L. Tracy, Ph.D., has brought to his work as a faculty member in the Department of Counseling and Educational Psychology in the School of Education.
Mike joined the faculty at Indiana University in 1971 and will retire following 34 years of dedicated service to the institution. During his time at IU, he was associate director of the Indiana University Developmental Training Center from 1971-1978. From 1972-1980, he also headed the training, design, and dissemination unit at the Developmental Training Center, where he directed many research and service projects. Mike's faculty appointment was first in educational psychology and later in counseling psychology. After he joined the counseling psychology faculty, Mike served as director of the Center for Human Growth from 1993-2000.
In addition to his many faculty responsibilities and scholarly interests, Mike has made a special project of conducting first hand research on most of the golf courses in Indiana, Michigan, and Florida over the last 30 years. He is a dedicated father of four, a loving husband to his wife Suzanne, a doting grandfather who never misses his grandson's football games, and a beloved professor with a kind heart and incredibly supportive approach to education. Everyone who interacts with Mike find his good nature endearing. For example, he has traditionally invited students who are away from their families to his home during the holiday seasons. His cheerful personality and willingness to help others will be deeply missed. As a respected and admired colleague, he will be irreplaceable.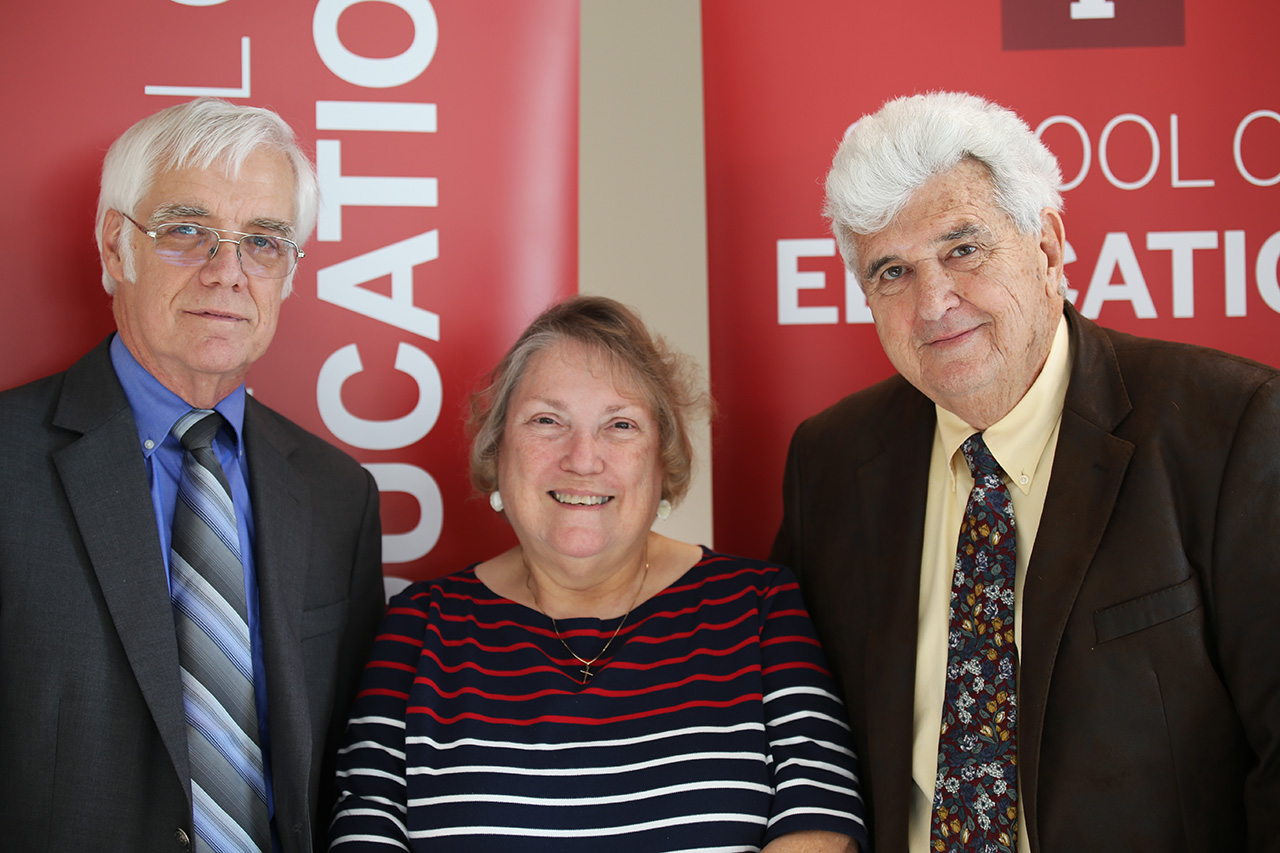 Tom Huberty, Barb Frye, and Michael Tracy