Teacher from Morocco Works to Improve Student Behavior
Khalid El Motassadeq has been working on a project through the Fulbright Distinguished Awards in Teaching program at IU to address behavioral problems
As a Fulbright Distinguished Teacher, Khalid El Motassadeq saw behavioral issues increasing during his time as a teacher in Morocco. He was determined to make a change. For the past four months, Khalid has been working on a project through the Fulbright Distinguished Awards in Teaching program at IU to address these problems and try to eliminate them. Khalid works as a secondary level English teacher at Wad Sakia El Hamra High School in Es-Smara, Morocco. He has been a teacher for 14 years and serves as a vice president of the local branch of the MATE (Moroccan Association of Teachers of English).
Khalid's project, looking into strategies of addressing learners' misconduct and their instructional and psychological outcomes, hopes to answer two questions with his project: to what extent are classroom management strategies effective to address any unexpected kind of misbehavior in classrooms and what are the positive effects on the normal course of learning in class and on the psychological state of learners. Like his colleagues in the Fulbright program, Khalid has been auditing courses and attending conferences and seminars at IU and around the country.
Khalid also visited Bloomington High School North to note how teachers set behavior expectations through posted rules and codes of conduct, as well as outlines on syllabi. He said he was most impressed with a class called Peer Mediation taught at North, where students are taught skills to deal with common teenage issues and encouraged to mediate problems they may see in students outside the course.
He was moved by a conference he attended in Indianapolis, where he was given the chance to reflect on his own strategy as a teacher to discipline in the classroom.
"This guided me personally to reflect and rethink about dealing with student behavior in an empathetic way," Khalid said.
Ultimately, Khalid's project will produce a teacher guide to use in professional development workshops in the U.S. and Morocco. That will be the next step for him as he returns home this weekend.
The Fulbright Program is the flagship international educational exchange program sponsored by the U.S. government and is designed to increase mutual understanding between the people of the United States and the people of other countries. The primary source of funding for the Fulbright Program is an annual appropriation made by the U.S. Congress to the U.S. Department of State's Bureau of Educational and Cultural Affairs. Since its establishment in 1946 under legislation introduced by the late U.S. Senator J. William Fulbright of Arkansas, the Fulbright Program has given approximately 360,000 students, scholars, teachers, artists, and scientists the opportunity to study, teach and conduct research, exchange ideas and contribute to finding solutions to shared international concerns. The Fulbright Distinguished Awards in Teaching Program is administered by the Institute of International Education.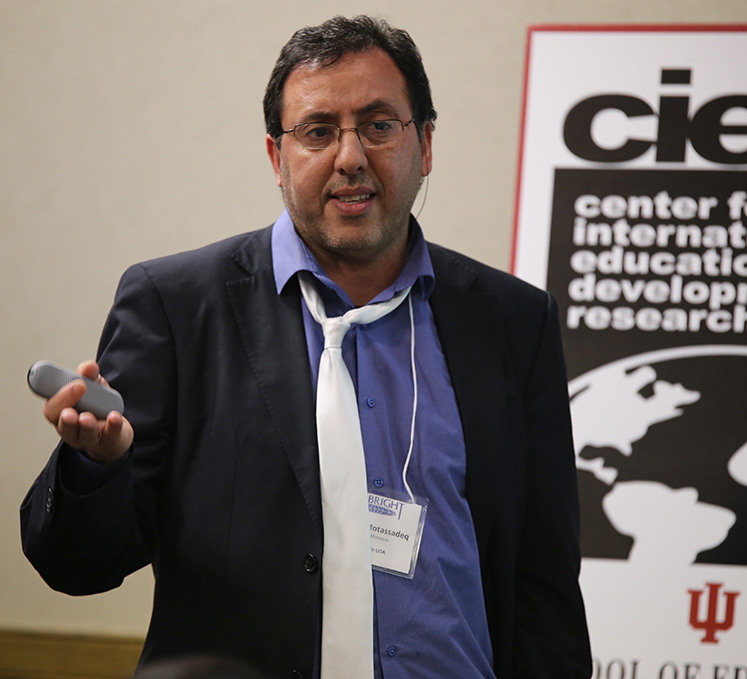 Khalid El Motassadeq