Fulbright teacher from Israel working on tool for children with learning disabilities
Nourit Ben David Erez is in Bloomington this semester as part of the Fulbright program
Nourit Ben David Erez is a teacher from Kfar Menachem, Israel, visiting Bloomington this semester as part of the Fulbright program. Like all the other teachers, she is working on a specific project during her time here, creating a web-based EFL Course for children with learning disabilities.  As an English as a foreign language teacher for students with learning disabilities, the project is important to her professionally – and personally.  Nourit is a parent of three children with learning disabilities and has an intimate understanding of what children with learning disabilities go through, which partially contributed to her decision to focus on students with mild learning disabilities.
"As my children grew up I began to understand what was happening with them, and realized that I had learning disabilities as well that had gone unnoticed," she said.
Nourit was encouraged to try and understand more about learning disabilities and how to teach to children with them. She always had a love for computers and since most children and young adults in Israel are on computers very frequently, she became interested in investigating how computers could help those with learning disabilities learn English. Nourit previously took a course from Oregon University about web-based courses and since then, she has implemented computer-based learning with her students, using many different forms of online software. Nourit stated that she tries to include technology in lessons because it is an element that helps keep students more engaged.
Nourit became interested in the Fulbright program because she felt it was a good opportunity to meet other teachers with similar objectives, and that this time away from her classroom would allow her to learn new ideas from the professors here, as well as more effective ways to implement her ideas in the classroom.
"I hope my time in the states as a Fulbright teacher will allow me to learn new teaching methods to bring back to my students at home, and also provide me with the ability to better inform my fellow teachers," She said. "Teachers here do not know enough about how to teach English to students with disabilities".
When reflecting on her decision to become a teacher, Nourit explained that it was sort of an accident, though a good one. After graduation, she was initially offered a job as a teacher of middle-eastern history. During this time, and onwards, she noticed how important it was for her students to be able to learn English, and that there was a shortage of English teachers in her area. This observation encouraged her to change careers and become an English teacher.
While she is here, Nourit will be shadowing at a local high school to learn about the American school system, and how special education is done here.
"In the school I am observing, the system is very different. America has a lot of facilities we don't have," Nourit said. "This journey has given me, and has made me more open to other ideas. I feel a bit like a sponge."
When asked about her time here thus far, Nourit stated it is slightly overwhelming. She notes Bloomington is a very different society culturally speaking, and she is still learning the codes.  In addition, "Campus life is amazing here. Israel is a very tiny country, even if you go to University, it's a lot smaller than here. There's not so much to do. Bloomington campus, however, is like a town within a town." She commented.
While in IU, she is staying with the 20 other Fulbright teachers, who come from a variety of countries and cultures. Nourit explained that the Fulbright teachers spend a lot of time interacting with one another, sharing ideas and learning from each other. She says that they are a very supportive group and that it is very important to her to have good relations with the other Fulbright educators.
The Fulbright Program is the flagship international educational exchange program sponsored by the U.S. government and is designed to increase mutual understanding between the people of the United States and the people of other countries. The primary source of funding for the Fulbright Program is an annual appropriation made by the U.S. Congress to the U.S. Department of State's Bureau of Educational and Cultural Affairs. Since its establishment in 1946 under legislation introduced by the late U.S. Senator J. William Fulbright of Arkansas, the Fulbright Program has given approximately 360,000 students, scholars, teachers, artists, and scientists the opportunity to study, teach and conduct research, exchange ideas and contribute to finding solutions to shared international concerns. The Fulbright Distinguished Awards in Teaching Program is administered by the Institute of International Education.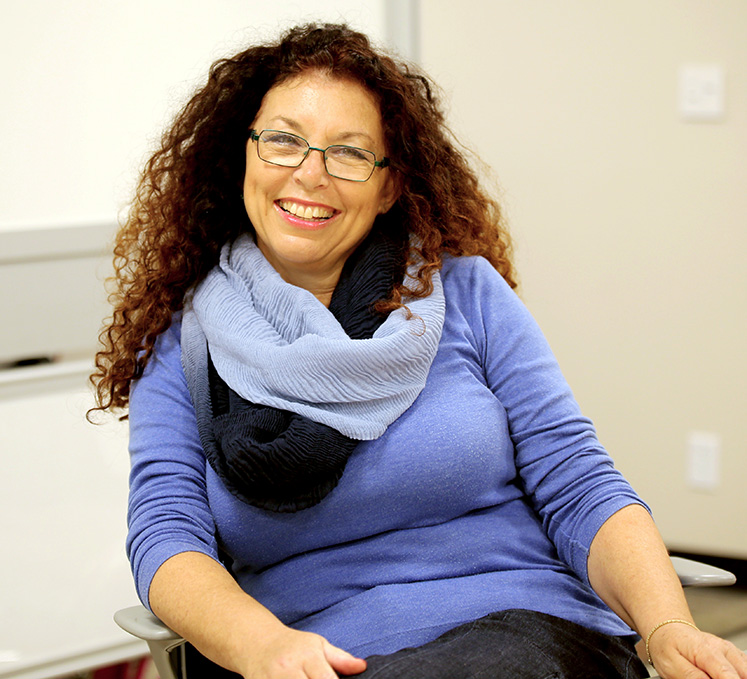 Nourit Ben David Erez is a teacher from Kfar Menachem, Israel, visiting Bloomington this semester as part of the Fulbright program.