Armstrong Teachers Share Secrets on Building Relationships with Future Educators
"Show up and be yourself" was the message students received at the Armstrong Teacher Educators Panel Discussion
Show up and be yourself – that was the message students in the School of Education received from teachers at the Armstrong Teacher Educators Panel Discussion at the end of October.
Eight teachers from around the state who are current recipients of the Armstrong Teacher Educator Award spoke on the theme of the panel, "Cultivating Professional Relationships in Your Field Experience."
Stacy Blosser has been teaching for 11 years; she currently teaches fourth grade at West Noble Elementary School. She told the audience that building relationships with their fellow teachers is just as important as building relationships with students.
"Take all the advice you can get, and then you can twist it and make it your own. Great teachers are molded from great teachers," Blosser said.
Scott Hill is an English teacher at Homestead High School and has been teaching for 15 years. He said observation of other classes is one of the best ways to learn.
"What class does not seem to be getting information that they could use immediately? What class is bored?" Hill said.
Linda Golston, a teacher at New Tech Innovative Institute, pointed out that students needed to do more than observe. "You're in this environment you're there to learn, but you need to be able to share some of the things you're learning here [at the School of Education]," Golston said.
In addition to recognizing educator excellence, the Armstrong Teacher Educator Award (ATEA) provides funding so that winning teachers can pursue their own professional development projects in Bloomington or at their home schools. Since 1997, this award has been funded through the generosity of the Martha Lea and Bill Armstrong Fund and the Cook Group companies. Visit the ATEA page to read bios of all the Armstrong educators.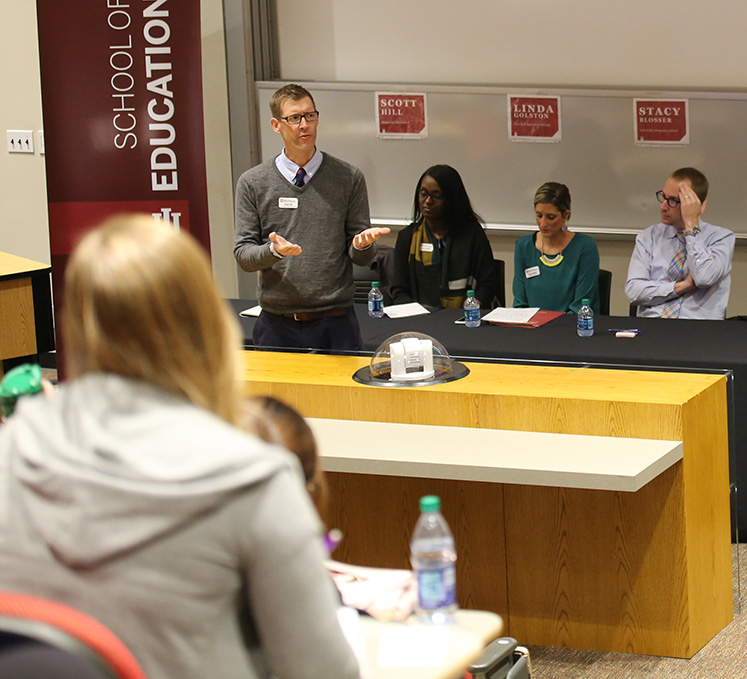 Armstrong Teacher Educators Panel Discussion