Fulbright Teachers From Palestine Bring World of Experience to Bloomington
Haya Abu Hussein and Hasnaa AbuMezied will work with teachers in Bloomington High School North for the next four months
Haya Abu Hussein and Hasnaa AbuMezied are the first Palestinian teachers to participate in the special program of Fulbright Distinguished Awards in Teaching. Before August, they had never been to the United States. But as participants in this program, they're living and working here, thousands of miles from home.
For the next four months, they'll work with teachers in Bloomington High School North, take classes at the IU School of Education and experience American culture with the 19 other Fulbright recipients. Their focus will be on specific projects they can use in their classrooms back home. But coming to the U.S. wasn't an easy decision. Both Haya and Hasnaa are mothers and had to leave their children in the care of their families in Palestine to participate in the program. However, they had to take ad chance and try to be good representatives for their country and for all Palestinian teachers.
Haya lives in Ramallah, a city six miles north of Jerusalem. She is a mother of four and teaches English to Tawjihi students (12th grade) at Turkish Secondary Girls' School. It is a critical time for these students as they prepare to take their graduation exams. Tawjihi exams are so stressful, weddings, engagement announcements and other celebrations are postponed until results are announced. Hasnaa said she even asked her children to play on the opposite side of the house so one of her neighbors could study in peace. Until recently, exam results were broadcast across Palestine under the students' names. Now thanks to the new minister of education, Dr. Sabri Saydam, students are assigned numbers rather than names, so that their results won't be as public. This year, the Ministry of Education has approved many modifications to the General Final Examinations, so that students will get more chances to be engaged in the world and be global citizens. Despite the hardship the Palestinian students often face, every year many of them get excellent results at their exams and are able to join both Palestinian and international universities, where they go on to study medicine, engineering, IT, and many other specializations.
Hasnaa lives and teaches in Gaza, where electricity is only available for almost eight hours a day, and even that block of time changes from day to day. She cannot rely on the internet as a teaching tool for her students. Instead, she's here in Bloomington to learn interactive methods of teaching, such as brainstorming and problem solving, rather than the traditional lecture style her students are used to. 
"Normally I cannot use any kind of e-learning," she said. "Most of the students don't have a laptop. Sometimes they don't have internet access." 
All of Hasnaa's students are refugees facing horrible difficulties both economically and politically. Over the last six years, violence from wars did more than disrupt their lives – it destroyed classrooms at Hasnaa's school.
"Students were sitting in class, and it was raining on them. Many times when I am teaching, we hear bombing and explosions." Hasnaa said. "As my role as a teacher, it was to say, 'Anyway, we'll continue the lesson. I will give you two minutes to freak out, and after that we will continue the lesson.' Education for Palestinians is essential." Even though students suffer from many circumstances there, they work really hard and are more than willing to learn and study.
While Haya's school is in the northern part of Palestine, many of her students live in a refugee camp outside the school grounds. The only computers they use are ones at the school. But Haya uses this challenge as an opportunity for creative learning.
"It makes you try to think about different ways that you can convey different ideas to your students, motivate them, engage them, but taking into consideration the difficult situations they are facing," Haya said.
Classes are overcrowded in Palestine. Most schools suffer lack of resources, though the school does not turn students away. In Gaza, schools became some of the safest places to be during the war – but even they were the sites of attacks.
Despite the violence, work at their schools continues. Haya's project centers around student-based assessment and student-centered class. She is looking for ways to get students to become engaged and find their voices, sometimes through free-writing at the start of each lesson. It's a chance for them to express themselves and deal with the hardship they're going through.
"You can adjust your students to take out everything they have in their mind," Haya said. "It makes you more familiar with your students. They feel they are in their comfort zone."
The Fulbright program is also a chance for Haya and Hasnaa to absorb American culture. Hasnaa admitted she was as afraid of Americans as she expected them to be with her. Instead, everyone was helpful.
"It didn't matter to them that I'm Muslim, I'm wearing hijab," she said. 
Haya and Hasnaa are here until December to learn ways to help their students better. But for them, the role of teacher goes beyond, well, teaching.
"You have to work with these students, not just academically, you have first to help them," Haya said.
The Fulbright Program is the flagship international educational exchange program sponsored by the U.S. government and is designed to increase mutual understanding between the people of the United States and the people of other countries. The primary source of funding for the Fulbright Program is an annual appropriation made by the U.S. Congress to the U.S. Department of State's Bureau of Educational and Cultural Affairs. Since its establishment in 1946 under legislation introduced by the late U.S. Senator J. William Fulbright of Arkansas, the Fulbright Program has given approximately 360,000 students, scholars, teachers, artists, and scientists the opportunity to study, teach and conduct research, exchange ideas and contribute to finding solutions to shared international concerns. The Fulbright Distinguished Awards in Teaching Program is administered by the Institute of International Education.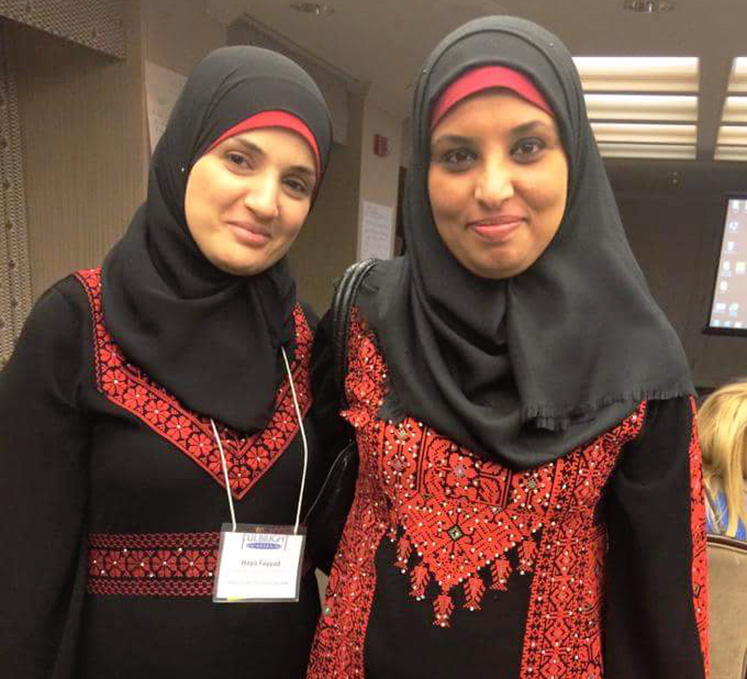 Haya Abu Hussein and Hasnaa AbuMezied