Sandy Strain Retires After 52 Years
Administrative assistant and office manager for ELPS is just one of several jobs Sandy Strain has held during her 52 years with the School of Education
Room 4228 at the IU School of Education has been home, at least during the work day, to Sandy Strain, administrative assistant and office manager for the Educational Leadership and Policy Studies department with over half a century of experience with the IU School of Education. It's one of several jobs she's had in the 52 years she's been a part of the School of Education, a remarkable career that's about to come to a close.
Strain was originally hired to work half time as a file clerk and half time with the group overseeing speech and hearing. Then she took what was supposed to be a temporary position as a secretary for graduate study records. In 1982 Strain became the first person in the School of Education to have a computer. Her first assignment was typing the Annual Report for the dean of the school on a program that was a predecessor for Microsoft Word, and since she was the first to use a computer, it was a process of trial and error. After that role, she joined the Educational Leadership and Policy Studies department, where she's been for 30 years.
When asked what she'll miss the most, Strain acknowledged Cindy Wedemeyer, the person she shares an office with.
"We've worked together at least 20 years," she said. "I cherish all the friendships. I'm very student oriented and so is Cindy, and students come first in my life."
Her last day after 52 years of dedication to those students is today, Wednesday, August 31, 2016. Strain said she has two projects planned for retirement: decluttering her house and reading the Bible in three months.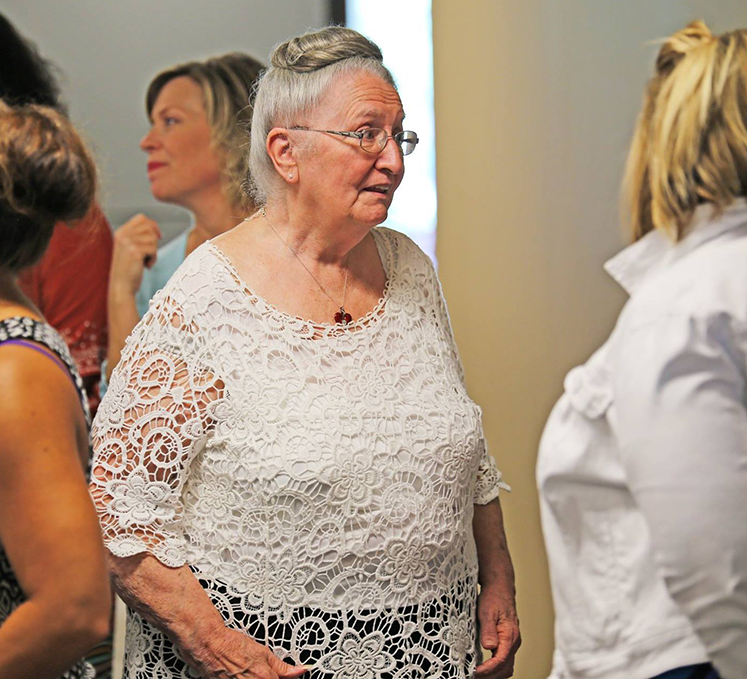 Sandy Strain enjoys time with colleagues at her retirement ceremony