Four celebrated educators honored with School of Education's Distinguished Alumni Award
The 39th annual IU School of Education Distinguished Alumni Award Dinner was held on Saturday, October 24th, 2015
The Indiana University School of Education has the privilege each year to recognize alumni who have made a significant impact in the world of education. Four individuals who hold a degree from the school were honored for their contributions at the 39th annual IU School of Education Distinguished Alumni Award Dinner held on Saturday, October 24th
These celebrated educators have touched countless lives through their work as teachers, administrators, advocates, and community ambassadors. "As Interim Dean, I was honored to have the opportunity to recognize the accomplishments of four outstanding members of the IU School of Education family," said Interim Dean Terry Mason. "It was a wonderful occasion that brought together so many of the School's supporters and alumni."
Watch the Distinguished Alumni Award ceremony
This year's Distinguished Alumni Award recipients are: Robert E. Draba, a trial attorney with the United States Department of Justice Antitrust Division; Peggy A. Hinckley, Educational Consultant and Retired School Superintendent for the River Forest School Corporation in Lake County and the Metropolitan School District of Warren Township; R. Elizabeth Odle, Retired Program Director for the Bridges to Success Program of The United Way of Central Indiana; and Pat Wilson, Social Studies Department Chair and Teacher at Bloomington High School North.
---
More about the 2015 Distinguished Alumni Award Honorees:
Robert E. Draba, PhD, JD (BS '68)
A lifetime supporter of Indiana University, Robert E. Draba is a 1968 graduate of IU Bloomington. He went on to receive a PhD in Education from The University of Chicago; an MBA from The University of Chicago, Beta Gamma Sigma; and a law degree from Loyola University Chicago, cum laude.
Selected through the highly competitive Honors Program of the United States Department of Justice (USDOJ), Draba is a trial attorney in the Antitrust Division in Washington, DC. Prior to this, he was executive director of two Chicago-area medical associations: American Osteopathic Association and American Association of Neurological Surgeons.
For eleven years Draba worked for Chicago Osteopathic Health Systems, now known as Midwestern University, where he held the positions of Vice President for Administration, Executive Secretary of the Board of Directors, and Associate Professor of Medical Education.
Shortly after his graduation from IU, Draba entered the Peace Corps and served in the Philippines. Thereafter, he returned to his hometown of East Chicago, Indiana accepting a teaching position with the Gary Community School Corporation, where he taught English and journalism for nearly ten years. Concurrently, Draba taught courses in methods of teaching reading for the School of Education, IU Northwest while supervising student teachers.
Draba was recently selected for a detail to the Office of the Pardon Attorney, which assists the President of the United States in the exercise of executive clemency. All requests for executive clemency for federal offenses are directed to the Pardon Attorney for investigation and review.
Draba has published numerous articles in law, medical education, and educational measurement and is a member of the Advisory Board for the Institute for Consumer Antitrust Studies at Loyola University Chicago School of Law.
After spending several years in Munster, Indiana, Draba currently resides in Vienna, Virginia. He enjoys jazz, ballet, and theater and is very mindful of the difference Indiana University has made in his life.
Peggy A. Hinckley, EdD (BS '74)
A lifelong Hoosier, Peggy A. Hinckley earned her first of four university degrees from the Indiana University School of Education in 1974 in an early childhood cohort taught by Dr. Marian Swayze. Hinckley began her teaching career in Indiana at Meister Elementary in the River Forest School Corporation in Lake County. She eventually became the Superintendent of Schools in 1984, moving on to LaPorte in 1989, and the Metropolitan School District of Warren Township in 2001 before retiring in 2012 as the longest serving female Indiana superintendent at 28 years.
In her role as Superintendent at MSD of Warren Township, Hinckley worked with a visionary group of educators to raise student achievement through the implementation of the Eight Step Process while resolving serious budget issues in a time of growing enrollment. As a result of this success, the Eight Step Process was adopted by the Indiana Department of Education as its school improvement process for over 130 Indiana schools. Other innovations by Warren educators included the balanced calendar, employee health center, community discussion forums to gather authentic feedback from citizens, Warren Central freshman center, Early Childhood Center, and various elements of the Eight Step Process including instructional calendars, three week assessments and a daily Success Period of tutorials or enrichment.
Hinckley has been the recipient of the Indiana Superintendent of the Year (1995) and the Outstanding Educator Award (1998) presented by the Indiana Association of Public School Superintendents. She also received Senator Richard Lugar's Inaugural Education Patriot Award (2010) and the Indiana School Board Association Lorin Burt Outstanding Educator Award (2012). Hinckley has published eight articles and is the author of Monitoring: Keeping Your Finger on the Pulse of School Improvement (2012).
Since 1998, Hinckley has made over 65 conference presentations and keynote addresses throughout the United States. In 2009, she began working, along with colleague Pat Davenport, as a school improvement consultant (Peggy Hinckley Consulting, LLC) helping schools across the country that were facing accountability challenges.
Hinckley is married to Mark Hinckley, a retired school superintendent. Her daughter, Katy Dowling, is the Chief Financial Officer for Griffith Public Schools.
R. Elizabeth Odle (MS '74)
R. Elizabeth Odle obtained her master's degree in special education in 1974 as the first cohort graduate of IUPUI's newly created Teacher Corps program. Later, she earned her administrative certification for both secondary and elementary education also at IUPUI.
With fifteen years of teaching experience in a variety of special education settings, Odle began to value the pivotal connections between community collaboration and successfully educating the "whole child."
In 1991, Odle's administrative career began as principal of Washington Irving Elementary #14 in the Indianapolis Public School district. During her eighteen years of leadership, she and her staff of educators faced a variety of challenges working with the largest number of homeless students in any school across the state. Rather than accept poverty and other hardship conditions as reasons for students not to succeed, Odle and her team leveraged a diverse array of programs, services and alliances with local businesses and community organizations to address the needs of both the students and their families.
Odle embraced her community-engaging spirit and became director of Bridges To Success with the United Way of Central Indiana in 2009. This initiative utilized over 250 community service and business partners to provide more than 9,000 students and their families with a variety of programs and basic need services during the school year.
Odle's accomplishments as both an educator and community service director have been well publicized and recognized. She has been featured in IUPUI's alumni publication Collection of Stories on Success & Lives Changed and NUVO newspaper's article, The Woman Behind an IPS Success Story. Odle has received recognition that includes IUPUI's Philanthropic Community Leader Award; the Indiana Department of Education's Spotlight on Learning Award and Title 1 Distinguished Principal Award; the
H. Dean Evans Community Servant and Leadership Award; the Center for Leadership Development Distinguished Achievement in Education Award; and the Girls' Inc. Touchstone Community Service Award.
Currently serving Indiana University, Odle is a member of the School of Education's Alumni Board of Directors, and is an adjunct professor at IUPUI where she helped establish the Art Brill Transition to Teach Scholarship which is designed to assist graduate students.
Odle is married to Stephen, a retired Lieutenant of the Indianapolis Metropolitan Police Department. They have two children, Shawn and Keia and two grandchildren, Jackson and Jazmine.
Pat Wilson (BS '71, MS '77)
A native of Chicago, Illinois, Pat Wilson earned a bachelor and a master's degree from the Indiana University School of Education in 1971 and 1977 respectively. Wilson began her career in 1973 with the Monroe County School Corporation as a teacher at Binford Middle School. She went on to work at Bloomington High School North where she currently serves as the Social Studies Department Chair. Wilson began teaching in the Department of Curriculum and Instruction at IU Bloomington in 1989 and continues in her role as an adjunct instructor. She has also worked in the university system as a consultant to the Center on Congress (2005-2010), the Teacher as Decision Makers Program (1989-1995), and to the Religious Studies Summer Institutes (1978-1982).
From 2009-2013, Wilson held the positon as the Project Director for "The History Educator's Project," a $500,000 collaborative grant that brought together faculty from IU Bloomington and the Monroe County Community School Corporation (MCCSC). In 1998, she co-founded the Bloomington North Habitat for Humanity, the most active student chapter in the United States. North Habitat began building their fifteenth home in September of this year.
Wilson's contributions to the Bloomington Community, the MCCSC, and Indiana University have been widely recognized at the national, state, and local levels. She received the Claes Nobel National Educator of the Year Award (2012); the National Outstanding Secondary Social Studies Teacher of the Year (2007); the Center on Congress — Outstanding Teacher of the Year (2002); and the Joseph B. Whitehead Award (2000). At the state level, she received the Outstanding Teacher in Bloomington, Indiana, Court of Appeals Award (2013); the Toastmasters International Communication of Leadership Award (2008); the Indiana Bell Ringer Award (2006); and the Distinguished Hoosier Award presented by Governor Bayh (1992). And locally, she has received the Life Time Achievement Teaching Award (2015); Outstanding Educator of the Year (2011); Excellence in Volunteerism (2009); the Lloyd Olcott Community Service Award (2006); the Student Choice Award for Excellence in Teaching at the IU School of Education (2006); and the Martin Luther King Jr. Legacy Award (2005).
Wilson has been married to her husband, Gary, since 1971. They have one daughter, Kelli, who is married to John Wallace. They have two grandchildren, Caden and Olivia.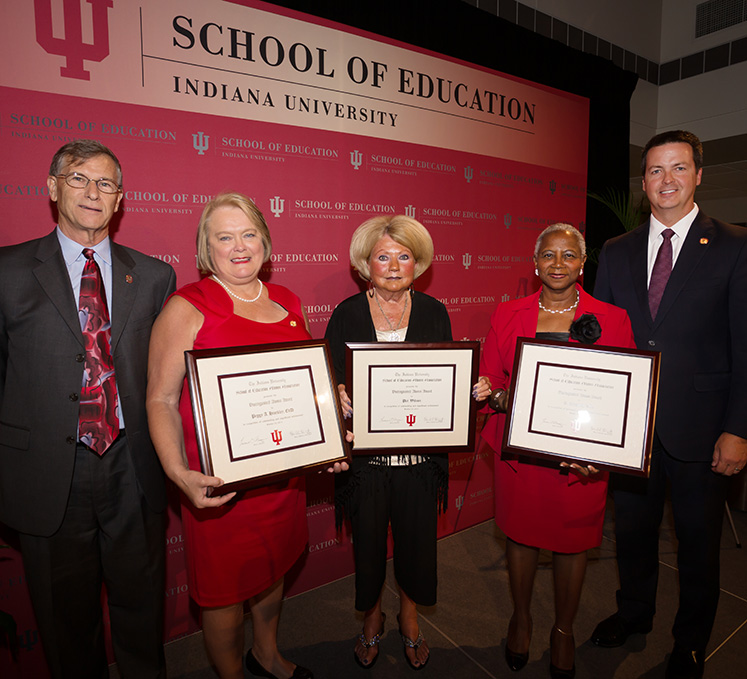 Terry Mason, Peggy Hinckley, Pat Wilson, Elizabeth Odle, David Dimmett