Honoring Teachers Everywhere
Dean Terry Mason invites three exemplary teachers to join him on the field to receive the game ball
As a way to honor all outstanding educators in Indiana and beyond, Dean Terry Mason invited three exemplary teachers to join him on the field to receive the game ball during the September 19th football game vs. Western Kentucky.
Melanie Park, the 2012 Indiana Teacher of the Year, Steve Wilson, a past recipient of the Martha Lea and Bill Armstrong teaching award, and Jesse Methaney, a recent graduate of the School of Education who has just begun his career and commitment to educating youth in Indiana, represent shining examples within the spectrum of teaching careers. Matt Bauschek of IU Sports Properties presented the game ball to Dean Mason.
The School of Education sponsors a football game each year to heighten awareness of the careers in the field of educational research, leadership, and teaching, while also contributing to Hoosier campus spirit. These games provide a good opportunity for faculty, emeritus faculty and alumni to gather.
The Hoosiers defeated Western Kentucky 38-35. Go IU! Go Education!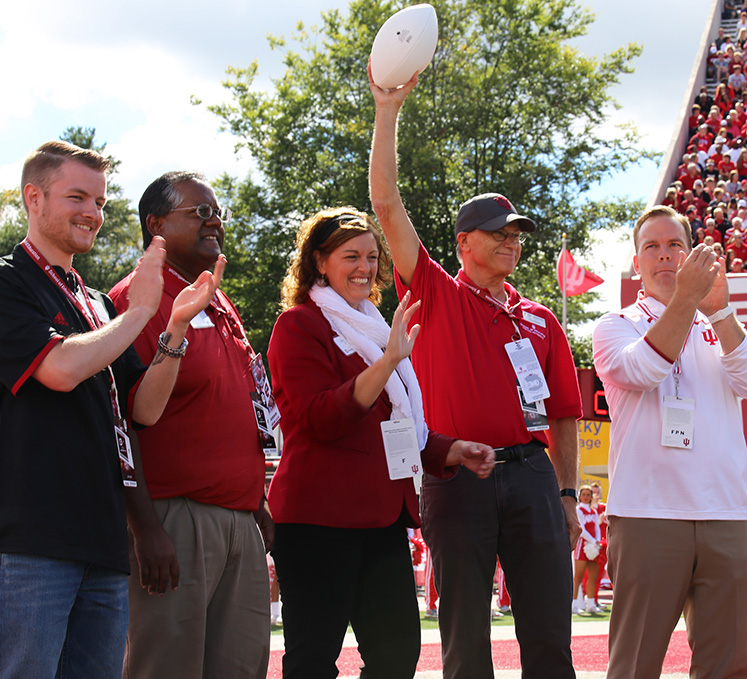 Dean Mason celebrates receiving the game ball during a football game sponsored by the School of Education