School of Education Hosts Fulbright Teachers
17 teachers from 9 countries will spend fall semester at the School of Education as part of the Fulbright Distinguished Awards in Teaching Program
Seventeen teachers from nine countries will spend fall semester at the School of Education as part of the Fulbright Distinguished Awards in Teaching Program. The Center for International Education, Development and Research  or CIEDR, in the School of Education, was awarded $249,250 by the U.S. State Department's Bureau of Educational and Cultural Affairs to fund the program, administered by the Institute of International Education.
"This marks the seventh year of the program and the second consecutive year in which Indiana University has been chosen as host site," said Patricia Kubow, director of CIEDR and professor in educational leadership and policy studies and curriculum and instruction. "Only one U.S. institution is selected yearly to host these teachers, and CIEDR is pleased to have been chosen to offer this prestigious program."
This year's cohort of Fulbright Distinguished Teachers are from Botswana, Chile, Finland, India, Mexico, Morocco, New Zealand, Singapore and Taiwan. While in Bloomington they will audit two IU graduate-level courses focused on educational content and pedagogy; observe, conduct and team-teach workshops in local schools for U.S. teachers and students; meet regularly with IU School of Education faculty members for research guidance; and design and complete inquiry projects.
The Fulbright Distinguished Teachers will take part in weekly school visits at Bloomington High School North and University Elementary School in Bloomington. They will observe teaching and learning at Christel House Academy in Indianapolis; Columbus Signature Academy Fodrea Campus and New Tech Campus in Columbus, Ind.; and University of Chicago Lab School in Chicago.
The themes for inquiry projects, teachers and their home countries include:
Alternative pedagogy and project-based learning: Min-Syuan Sandy Tsai, Taiwan, and Tarja Mykrä, Finland

Citizenship education: Surabhi Jamal, India; Shuhui Michelle Chang, Singapore; and Premaletha Gopalakrishnan, Singapore

English as a Second Language/English as a Foreign Language: Roberto Flores, Chile; Taru Pohtola; Finland; and Alba Rosario Marrón, Mexico

Gender and marginalized groups: Christinah Hambira, Botswana; Narayani Singh, India; and Lynnette Brice, New Zealand

Literacy: David Taylor, New Zealand

Science education: Narayan Singh, India; and Edmund Song, Singapore

Special education: Neo Tshani Mafunye, Botswana; Anwar BenMoqadem, Morocco; and Rochana Ghosh, India
Kubow is principal investigator and program director for the program, while Jacob Butler is program coordinator, Jennifer Douglas is school coordinator and Christi Jones is budget administrator. Also assisting for IU are Cary Buzzelli, professor in curriculum and instruction, and doctoral students Evan Mickey, Ozlem Erden, Amara Stuehling and Rhonda Gambill.
The Fulbright Distinguished Awards in Teaching Program is one of several international education programs established in 1946 under legislation sponsored by U.S. Sen. J. William Fulbright of Arkansas.
A key center of the school of education, CIEDR promotes international scholarship through cross-cultural educational research and development toward improving education and social conditions in the U.S. and abroad. Founded in 1968, the center has expanded its focus from improving social studies education to helping schools, universities and communities through transnational research and development.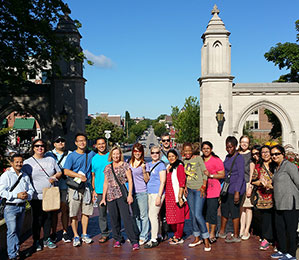 Seventeen teachers from nine countries will spend fall semester at the School of Education as part of the 
Fulbright Distinguished Awards in Teaching Program.