Deans welcome INSPIRE students
School of Education deans serve ice cream to INSPIRE Living Learning Center students
Interim Dean Terry Mason, along with Executive Associate Dean Gary Crow, and Associate Dean for Teacher Education, Keith C. Barton, served up a bit of fun during move in week to INSPIRE residents.
The INSPIRE Living-Learning Center is kicking off its second academic year and welcoming a new group of students. INSPIRE is open to undergraduate students in Bloomington, with scholarships available to Indiana residents. As a part of the Living-Learning Center, students will be exposed to special events, practice self-governance, interact with world-renowned education experts from across the world, participate in professional development workshops, and lead service-learning projects. Students will also be able to explore the roles educators play outside the classroom as community leaders, education policy experts, entrepreneurs, and advocates for education reform.
INSPIRE scholarships and programming are supported by a gift through the Ford Family Fund. Three generations of Fords have graduated from IU.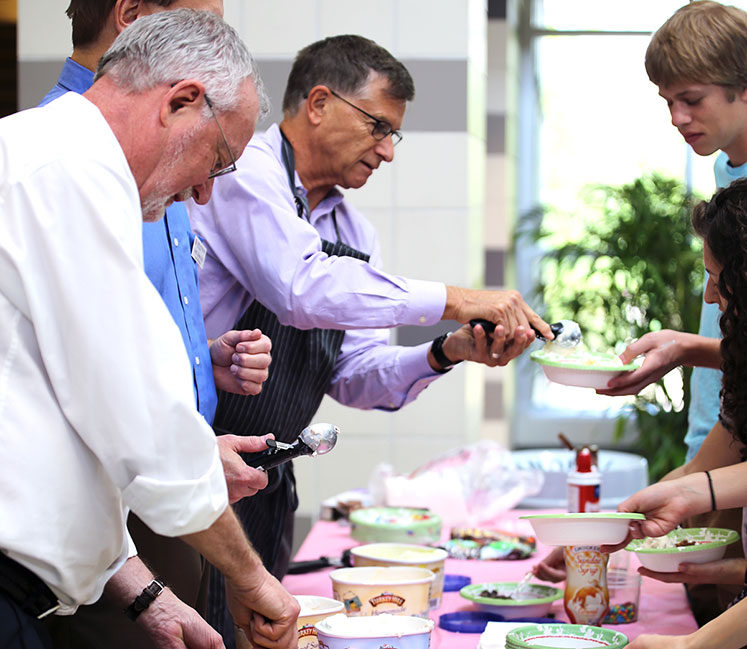 School of Education deans serve ice cream to INSPIRE Living Learning Center students as part of welcome week 2015.