IU Balfour Scholars welcomes high school students for Pre-College Academy
About 130 rising high school seniors will arrive at Indiana University Bloomington on Sunday for the third annual Balfour Pre-College Academy, a one-week residential program designed to give students the skills they need to make sound decisions about attending college.
The academy is part of the IU Balfour Scholars Program, which seeks to increase access to higher education for students from underrepresented groups. The program is funded by a four-year, $800,000 grant from the Lloyd G. Balfour Foundation.
"The Balfour Scholars Program is continuing to develop while being true to its mission of helping underrepresented students with college choice and college fit," program director Christina Wright-Fields said. "We know it is important to reach students early in their careers and help them develop the academic skills they will need to be successful in college and beyond."
In the Balfour Pre-College Academy, students stay on campus and participate in daily sessions to learn about college life and gain a better understanding of prospective majors, careers and internships. They attend lectures by IU faculty members and presentations on topics such as campus residential life and financial aid. They also explore campus and make friends through organized activities.
Unlike traditional summer campus programs that focus solely on academic skills, the academy is designed to help high school students understand how their cultural identity can affect their pursuit of higher education and, with identity better in place, to begin to think about career options.
Balfour Scholars who eventually enroll at IU receive wraparound support services such as advising and help with managing finances, completing degree requirements, and exploring and planning for careers.
In new developments this year, scholars who attend IU Bloomington will be eligible for textbook scholarships supported by an anonymous donor. Also, students will be able to take part in a mentor-apprentice program developed with IU's Faculty and Staff for Student Excellence or FASE program. IU students who are Balfour Scholars have the opportunity to be hired to serve as program development interns.
Over half of the 2015 cohort of Balfour Scholars are from Indianapolis and Fort Wayne, and a larger number are from northwestern Indiana. All but eight are from the state of Indiana.
To qualify for the program, applicants must have completed their junior year of high school, be enrolled in a college preparatory curriculum and maintained a grade-point average of 3.0 or better. Preference is given to underrepresented groups, including racial and ethnic minorities and first-generation students. Of this year's participants, 72 percent are African-American or Latino.
Students in the 2013 and 2014 Balfour Pre-College Academy reported that they gained confidence and understanding that bolstered their sense that they would succeed in college. In evaluation surveys, students referred to the program as "life changing" and said they were eager to recommend it to friends and younger siblings.
About one-third of students in the 2013 Pre-College Academy enrolled in IU Bloomington in the fall of 2014. Thirty-five members of the 2014 cohort are at IU Bloomington this summer participating in the Groups Scholars Program for students who plan to enroll in the fall of 2015.
The Balfour Scholars Program is a project of IU's Center for P-16 Research and Collaboration, which develops partnerships with schools and communities and connects them with groups at IU that can promote educational attainment. The project includes partnerships with the School of Education; Office of the Vice President for Diversity, Equity and Multicultural Affairs; Career Development Center; Office of Enrollment Management; Office of Student Life and Learning; and Residential Programs and Services.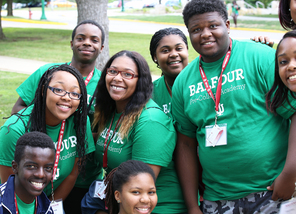 Balfour Scholars on campus during the 2014 Pre-College Academy.