Online School of Education program ranks high for veterans
The Indiana University School of Education is ranked for having one of the best online programs for veterans in the country. U.S. News & World Report places the School at 16 among education programs in its new listing of the Best Online Programs for Veterans. Through IUconnectED, students can take a variety of courses to earn credentials ranging from professional certificates to master's degrees and online doctorates.
This is the third year the publication has created the rankings, which identify 737 programs that are ranked on their quality and flexible online education options particularly for veterans of military service.  
To qualify for the Best Online Programs for Veterans rankings, an online degree program had to report participation in two key programs that offer educational benefits to people with military service. The rankings methodology requires programs to belong to institutions that are certified for the GI Bill; they must also belong to schools participating in the Yellow Ribbon Program or to public institutions that charge in-state tuition for all out-of-state veterans. This year, the U.S. Department of Defense discontinued two programs that U.S. News previously factored into its analysis: the Service members Opportunity Colleges (SOC) Consortium and the Defense Activity for Non-Traditional Education Support (DANTES) catalog. As a result, many more programs were included in the 2015 rankings.
To be ranked, programs also had to be among the top 75 percent of schools in the overall 2015 Best Online Programs rankings, which were released earlier this year. Those programs were assessed for various factors, including affordability, faculty credentials, student services and reputation.
The IU School of Education's online program ranked No. 2 in the country in the 2014 U.S. News & World Report rankings for Best Online Education programs. Online courses and degree programs began at the IU School of Education in 1999. The school began offering IU's first completely online doctorate in 2012, the Ed.D. in instructional systems technology. Earlier in May, the School's first graduate of the online doctorate program earned her degree.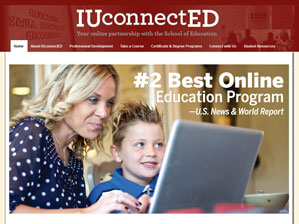 The home page for IUConnectEd (http://iuconnected.iu.edu/), the IU School of Education's online home.