Online doctorate program sees first graduate
The spring 2015 commencement ceremonies marked an important first for not just a particular graduate, but also an Indiana University School of Education graduate program. Gina Anderson became the first graduate of the doctor of education degree (Ed.D.) in Instructional Systems Technology.
Started in 2011, the online Ed.D. is the first IU doctorate offered completely online. The IST Ed.D. online offers the same content as the onsite program, but offers the opportunity for working professionals and others to earn the degree. The program is particularly focused on applying theory to practice.
Because of that design, the program of study was attractive to Anderson, who is co-founder and CEO of Mopi16, a South Bend-based company that creates e-learning platforms for corporations, higher education, and government. "My focus was really looking at how to build online learning experiences rich in multimedia," Anderson said. "All the courses that I took really had immediate, direct application into what I was doing and practicing in my career. When I was in a class I would focus on the elements I thought would help me specifically in making those practical applications."
Anderson said the program also provided her a chance to pick up where she left off. She had started the doctorate in person in 2004, but at that time found running a company and attending classes very difficult.
"So when I learned about this program, I was instantly interested," she said. "I was looking for blended programs where I could do it partly at home and this was the perfect opportunity to finish what I had started. Without this program, it probably would have never happened."
During the course of study, online doctorate students do make at least three trips to the IU Bloomington campus. They must attend one of the annual IST conferences held every spring which feature presentations about pertinent topics by students, faculty, alumni and others in the field.  Qualifying exams and dissertation defense are done in person. Anderson attended the most recent IST conference this past March. She successfully defended her dissertation last week.
While Anderson has considerable experience, including serving as instruction design consultant and faculty for online learning in higher education, she says the credentials the IST Ed.D. provides are important as she builds her business. "It's one thing to be able to demonstrate that you can build comprehensive online programs and have a team of people that can do it," she said. "It's another to have that additional credential to show that I've learned from experts in the field in this area. It's not just coming from me; it's coming from the depth of research and body of knowledge in the field."
The Department of Instructional Systems Technology in the IU School of Education prepares practitioners and researchers to build and test processes, products, systems and services for use in education and workplace settings. Elements of IST include analysis, design, development, evaluation, and implementation and management. Research crosses disciplines and focuses on theories for instructional design and workplace learning and performance improvement. Ed.D. students will apply these theories to solve practical problems. They will learn research skills to conduct needs analyses, do formative evaluation and usability testing, and measure learning achievement and improvement of human performance on the job.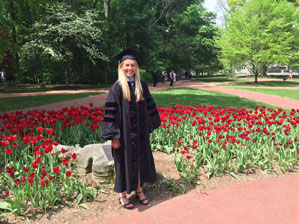 Gina Anderson, the first graduate of the IST Ed.D. program, IU's first-ever fully online doctorate.