Nine Indiana teachers honored as Armstrong Teacher Educators
The Indiana University School of Education has named nine Indiana school teachers as the latest Martha Lea and Bill Armstrong Teacher Educators. The School of Education honored the new class for the 2015-16 school year during the annual Celebration of Teaching ceremony April 22.
The awards, which began in 1997, afford teachers an opportunity to participate in professional development and work with IU faculty and students studying to be teachers during the next year.
Superintendents and principals from around Indiana have nominated teachers for the Armstrong Teacher Educator Award based on patterns of outstanding teaching and school leadership. Nominees must also demonstrate a potential to work effectively as mentors and role models for pre-service teachers. A committee of IU faculty, students and former recipients chooses the Armstrong teachers.
The awards are made possible through the Martha Lea and Bill Armstrong Fund in Teacher Education, which also supports the Martha Lea and Bill Armstrong Chair in Teacher Education. A gift from the Cook Group Cos. of Bloomington established the Armstrong Fund in Teacher Education. In 1996, Bill and Gayle Cook designated a $1 million gift to honor longtime IU Foundation President Bill Armstrong and his wife, Martha Lea. The Armstrongs asked that the gift support Indiana's teachers and worked with the Cooks and the School of Education to develop the program. In memory of Bill Cook, who died April 15, 2011, the Cook family designated memorial donations be directed to the Armstrong Fund.
More than 150 Indiana teachers have been selected as Armstrong Teacher Educators. The select group has typically included many teachers recognized as outstanding in the field by administrators and education organizations. Several Armstrong teachers have been Indiana Teacher of the Year finalists. Indiana Teacher of the Year for 2011 Stacy McCormack was named an Armstrong Teacher Educator just before earning the statewide honor.
"We have applications every year nominating outstanding teachers, and the decisions every year are very difficult," said Pete Kloosterman, the Martha Lea and Bill Armstrong Chair in Teacher Education. "These nine teachers again represent some of the best of Indiana's educators, and we expect they will continue to build upon the strong tradition of Armstrong Teachers."
The 2015-16 Armstrong Teacher Educators are:
Mike Applegate, Peru High School
Desirée Brooks, Fox Hill Elementary, Indianapolis
Matt Ehresman, Center Grove Middle School Central, Greenwood
Antonia Escobedo, Frankie W. McCullough Academy for Girls, Gary
Katie Gordon, Stephan Decatur Elementary, Indianapolis
Yvonne Lucas, Frankie W. McCullough Academy for Girls, Gary
Mary Pat O'Connor, Cardinal Ritter High School, Indianapolis
Adam Pietrykowski, Switzerland County High School, Vevay
Roseann Wilson, Holy Redeemer Catholic School, Evansville
Here are short biographical sketches of the new Armstrong Teachers.
Mike Applegate
Mike Applegate teaches art at Peru High School in Peru, Ind. He integrates art in his students' lives to keep them involved and motivated in school, but more importantly to give back to their community.
His classes have contributed many projects to Peru. One involved painting a mural on a downtown building to highlight Peru's title of "Amateur Circus Capital of the World." The students were in charge of mural research, design and completion.
Applegate strives to be a role model for his students by being actively involved in his community. He helped design the River Walkway in Peru, implemented the annual "Run the Rock" 5K fundraiser for the football team and recently started the "Kicks for Kids" fundraiser, raising over $1,400 and 140 pairs of donated shoes for the "Kids" of Peru Community Schools.
Applegate has won numerous awards for teaching through his many years of service. The art program is in such high demand at Peru High School that the school has hired a second full-time art teacher.
Desirée Brooks
Desirée Brooks is a fourth-grade teacher at Fox Hill Elementary in Washington Township, Indianapolis. An educator with 16 years of experience, she is seen by students, parents and colleagues as an innovator and lifelong learner who serves as a powerful role model for both students and colleagues.
Most recently, Brooks has delved into neuroscience research and implementing brain-based learning techniques with her students. She makes countless efforts to attend professional development opportunities to grow in her ability to provide quality instruction with an inquiry-based focus.
Brooks is her grade level's professional learning community leader and the Fox Hill Elementary school science coach. She serves on the school improvement committee, positive behavior support core team and after-school tutoring program, and she is a member of her principal's professional leadership team. She commits herself daily to school improvement and deeply values professional collaboration. Fox Hill Elementary School Principal Sean Taylor said Brooks is "spending countless hours outside of contract time to work with other teachers to meet the demands" of the profession.
Matt Ehresman
Matt Ehresman teaches eighth-grade social studies at Center Grove Middle School Central in Greenwood. Ehresman has passionately adopted project-based learning with a focus on 21st-century skills. He explores the connections between real world and curriculum, bringing his humor and storytelling into the curriculum, seeking new ways to make early American history relevant to students.
One of Ehresman's recent student-driven projects involved students planning and pitching a movie based on the American Civil War. Ehresman coordinated a meeting with a movie production company. After eight weeks of work, 160 students worked together to plan a 10-part miniseries titled "A Nation in Ashes." Students planned all parts of the movie-making process from the storyboards to the marketing campaign.
Ehresman has been selected as a Legacy Teacher at Center Grove for a number of years, showing his influence on graduating seniors. He was the runner-up for the Indiana State Teacher of the Year award for 2014 and is highly admired by students, parents, faculty and administrators.
Antonia Escobedo
Antonia Escobedo is a kindergarten teacher at Frankie Woods McCullough Girls' Academy in Gary. With more than 20 years of experience, Escobedo diligently provides a creative and engaging learning environment for her students. Her passion allows her to be a tremendous influence and empowers her students to be confident, creative thinkers and problem solvers.
Escobedo believes professional development opportunities are valuable in providing rich and meaningful instruction for her students. She has participated in professional development projects including Tapping Teacher Potential, Partnership for Improving Mathematics and Science Instruction, Power Up With Science and the American Federation of Teachers' Professional Development.
She also serves on the Teacher Leadership Team, Teacher Evaluation Training Team, Grade-Level Team, District Kindergarten Curriculum Writing Committee, Literacy Day, Social Committee and the McCullough Praise Dancers.
Katie Gordon
Katie Gordon is instructional coach at Stephen Decatur Elementary in Indianapolis. She joined Stephen Decatur this year after being a kindergarten teacher at Liberty Early Elementary School in Decatur Township for 10 years. She was the Liberty Teacher of the Year in 2009 and 2014 and became district teacher of the year and a semifinalist for state teacher of the year in 2014.
At Stephen Decatur, Gordon's assignments include planning professional development for the first- through sixth-grade staff, analyzing data and educational trends and modeling best teaching practices. All of these duties help to facilitate teacher growth while strengthening skills as instructional practitioners.
Gordon's strong commitment to excellence in education began in her undergraduate years at Butler University and continued as she earned her master's in educational leadership through Indiana University. As a teacher she used Skype and Twitter to expand her professional learning network while helping her students connect more with the global community. She also worked to develop a variety of service-learning projects with her students and continues to demonstrate her passion for student engagement in her role as instructional coach.
Yvonne Lucas
Yvonne Lucas is a sixth- and seventh-grade science teacher at Frankie Woods McCullough Academy for Girls in Gary. A teacher for 18 years, she spent 15 years teaching special education with the goal of having all of her students in a general education class for at least one subject.
Lucas has been teaching sixth- and seventh-grade science for the past two years. She has worked with the IU School of Education science education faculty on professional development concerning girls and science. Lucas co-authored an article titled "Seeking to Improve African American Girls' Attitudes Toward Science: A Participatory Action Research Project," which was published in the Journal of Elementary Education. Her goal is have her students love and not fear science. 
For the past five years, she has been the leader of her school's interactive planetarium, which allows the entire student body to participate in a community event that explores earth science.  She hopes to one day further her career by becoming an administrator.
Mary Pat O'Connor
Mary Pat O'Connor is a science teacher at Cardinal Ritter High School in Indianapolis. With a passion for providing opportunities for her students to make real-world connections with science, O'Connor has specialized in ecology, working with the Department of Natural Resources on the Hoosier River Watch Program. She has partnered with the Hoosier Environmental Council to pilot place-based education projects and with environmental lawyers with the goal of increasing environmental awareness.
Under O'Connor's guidance, Cardinal Ritter students have cleaned up litter in Indianapolis while participating in the Keep Indianapolis Beautiful program. This program made a significant impact on the students and the community. The students were able to build relationships with local business owners as they helped to clean and beautify the city. Her motto is "environmental awareness through education, and with education, change."
Adam Pietrykowski
Adam Pietrykowski is the AP U.S. History, World Geography and World History teacher at Switzerland County High School in Vevay, where he is also the varsity girls track coach. He strives to create a sense of connection and empathy with the people of the past, which he believes is the key to understanding history. One of the ways he does this is by leading his students through a tour of a plantation home, historic sites and architecture of Indianapolis. Pietrykowski's students have taken on the part of slaves as part of Connor Prairie's "Follow the North Star" program.
Under Pietrykowski's leadership at Switzerland County High School, enrollment in AP U.S. History has risen from 5 percent to now include a quarter of the junior class. The course is interactive, and Pietrykowski pays special attention to helping students learn in a variety of ways, using creative methods and multiple approaches to the curriculum.
Roseann Wilson
Roseann Wilson is the K-8 physical education coach at Holy Redeemer School in Evansville. Wilson said she is committed to improving students' physical as well as cognitive well-being.
She said physical education should be accessible and enjoyable for all students, and to that end she works with students in kindergarten through eighth grade by introducing them to a wide variety of activities that are age and developmentally appropriate. Wilson creates a nonthreatening atmosphere to promote a positive physical education experience where students are able to participate without fear of judgment or ridicule.
Wilson's holistic approach to health education focuses on healthy decision-making and activities that provide students with hands-on interaction with nutrition, exercise and sleep. She provides opportunities for goal setting and learning coping skills for handling anger and anxiety. Highly respected by students, faculty and parents, her enthusiasm for the teaching profession and her discipline combine to create a fun and transformative experience in her classes.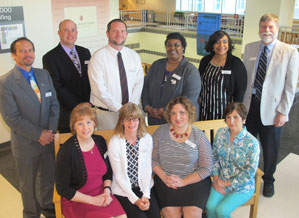 The 2015-16 Armstrong Teacher Educators, front row from left: Mary Pat O'Connor, Roseann Wilson, Katie Gordon and Antonia Escobedo; back row from left, Mike Applegate, Matt Ehresman, Adam Pietrykowski, Yvonne Lucas, Desirée Brooks and Pete Kloosterman, the Martha Lea and Bill Armstrong Chair in Teacher Education.