IU School of Education opens new reading outreach program for young students
The Indiana University School of Education has opened its new Academic Resource Clinic for K-8 Students to provide area elementary students more resources to improve reading skills, including individual work with IU student educators.
The clinic kicked off with a ceremonial ribbon-cutting ceremony with young readers and program facilitators April 18 at the Wright Education Building in Bloomington, and two more free events are scheduled the next two Saturdays. That will be followed by the Summer Literacy Fun Camp from June 8 to 12, and summer one-on-one reading development programs are available starting in May. After the summer, events and one-on-one programs will be available year-round.
"We have kids in our own backyard who are struggling with basic reading," said Rebecca Martinez, associate professor of counseling and educational psychology at the IU School of Education. Martinez developed the clinic with Leana McClain, senior clinical lecturer in curriculum and instruction. "We consider reading to be a cultural imperative, a necessary thing for kids to be able to survive. So we want to make sure that we are working with parents and teachers to empower kids so that everyone is a reader."
The clinic itself isn't a single physical space but uses facilities throughout the IU School of Education. Martinez and McClain have planned the clinic for several years and credit the support of Dean Gerardo Gonzalez and Executive Associate Dean Joyce Alexander for getting this community outreach started. Martinez said Carol Gardiner, the Title I/grant coordinator for the Monroe County Community School Corp., helped connect the clinic to local schools.
"We want this to be a community resource where parents can bring their children," McClain said. "The Saturday and summer events are for getting children excited about reading and writing."
During the Saturday kickoff, elementary-age readers of all skill levels came to work with IU facilitators on several literacy-themed activities. Each worked individually with a facilitator, all of whom are IU undergraduate or graduate students, to compose a story and write their own book, including illustrations. They also heard from Connor Maudlin, an 8-year-old from Bedford who wrote the children's book "O Pig, Not Again" with his mother, Kim.
On April 25, young readers are invited back to the Wright building for another free session focused on exploring monsters in books. On May 2, it's "Read With a Friend Day!" where the readers are asked to bring their favorite stuffed animal friend. Each Saturday session is from 9:30 to 11:30 a.m.
Martinez said these types of sessions are very helpful for a complete experience for the students, particularly those who are also doing one-on-one sessions.
"Reading is more than just skills training," she said. "The main goal of reading is to understand it and have fun."
Students under Martinez's charge have already been working to help young readers. Earlier this year, IU students began conducting one-on-one sessions with selected elementary students.
"This was a great opportunity for our kids to get help outside the school day and really focus on reading fluency and get better," said Maggie Dainton, principal at Bloomington's Highland Park Elementary. "We've seen growth with our students who have participated."
"I think it really helps the kids to further their love of reading, and they feel more supported and excited," said Emily Menkedick, literacy coach at Arlington Heights Elementary in Bloomington. "I've heard several kids say 'My IU teacher,' or 'My special teacher,' so they feel more encouraged to read and more motivated to do it."
While the next two Saturday programs are open to elementary readers of varying skill levels and are free, pre-registration is required. The summer literacy camp and summer one-on-one programs require registration and do have a registration fee. The summer camp is $100, and the one-on-one program is $300. Martinez said that scholarships are available, and she encourages interested parents or caregivers to inquire.
Complete information including contacts for the programs and camp are available on the Academic Resource Clinic for K-8 Students Web page.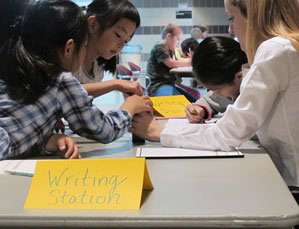 Elementary students working at a writing station during the kickoff event for the Academic Resource Clinic for K-8 Students at the Wright Education building on April 18.