Wright Fields honored with national award for supporting Latino student success
Christina Wright Fields, director of the Balfour Scholars Program based at the Indiana University School of Education, has earned a national honor for promoting Latino student success. The American College Personnel Association/College Student Educators International has named Wright-Fields as the 2015 recipient of the "Support Latin@ Student Success Award." The honor is given by the ACPA's Latin@ Network to those who show leadership related to issues of Latino success in higher education.
The ACPA presented Wright Fields with the award during the ACPA 2015 National Convention held in Tampa in March.
Wright Fields oversees the Balfour Scholars Program (BSP), now in its third year at IU. BSP is a program to work with high school seniors from traditionally underrepresented groups to increase their awareness of college options, prepare them for the college application process, and develop the skills necessary to successfully complete college. There is no cost for participants, thanks to an $800,000 grant from the Lloyd G. Balfour Foundation. The BSP is a project organized by the Center for P-16 Research and Collaboration (P-16 Center) at the IU School of Education in collaboration with the IU Office of Enrollment Management, Career Development Center, the Office of the Vice President for Diversity, Equity, and Multicultural Affairs (DEMA).
Wright Fields has overseen two successful summer events, where participants come to the IU Bloomington campus for the week-long Pre-College Academy. In 2014, more than 130 incoming high school seniors came to IU.
Her work organizing and implementing the Pre-College Academy in particular, is what prompted Ohio University Patton College of Education faculty member Sherry Early to nominate Wright Fields for the award. "Anyone who knows Christina recognizes she is passionate and committed to increasing access and success for all underrepresented students," Early wrote in her nomination. "Christina is willing to share her personal struggles and success as a first-generation college student to BSP participants."
Early also noted that Wright Fields sought out more Latino students between the first two years of the Balfour Scholars program. Wright-Fields partnered with Latinos Count in Fort Wayne to actively recruit more Latino students, resulting in a 10 percent increase for the second year with the promise of more participation in 2015.
"Her students, peers, and colleagues admire her work ethic, dedication, and vision for the BSP program," Early wrote.
More information about the award is available on the Latin@ Network blog.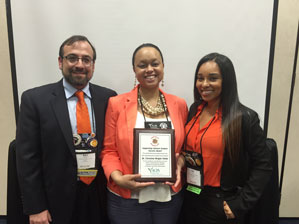 Wright-Fields (center) with Ray Plaza (L) of Bowling Green State University and chair of the Latin@ Network Directorate of ACPA, and Tina King (R) of California State University, Fullerton, Awards Chair of the Latin@ Network.