CEEP brief finds statewide voucher programs growing, but enrollment growth may level off
A new brief from the Center for Evaluation and Education Policy at Indiana University comparing statewide voucher programs finds all are growing as never before in the past five years. The brief, "Mapping the Growth of Statewide Voucher Programs in the United States," examines the only four statewide voucher systems for students in general education programs (open to all students): Wisconsin, Ohio, Indiana and Louisiana.
The brief is authored by Katherine Cierniak, CEEP graduate research assistant; Molly Stewart, CEEP research associate; and Anne-Maree Ruddy, director for education policy and senior research associate at CEEP.
In all four states, the authors have found unprecedented growth since 2010. Ohio's statewide program was established in 2006 and expanded eligibility criteria in 2013. Indiana and Louisiana launched statewide vouchers in 2011. That same year, Wisconsin expanded a local program into a statewide initiative by widening eligibility. (Florida, which has the nation's oldest statewide voucher program begun in 1999, no longer offers vouchers for private school transfers after the state supreme court ruled that option unconstitutional in 2006.)
Across the statewide programs, states are expanding the number of vouchers available. All of the programs have either increased or eliminated enrollment caps while state funding and enrollment have also increased. While these adjustments have fueled growth in the past few years, the authors conclude future growth may be limited.
"While the numbers of available vouchers are increasing, we are also seeing a leveling off in demand in the states with no enrollment caps," Stewart said. "The number of vouchers may continue to grow, but we do not necessarily expect to see equal growth in enrollments."
The brief also finds that statewide voucher programs are expanding to include more middle-class families. While Ohio recently added a means-tested program component, the trend has been to allow more families in higher income levels to participate.
"Expansion of voucher eligibility to middle-income families has started happening in three ways," Stewart said. "First, states have done so by allowing continued participation for current voucher students even if a family's income increases above the income cutoff, and second, through an increase in the income cutoff. The majority of statewide programs have one or both of these attributes at this point or, third, provide partial vouchers to families with higher incomes."
Most of the programs provide vouchers for students in low-performing schools. Most recently, Indiana expanded voucher pathways by introducing the "F Public School" eligibility pathway in 2013, similar to voucher pathways in Ohio and Louisiana. Wisconsin, however, does not require students to attend a poorly performing school to receive a voucher.
As these changes take place, policymakers are placing more accountability requirements on voucher programs, particularly regarding performance reporting by participating schools.
"Accountability measures for voucher programs are in some ways mirroring or following accountability measures for public school systems," Stewart said. "While specific requirements vary by state, the emphasis on reporting and transparency is unsurprising in the current accountability-oriented policy climate."
A previous brief from CEEP focused exclusively on Indiana's voucher program.
CEEP, one of the country's leading nonpartisan program evaluation and education policy research centers, promotes and supports rigorous evaluation and research primarily, but not exclusively, for educational, human services and nonprofit organizations and agencies. CEEP's experience includes numerous external evaluations of programs funded by National Science Foundation, U.S. Department of Education and Institute of Education Sciences, as well as numerous contracts with state departments of education, foundations, and school districts. CEEP is housed within the Indiana University School of Education.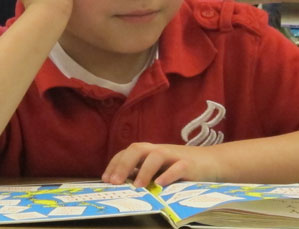 Panelists were, from left, Kevin Brown, Roberta Kaplan, Steve Bonchek and Deborah Meier, with moderator James Damico.