Learning Sciences doctoral student earns award from IU center promoting women in technology
A doctoral student in the Indiana University School of Education's Learning Sciences program has been honored with an award for leadership by IU's Center of Excellence for Women in Technology. Sophia  Bender received the first-ever Outstanding Student Leadership award during the "Techie Women Have More…" conference banquet on March 6.

CEWiT invited Indiana University staff and students to submit nominations for mentors who have truly made a difference in their academic or career success.  The mentors nominated exemplified leadership skills, encouraged peers and students and served as advocates for women in technology.

Bender has been heavily involved in CEWiT from its very beginning, working tirelessly to create what is now the organization's student alliance, Women Empowering Success in Technology (WESiT). She currently serves on the WESiT executive board as PhD co-chair, and is a mentor and leader for women technology students at IU. Bender works with e-textiles, electronics that can be embedded into clothing, accessories and other soft materials. She has successfully organized and led e-textile workshops with WESiT members, local Girl Scouts and residents of the Women in STIM Living-Learning Center. Her work with e-textiles helps to empower young girls and women to develop an interest in technology.

The IU Center of Excellence for Women in Technology addresses the global need to increase participation of women at all stages of their involvement in technology-related fields through research collaborations, education, mentoring, and community building. The interdisciplinary, unified approach to this center serves as a national model to encourage, empower, and promote women in technology and computing-related fields at IU and across the region.

More about CEWiT is available on the organization's website.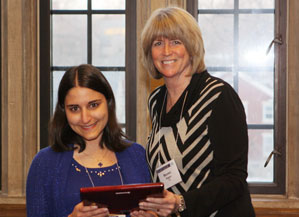 Sophia Bender, left, receives her awayd from Maureen Biggers, assistant dean for diversity and education at the IU School of Informatics and Computing