IU School of Education again among US News Top 25 Education Schools
Eight individual programs rank in top 18 of their fields
The Indiana University School of Education is once again ranked among the top 25 schools of education in the country by U.S. News and World Report. The IU School of Education is 25th among all education schools, 15th among publics in the annual Best Graduate School rankings.
Eight programs from the School earned placement in the top 18 of their respective areas. The IU School of Education ranked 9th in higher education administration, 10th in both curriculum and instruction and elementary education, and 11th in elementary education. The School also ranked 12th in the Student Counseling and Personnel Services category, and earned 18th place in the program categories of Educational Administration and Supervision, Education Policy, and Special Education.
"I am pleased to see that we continue to be ranked among the best schools of education in the country," said Gerardo Gonzalez, dean of the IU School of Education. "Our overall 25 ranking placed us among the top seven percent of the 357 graduate programs surveyed by U.S. News and World Report this year, but there are more than 1200 universities that offer education degrees in the country.   Our consistently high ranking is a tribute to the quality of our faculty and students."
The U.S. News rankings for 2016 mark the 15th consecutive year that the IU School of Education has been ranked in the top 25 of U.S. schools of education.
Complete rankings are available at www.usnews.com/grad. They will be included in the Best Graduate Schools 2016 guidebook. Highlights were made available to colleges and universities in advance of today's release.
U.S. News annually produces rankings in education, business, law and medicine that are based on formulas that consider reputation surveys, selectivity, research funding and productivity, outcomes for graduates and other factors. Specialties in the schools are evaluated through surveys of deans, program directors and faculty. Other programs are typically ranked once every four years.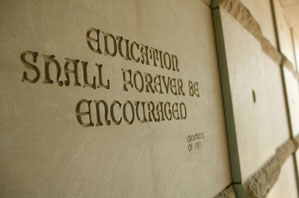 Wright Education Building in Bloomington