IU Bloomington moves up in Peace Corps rankings; School of Education program part of move
For the second consecutive year, Indiana University Bloomington has earned a spot on the Peace Corps' annual list of the top volunteer-producing colleges and universities, thanks to programs with the IU School of Education and School of Public and Environmental Affairs. The university moved up five spots to No. 20 with 36 graduates currently serving as Peace Corps volunteers.
Since the agency was created in 1961, 1,603 IU graduates have made a difference as Peace Corps volunteers.
"The Peace Corps provides an indispensable opportunity for young people out of college to put their unique skills to work making a difference for communities around the world," Peace Corps Director Carrie Hessler-Radelet said. "Volunteers make lasting change by living and working at the grassroots level in their communities of service and using their talents to tackle some of the most critical challenges in international development."
For returning Peace Corps volunteers, IU Bloomington offers both Peace Corps Master's International and Paul D. Coverdell Fellows graduate programs. The Coverdell Fellows Program offers Peace Corps volunteers who have completed their service the opportunity to earn an advanced degree from IU's School of Public and Environmental Affairs, with financial assistance and the chance to use their knowledge and skills in community internships. The Peace Corps Master's International graduate programs, offered by SPEA and the School of Education, allow students to combine Peace Corps service with graduate studies for credit.
The IU School of Education program started in 2012 to help fill a global need for well-prepared teachers of English as a Foreign and/or Second Language (EFL/ESL) while allowing the Peace Corps experience to count toward a master's degree.
In the Master's International program, a Peace Corps service assignment counts for 6 graduate credits toward a master's degree from the Department of Literacy, Culture and Language Education at the School of Education. The master's program emphasizes EFL/ESL teaching, meeting a surging worldwide demand. Classes for the Master's International are available on campus and online. Students must apply for admission into the Peace Corps to be eligible for the MI graduate program. However, students can apply for the MI separately and at any time before or while they are applying for the Peace Corps.
Nationally, the University of Washington in Seattle pulled in the highest number of volunteers with 72 graduates currently serving in the Peace Corps. The top 25 rankings for each school size category are available online.
About the Peace Corps
The Peace Corps sends the best and brightest Americans abroad on behalf of the United States to tackle the most pressing needs of people around the world. Volunteers work at the grassroots level to develop sustainable solutions that address challenges in education, health, economic development, agriculture, environment and youth development. Through their service, volunteers gain a unique cultural understanding and a life-long commitment to service that positions them to succeed in today's global economy. Since President John F. Kennedy established the Peace Corps in 1961, nearly 220,000 Americans of all ages have served in 140 countries worldwide.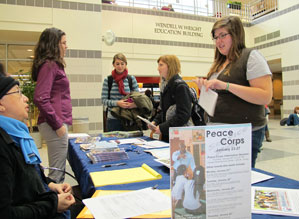 The Peace Corps recruiting at the IU School of Education in 2012.